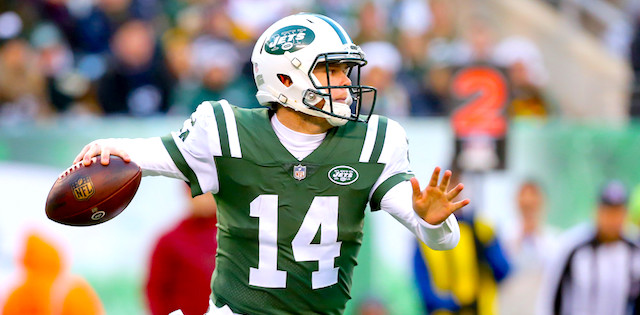 Even if this doesn't turn out to be great MNF game, at least it's a divisional game with some importance. This is what Jets fans need to tell themselves heading into their second Monday Night Football game of the season. With the New England Patriots coming to town off their annual semi-bye in which they have off Thursday to Monday, this game could get out of hand.
With Sam Darnold back and looking good last week, the Jets are going to come into this game confident. But confidence, as good as it is, can also be a curse. They might start thinking they are a good team - a fact they may find out quickly is not the case.
As for the important aspect of this game, the fantasy impact, there are some solid plays although no one really stands out as extraordinary. Yes, there are a few stars. But due to the surrounding cast, they have not been exactly stellar for fantasy so far. So, here I am hoping that they finally break out this week. There will of course be a lot of names in the starters section - there are a lot of big names on both of these teams. But again, this does not mean they will finish in the top 10 of this week's scorers. More so that they will finish the week ranked as a starting fantasy option. Let's get to it.
Editor's Note: Get any rest-of-season NFL Premium Pass for 50% off. Our exclusive DFS Tools, Lineup Optimizer and Premium DFS Research through the Super Bowl.
Sign Up Now!
New England Patriots vs New York Jets
Game Time: Monday October 21, 2019 @ 8:15 pm ET
Game Line: Patriots -9.5 O/U 41.5
New England Patriots Record: 6-0
New York Jets Record: 1-4
Must Starts
Tom Brady, QB - New England Patriots
Two things are clear about Tom Brady. He is the best quarterback of all time, and his shoulder pads are older than some of the players listed below. Both of these facts are amazing. Almost as amazing as his continued level of play at age 42.
In his last game against the Giants he had two rushing touchdowns, just to show people what he could still do. Despite Shannon Sharpe trying to gain click bait by giving his performance an F, it showed what he can still do. It also showed us for fantasy that he is a relevant quarterback.
In recent seasons, Brady has tended to fade for fantasy down the stretch. With the bulk of the New England big games coming late again this season, it is likely to continue. But this week is not the start of the slide. The Jets don't have a pass rush at this point in time. Their star linebacker C.J. Mosley has missed games, although he stated yesterday that he'll play this week. Jamal Adams cannot do it alone on defense, so Mosley's potential return will be interesting to see.
Brady has completed 65% of his passes this season and has averaged 290.5 pass yards per game.
With mostly nothing to be afraid of on the New York defense, these numbers should be easily attainable and there should also be no hesitation in starting up Brady in this matchup. A top 10 quarterback for the week should be his floor, and he should provide good fantasy points in this one along with Julian Edelman and the Patriots running backs.
Le'Veon Bell, RB - New York Jets
Yes the offensive line has made his season a bit disappointing, but we knew this would happen after he left Pittsburgh. He is still receiving over 85% of the rush attempts in the backfield and has over 25% of the share in the Jets passing game. These numbers cannot be ignored when it comes to starting him.
Bell is still being used all over the field. It is only a matter of time until he finally has that breakthrough game. This may not be the week as the Patriots are a great defense, but the production you will get from him will provide you with high-end RB2 at worst just based on the volume alone.
Le'Veon Bell is not the same player he was with the Steelers. He is older and took a year off to vacation, but he is still a great player in the league. This means when he is healthy, even in a tough matchup, you need to start him up and let the chips fall where they may. It may not look pretty getting there, but he will get you the numbers at the end of the game.
Sony Michel, RB - New England Patriots
On one side of the running game is Sony Michel. A player who can run the ball, but is non-existent in the pass game. This game could be a big one for Michel as he may have a big workload in the second half if the Patriots get up big - something which is expected to happen based on the Las Vegas line of -9. In positive game scripts, and there are a lot of those for New England, Sony Michel commands work to milk the clock thus keeping the other team off the field.
In six games this season, all of which were wins, Michel has 100 carries. This is coming from a team who has used the short-passing game as a form of a running game in previous years. The 16.6 carries per game average is quite impressive and should continue this week. The 3.48 yards per carry average is far less impressive. But as long as he is the goal line running back, and he is, there is touchdown potential. Even if the yardage numbers do not look all to appealing.
As we will mention on all the Patriots offensive players, the Jets Defense is not that good. Rookie Quinnen Williams has been banged up and free agent signing C.J. Mosley has been off the field in all but half of one game this season. The run game and pass game should have a field day for New England this week. This includes the second-year runner in Sony Michel who should find himself finishing as an RB2 for the week.
James White, RB - New England Patriots
If this game gets out of hand, James White is going to have a big game getting there. The Patriots love to "run the ball" through the air, and this is the forte of White in this offense. While he does not get much done on the ground, he is the clear pass-catching back on the team. Already with 31 receptions in five games played this season, White will continue to get the work in this one.
Although he only has one touchdown catch this season, this game could be a prime spot for him to get his second. The Jets defense, besides Jamal Adams, has been lacking to say the least. If you have him on your roster, start James White with the confidence of an RB2. If you can start him in your flex position, this would be even better.
Jamison Crowder, WR - New York Jets
In two games this season with Sam Darnold behind center, Jamison Crowder has 26 targets. This includes an incredible 17 in Week 1 when he compiled 14 catches for 98 yards. In the comeback game for Darnold in Week 6, he was able to find this connection again finding Crowder for 98 more yards on six receptions.
If this game is going to stay close, it will have to involve both Crowder and Robby Anderson. The underneath routes to Crowder will be wider open as Anderson will most likely get covered by Stephon Gilmore. This could limit the production we can expect from him in this one, but should open up the massive target share for Crowder.
In a PPR league, Crowder is a must-start stud. In standard leagues, he is still a start but a lower level start. Either way you'll want him to suit up for your fantasy team this week.
Julian Edelman, WR - New England Patriots
Whether it was Wes Welker or Julian Edelman, Tom Brady has made a career of peppering the slot receiver. Already, through only six games this season, Edelman has been targeted 56 times and has caught 38 passes for 449 yards and two touchdowns. At this pace, Edelman would be amongst the most targeted players in the NFL (currently on page for 149 this season). This may even be a low estimate, given the Patriots wide receiver group has been banged up and relatively disappointing.
This pace will certainly not slow down this week as Josh Gordon has already been ruled out. It will fall even more upon him to move the ball down the field along with James White and perhaps, Ben Watson. The defense for the Patriots has covered up some flaws in this offense, but Julian Edelman is not one of them. He has been a high-end WR2 play this season, and this week should be no different as he will achieve double-digit targets and likely a touchdown in this matchup.
Being Tom Brady's top target has its perks, not the least of which are accumulating great stats and making a lot of money - both things that you wouldn't attain floundering on another team. Edelman, like Wes Welker, has taken this and run with it. And this game, against this defense, will be no different.
New England Patriots Defense
Short and simple - they are the best defense in the league. They are also the best scoring defense in the league for fantasy. In their last game they put up 27 fantasy points on the Giants - and this week, after 10 days rest, it should be fruitful as well. Any Questions?
Consider Sitting
Chris Herndon IV, TE - New York Jets
I am writing this with the assumption that Herndon suits up this week, but recent reports are still showing him as doubtul.
It is slim pickings when it comes to "sits" in this game. So, if I'm choosing who to sit I have to go with the tight end who is coming off a suspension as well as a hamstring injury.
The Patriots defense is the best in the NFL. They are clicking on all fronts and will make it miserable for anyone - especially someone playing in their first game of the season trying to get into football shape. For this reason and this reason only, Herndon should remain planted right on your bench for another week. Don't worry though, the schedule gets very easy after this and he should be a weekly starter soon enough.
Potential Sleepers
Sam Darnold, QB - New York Jets
It was great to see him back and healthy last week. The Dallas Cowboys Defense is not the Patriots defense though. Darnold threw for over 300 yards last week for the third time in him young career, but this week could be a different story. There is a chance the Patriots win big in this game, and that would mean garbage time stats for Darnold and the Jets offense. This is the reason he is not listed as a sit.
If Jamison Crowder and Robby Anderson continue to connect with Sam Darnold on a weekly basis, Darnold could provide some fantasy goodness. It is likely he will have a tough game with a few interceptions along the way, but there may also be a few touchdowns in the mix.
In this game, Darnold won't kill your fantasy chances. But unlike other quarterbacks like Matt Ryan or Lamar Jackson, he is not going to win you the week either. I don't expect him to finish as a top 10 quarterback, which is why he is not listed as a must-start - but he should finish in the next grouping of players who are decent fantasy plays. And if you do have him, keep him. His upcoming schedule is juicier than a 28-day dry aged steak.
Robby Anderson, WR - New York Jets
After five receptions for 125 yards and one touchdown last week Robby Anderson should probably be on the starters list. So why then, is he only listed in the "sleepers" section? Because of one name - Stephon Gilmore. Gilmore is the best cover corner in the NFL right now, and he will be focused on the deep threat in Robby Anderson. Gillmore could easily keep him from any production in this game.
Of course, it only takes one catch to make a week and this is why Anderson can also not be listed as a sit. If you are in a matchup where you need a Monday miracle, you may be forced to start Anderson. But if you are in a matchup in which you should win easily, or if you need a consistent performer for the baseline, Anderson will not be your man this week.
Don't worry though. Much like Sam Darnold, the games moving forward get much easier for the Jets. This will mean plenty of good weeks for both he and Anderson. As for this one? Don't expect anything higher than a flex performance. Jamison Crowder is a much better play in the slot role for Darnold and the Jets, and he should be the one you look to start in this one - especially in DFS lineups or any other PPR format.
Jakobi Meyers, WR - New England Patriots
This one is a bit of a flier. If either Josh Gordon or Phillip Dorsett are active, then this play is mute. But if both players miss this week, Meyers could be the number two receiver on the team behind only Julian Edelman - and if this happens, Meyers could be a sneaky flex play. Otherwise let the preseason darling stay on the bench for yet another week.
More Start/Sit Advice