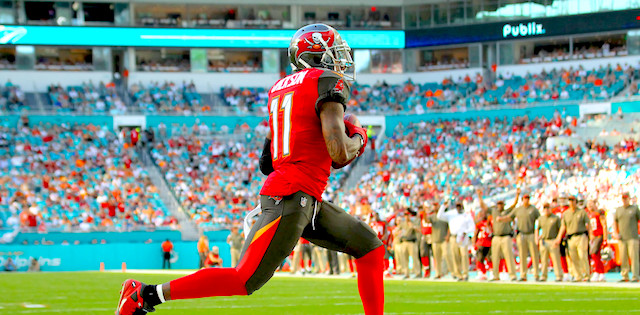 It's time to start prepping for Week 3 waiver wire additions and I have you covered for wide receivers. As I was looking up players to add for this article, I was shocked to see some of the names that are still not at least 50% owned in fantasy leagues. A couple of them will be gone very soon, so this could be your last chance to grab them.
I split this article into a few different sections. Waiver wire priorities will range from players you should try to add with some urgency all the way to players you should keep your eye on, but don't make the move just yet unless you are in a deeper league. I'll also sprinkle in a few guys you can potentially move on from.
Check here for a complete list of our Waiver Wire Adds for Week 3 for help at all the skill positions. As always, RotoBaller has you covered!
Editor's Note: Get any full-season NFL Premium Pass for 50% off. Our exclusive In-Season Lineup Tools, Lineup Optimizer and over 150 days of Premium DFS Research.
Sign Up Now!
Front Runners for Week 3 - Wide Receiver Additions
This group consists of wide receivers that I would recommend adding if they are available on your waiver wire. Some are more viable for PPR formats, so take note of that. These players have either earned a greater workload due to injury/performance issues or have shown that they can be weekly contributors to their NFL teams. All players listed have 50% or less ownership levels across fantasy leagues.
Keelan Cole, JAX - 48% owned
How Keelan Cole hasn't reached 50% ownership is beyond me. If you follow me on Twitter or read my work, I am even more disappointed in you. I've been telling you since last season that Cole was going to be the WR1 in Jacksonville and that you needed to grab him while everyone else was discussing Donte Moncrief, Dede Westbrook or DJ Chark.
This will likely be the last week you can grab him though as he put up a monster game in Week 2 against the Patriots hauling in seven of his eight targets for 117 yards and a touchdown. Let's be real for a second. The reason you have been avoiding Cole has nothing to do with Cole himself but with his QB Blake Bortles. I think we need to move on from the fact that Bortles can be scary in fantasy football (and in real life) and understand the big play ability of the NFL leader in yards per reception last year.
DeSean Jackson, TB - 48% owned
We spent all off-season trying to decide if Mike Evans was a bust or if Chris Godwin was going to breakout or how the backfield would work out, that we completely forgot how good DeSean Jackson can be when he is healthy. I guess Ryan Fitzpatrick is helping everyone with his "Fitzmagic" right now. The more impressive note to take away other than Jacksons resurgence, is the fact that three WRs are sustaining success through two weeks of the season in Tampa Bay.
This past week, while Jackson was in the concussion protocol and questionable up until Saturday, I was advising fantasy owners to not buy in and shy away as Godwin and Evans would take too much away from Jackson for him to continue to be fantasy viable. Well, let's toss that out the window.
If Jackson is still on your waivers and you need help at WR, grab him this week. This may not last long, and he could be frustrating on a weekly basis if he doesn't haul in these huge plays, but he is going to have value for the time being. Ride the hot streak for now but stay cautious.
Antonio Callaway, CLE - 6% owned
Goodbye Josh Gordon and hello Antonio Callaway. I have been touting Callaway since before the combine. The talent was there, and in my opinion, he was the second most talented wide receiver in this draft behind only D.J. Moore. It was his off-field issues that cause people to write him off. Most fantasy owners probably didn't even know who this guy was prior to the draft. It's time you get to know Callaway.
He is two games into his professional career and he is essentially on his last life with the NFL already. We could still see a suspension coming for his traffic arrest during the pre-season, but for now, enjoy the production. Callaway is officially the WR2 in Cleveland now and is a part of an offense that is only going to get better.
After the surprising release of Gordon, Callaway went for 81 yards on three catches and a touchdown on the road against the Saints. A lot of people still like Rashard Higgins, and I don't have anything against him, but he does not have the ability of Callaway. You will see as the season goes on just how talented Callaway is in many facets of the game and the time to grab him is now.
In the Running for Week 3 - Wide Receiver Additions
This group consists of wide receivers widely available on the waiver wire who aren't must-adds but could be worth stashing or streaming if the above options are already taken or if you are dealing with injuries.
Geronimo Allison, GB - 31% owned
I didn't include Geronimo Allison last week and I had a lot of questions as to why. Aaron Rodgers injury was one of the reasons along with a huge performance from Randall Cobb that continues to solidify his place as the Packers WR2. As the running game continues to underwhelm though, the passing game will have enough volume to support more than two wide receivers.
Allison now has 11 receptions for 133 yards and a touchdown this season. Allison's value will likely come in shootouts or if the Packers are behind. Last week against the Bears, Allison didn't really show up till the second half when the Packers were forced to come back from a large deficit. He could be a volatile play week to week and the touchdowns could be few and far between. If he is still on your waiver wire and you play in a deeper league, scoop him up for some weekly fill ins.
Tyler Boyd, CIN - 2% owned
The Bengals offense appears to be clicking again as Cincinnati has scored 68 points in two games to start the season. A.J. Green is back to being a top end WR1, Andy Dalton doesn't look incapable of playing quarterback and even though he will mis a couple of weeks, Joe Mixon was off to a great start. Everything is right in Cincinnati. The one question we need to ask now is who is going to be Dalton's WR2 the rest of the season?
I thought John Ross was going to have a bounce back campaign and take that position as the deep threat for the Bengals, stretching the field and opening spaces for everyone else. Tyler Boyd has different plans though and wants his shot at the job.
Boyd was the leading receiver for the Bengals in Week 2 hauling in six catches for 91 yards and a touchdown. The good news for fantasy owners is that Green stole the show with three touchdowns so there is a good chance owners aren't paying much attention to Boyd this week. With how this offense is rolling, we should be adding Boyd in leagues of 14 or more and adding him with deep rosters or starting positions. The WR2 in Cincinnati can have some value this year.
Dark Horses for Week 3 - Wide Receiver Additions
This group consists of wide receivers who need some more time to show us what they have but should be on our radar still. Don't jump to add them yet, but another week or two could prove to be fruitful.
Terrelle Pryor, NYJ - 4% owned
It appears Qunicy Enunwa has established himself as the WR1 in New York, but should we just default to Robby Anderson as the WR2? After Week 2, we may have more questions than answers about Anderson.
Terrelle Pryor had eight targets against the Dolphins in Week 2 and turned those into four catches for 84 yards. That is more catches and more yards than Anderson has in the first two games of the season combined. The Sam Darnold to Anderson connection just hasn't heated up yet and it's also important to remember that a suspension could come down from the NFL offices at any time for Anderson. We should be keeping an eye on Pryor for the next couple of weeks to see if this trend continues.
Ted Ginn, NO - 41% owned
Still not a huge fan of Ted Ginn because of the pass catching options around him, but somehow, he has continued to fend off Tre'Quon Smith as the WR2 while Cameron Meredith has been out. Can he keep that up if or when Meredith returns?
Ginn has played well enough recently to warrant a look in deeper leagues, but the value could be short lived. If you need some help dealing with injuries or ineffective wide receivers, then Ginn could be a decent stash for a few weeks. Four catches for 55 yards isn't anything to brag about in fantasy football, but with the Saints offense, any week could become much larger.
Say Goodbye for Week 3- Wide Receiver Drops
This group consists of wide receivers who don't need to be owned. They aren't necessarily must-drop players, but if you need the roster space for one of the above players, don't hesitate to cut bait to chase upside.
Devante Parker, MIA - 37% owned
This message is to you 37%......let's move on please? Another week and DeVante Parker was inactive once again while dealing with an injury to his finger. The Dolphins have plenty of weapons at receiver believe it or not. Kenny Stills had a huge game in Week 1, Danny Amendola may be dealing with a concussion now but is effective when on the field and Albert Wilson (who I wanted to include in this article but ran out of room) has value this season. You also need to account for Kenyan Drake in the passing game as well. The Dolphins are off to a 2-0 start without him and honestly, probably don't need him to win games or make the offense better.
Rishard Matthews, TEN - 37% owned
Somehow the Titans were able to squeeze out a win against the Houston Texans this past week, but it wasn't without the help of their special teams. With Marcus Mariota out, Blaine Gabbert started for the Titans in Week 2 and it wasn't until the second half that he led his team in passing. A trick play in the first quarter helped Dane Cruikshank lead the Titans in receiving yards in Week 2. Don't know who that is? Cruikshank is a defensive player that contributes on special teams. The Titans offense is a mess and Rishard Matthews could be on the bottom of the targets list. It's time we moved on from him.
More Waiver Wire Analysis
Check out RotoBaller's famous fantasy football draft sleepers and waiver wire pickups list, updated regularly!