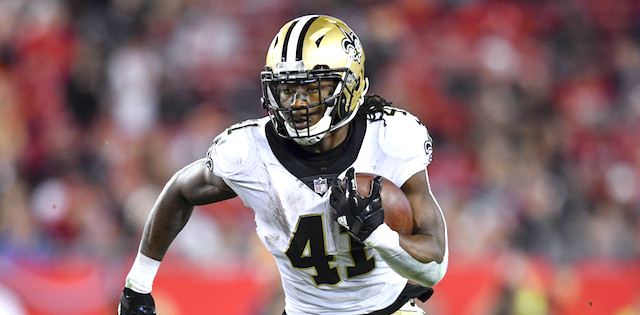 Welcome to Disaster Recovery, where each week I'll examine why your studs played like duds. This isn't a place to find out why you should have sat a player for somebody on your bench. Disaster Recovery is to examine the guys who you didn't think twice about starting, and deciding if you should be panicking at all about their value moving forward.
This season we'll be focusing on one dud a week, and touching on a few others briefly. There will be two major qualifiers for these players: the player must have performed well below expectations without an injury, and the player must be considered a must-start in most formats.
The NFC South had two of the consensus top four picks this year. Both of them busted in Week 2. We're going to talk about one of them.
Editor's Note: Get any rest-of-season NFL Premium Pass for 50% off. Our exclusive DFS Tools, Lineup Optimizer and Premium DFS Research through the Super Bowl.
Sign Up Now!
History Doesn't Repeat Itself
Alvin Kamara's Week 2 stat-line: 13 rushes for 45 yards and one reception for 15 yards on three targets.
There are a lot of factors baked into those numbers that we need to consider before discussing Kamara's outlook. First, let's look into the past.
To say that Kamara has played well against the Los Angeles Rams in the past is an understatement. Kamara has had at least 100 total yards in each of his first three meetings with the Rams. He torched Los Angeles for 188 total yards and two touchdowns when he first met the Rams as a rookie in 2017. In the 2018 rematch, Kamara's yards dropped to 112, but his touchdowns increased to three.
The Rams finally kept Kamara out of the end zone in last year's NFC Championship. That doesn't mean they could stop him. Kamara had over 100 total yards and hauled in 10 receptions for 96 yards. It felt like Kamara was a guaranteed nine yards every time he caught a pass. As RotoBaller's resident Rams fan, I can assure you we hate playing against this guy. He's a nightmare.
It's not just Kamara that the Rams have struggled against. Under defensive coordinator Wade Phillips, the Rams have had a rough time against speedy, dual-threat running backs. This was not a problem that appeared to be solved for the 2019 season. In Week 1, Christian McCaffrey hung 209 total yards and two touchdowns on the Rams.
However, Kamara was only able to put up 60 yards against a team he has historically dominated and that was just obliterated by Christian McCaffrey a week earlier. That's a tad concerning.
No Breeze for Kamara Owners
Now, as we always need to remember with this column, duds happen. A big reason for this one was that Drew Brees hurt his thumb after the second drive and was replaced by Teddy Bridgewater for the remainder of the game. Bridgewater didn't play too bad overall, but the offense was clearly shaken up by the injury. They played incredibly sloppy and had simply given up by the time the fourth quarter came around. Kamara's biggest play of the day, an 18-yard reception late in the first quarter, was called back due to a block in the back by Jared Cook.
Unfortunately for Kamara owners, Drew Brees is not coming back next week. He likely won't return to the field for six weeks after having surgery on his injured thumb. The good news is that he'll be back for the stretch run into the fantasy playoffs. The bad news is Kamara owners we'll have to try to keep the ship afloat until his return.
Let's make one thing clear: you can do much worse than Teddy Bridgewater as your backup. It's not like New Orleans is rolling out Sean Mannion for the next six weeks. Bridgewater is a former first-round pick whose career was derailed by an injury after a Pro Bowl season in 2016. He's one of the NFL's best backup quarterbacks, but he's still a backup for a reason. Sunday was the first time Bridgewater played meaningful snaps since January of 2016.
Bridgewater is also a much different quarterback than Brees. He's never been a gunslinger, and he likely never will be. Bridgewater threw for over 300 yards times twice in 2016, his last full season, and only had one game with over 40 passing attempts. In 2019, Drew Brees has just as many games with over 40 attempts and one less 300-yard game. He's played in one full game.
It remains unclear how the Saints offense will adjust around Bridgewater. It does feel likely that Kamara's production will take a dip. There's still a world where he's an RB1 with Bridgewater and puts up very solid numbers. There's also a world where the Saints struggle to score points and everyone on the offense loses production with their new quarterback. It remains to be seen how this offense will play in a full game with Bridgewater under center. If the Rams game is any indication, it won't be pretty.
Next week will be incredibly telling for Kamara, Michael Thomas, and the rest of the Saints' offense. A road game against Seattle is as good of a test as any. You can't take Kamara out of your lineup this week, but temper your expectations. It's unlikely that he'll even sniff the expected production you drafted him for over the next six weeks. That doesn't mean that he can't produce. Proceed with caution.
Panic Level: 4/5 (for the next six weeks.)
Other Players To Monitor
As always, let's talk about a few other busts from the past week.
Business as usual: RB Christian McCaffrey - I know what you're thinking, if Kamara is taking such a dip because of a new quarterback, what about McCaffrey? The difference is that Cam Newton played terrible in Week 1 and McCaffrey still crossed the 200-yard mark. Anybody who can accurately throw the ball 10 yards can get McCaffrey the ball where he needs it. You'd be a fool to consider benching this guy under any circumstances. He's going to be used at an ungodly level.
Wait and see: RB Joe Mixon - There's really only two things to say about Mixon's 2019 season: he's been banged up, and he's been incredibly unproductive. I'm holding out judgment until after Week 4 on Mixon. If he continues to do absolutely nothing on the field, we'll revisit him later.
Abandon ship: TE OJ Howard - I'm usually not one for telling you to quit on a player after two weeks. But this... this is different. Tampa Bay's new head coach Bruce Arians has historically shied away from featuring tight ends in his offenses in the past. Everybody, including myself, ignored this fact because Howard was simply too talented to ignore.
Well, turns out that means nothing to Arians. Howard didn't receive a single target on Sunday despite being on the field for 92% of snaps. The man is blocking his ass out but unfortunately, that doesn't amount to fantasy points.
Howard is too talented to cut, but he's also too volatile to start. Howard owners should look to acquire another tight end to lock-in as their starter. Even if you can't get somebody like Mark Andrews or Darren Waller, go out and find somebody like Greg Olsen, Will Dissly, or even gulp Jason Witten. You can't possibly start Howard with confidence next week. There's simply nothing to be confident about right now.
More Week 3 Lineup Prep