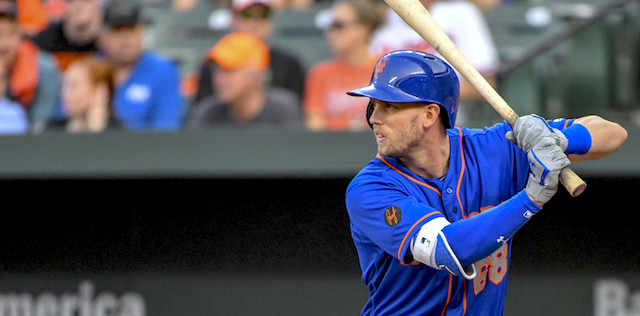 As long as the wait may have seemed, the 2019 MLB campaign is off to the races, and as usual, there has been no shortage of surprisingly strong starts from players across the board. With a slew of veteran and up and coming middle infielders starting off with scorching results at the plate in an albeit extremely small sample size, it can be rather fickle to navigate the waiver wire so soon after most leagues have drafted.
Taking this into consideration, it is important to remain diligent and mindful of players off to hot starts who are putting together the building blocks from their work in previous seasons to a more complete game. Second base and shortstop are notoriously shallow positions for fantasy baseball managers to fill, and so picking up on a breakout or comeback season early in the year can make or break a team.
With that, let's have at it and take a look at a fresh batch of second base and shortstop waiver wire targets for Week 1.
Middle Infield (2B/SS) Waiver Wire Options
Jeff McNeil (2B, NYM) — 27% Owned
Though his major-league experience has been limited, Jeff McNeil has demonstrated a well-rounded offensive skill set for the New York Mets. In 225 AB in 2018, he was able to produce an .852 OPS with three HR and seven SB and appears to have picked up where he left off through his eight AB to kick off 2019 in which he has put together a .500/.556/.875 slash. While he is currently eligible at second base, he has been finding his way to the field by playing third base and left field thus far, though it is encouraging that his versatility will allow him to get consistent opportunity.
In 2018, McNeil produced modest figures of 30.2% and 22% for hard and soft contact respectively, while hitting for a 0.97 GB/FB ratio. To begin 2019, he has been hitting for 50% hard contact (with the other 50% being medium contact) with a marginally lower GB/FB ratio of 0.67. With a seemingly expanding, well-rounded repertoire on offense and the ability to fill open slots in the Mets depth chart, he has potential early-season value to offer.
Kolten Wong (2B, STL) — 13% Owned
Last year was a rather pedestrian one for Kolten Wong, though he was limited to 353 AB, he managed to hit only nine homers while stealing six bases in eleven attempts with a .720 OPS. Wong has started off his 2019 run with the Cardinals on an extremely positive note, smashing two HR with a 1.936 OPS in ten AB across the first three games. A big reason for his humdrum statistics of 2018 was his 28.1% hard contact rate and 21.5% soft contact rate, in conjunction with a GB/FB ratio of 1.57.
The good news is that he very rarely strikes out, with a 14.7% rate from last year and a 9.1% rate this year. With a 44.4% hard contact rate doing work on a 62.5% fly-ball rate, Wong seems to be inching his way towards offensive relevance once more.
Troy Tulowitzki (SS, NYY) — 12% Owned
It wasn't too long ago that this guy was the best offensive shortstop in the game. Now as a member of the New York Yankees following a completely inactive year of 2018, Troy Tulowitzki has had a strong start to his comeback-campaign with a dinger and .333/.500 BA/OBP split. Although he still strikes out at a considerable clip, his 50% hard contact and 0.50 GB/FB ratio could mean a great deal of power potential for the former All-Star within the confines of Yankee Stadium. While the talented New York offense means constant competition in the infield, it also means that they are a team ready to continue scoring a ton of runs on any given day.
Updated (4/2): With the injury to Miguel Andujar, DJ LeMahieu will be manning third base and Gleyber Torres will likely be consistently slotted at second, meaning a huge uptick in lineup appearances for Tulowitzki for the duration of Andujar's labrum tear-induced hiatus.
Dansby Swanson (SS, ATL) — 9% Owned
Though he packed 14/10 HR/SB combo last season, Dansby Swanson ended 2018 on a negative note with his overall offensive performance fading in the latter half of the season. The former Vanderbilt star has already knocked a pitch yard through the first two games of the year with the hopeful Braves and has been rather successful across his six AB with a .333 BA and .500 OBP. While he still strikes out in the 20-25% range and his GB/FB ratio is consistently north of 1.00, Swanson's 75% pull rate in combination with a 50% hard contact rate could signal that he's ready to start producing at the plate again for Atlanta and fantasy baseball managers alike.
Ian Kinsler (2B, SD) — 5% Owned
Ian Kinsler had an interesting season in 2018: he won a Gold Glove and hit for 14 homers while swiping 16 bags for the Red Sox and Angels, but finished with a mediocre slash of .240/.301/.380. Now he's a member of the Padres and, with the pageantry of Manny Machado's signing with San Diego, their infield is an exciting place to be. While Kinsler's hard contact rate has remained steady at 30%, his soft contact has decreased significantly so far in 2019 from 19.7% to 10%, and his fly-ball and line-drive percentages of 50% and 30% have allowed him to produce a .970 OPS and a HR through his first three games in the National League. If he is producing fewer duds on batted-balls, Kinsler is a savvy addition to the second base slot.
More Waiver Wire Pickups and Streamers