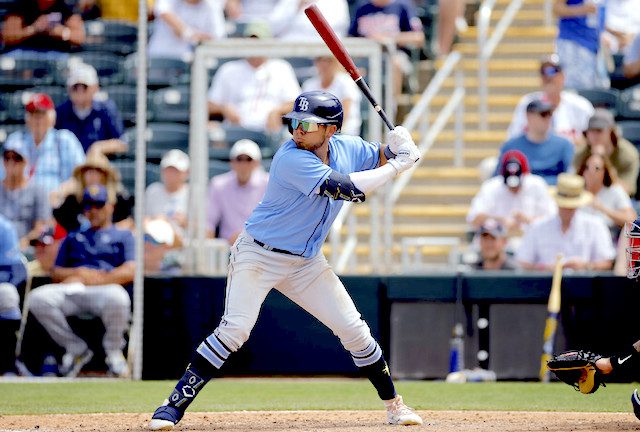 We are coming out of the All-Star break with our attention to the second half of the MLB season. This is another installment of our fantasy baseball prospects rankings series, reviewing MLB prospects to make fantasy impacts in 2022.
Max Meyer was called up, and Esteury Ruiz was called up as well and is not on the list. Roansy Contreras has pitched 50 major league innings, so he is not a prospect, and will be back at some point this season. Do not drop Contreras unless you absolutely have to.
For those who are not familiar, below you will find our updated list of the top-25 fantasy baseball prospects rankings to make an impact for the 2022 fantasy baseball season, which RotoBaller will be updating weekly. You'll find quite a few well-known prospects on the list — as well as some lesser-known players that could nonetheless provide key contributions to your fantasy league teams this season. As always, this weekly list is updated to reflect rest-of-season fantasy baseball values, and near-term impacts that these MLB prospects can make. Players who are playing in the minors but graduated from prospect status will also not be in the rankings.
Editor's Note: Our incredible team of writers received five total writing awards and 13 award nominations by the Fantasy Sports Writers Association, tops in the industry! Congrats to all the award winners and nominees including Best MLB Series, NFL Series, NBA Writer, PGA Writer and Player Notes writer of the year. Be sure to follow their analysis, rankings and advice all year long, and win big with RotoBaller!
Read More!
Top MLB Prospect Rankings for Fantasy Baseball
The list below is for 2022 fantasy baseball redraft leagues. These are MLB prospects, rookies, and call-ups to potentially make a rest-of-season fantasy baseball impact in 2022. As prospects are called up, they are removed from the rankings. You can also see our top-250 fantasy baseball dynasty prospects for longer-term outlooks.
Fantasy Baseball Prospect Rankings #1-3
Players 1-3 are the only ones in the minor leagues that I think have a chance to make a real impact on your fantasy baseball teams in the second half if they get the opportunity to be called up.
The Dodgers do not seem interested in calling up Vargas soon, and the Cardinals are feeling a bit of pressure to perform and could likely turn to the trade market for offensive help as opposed to promoting prospects. Kyle Muller is an injury or trade away from being in a rotation.
Fantasy Baseball Prospect Rankings #4
DL Hall I believe will be called up soon. In his last three starts, he has gone 16.2 innings, one earned run, 32 strikeouts, and seven walks. The walks are still a concern with him as he moves up. He will likely have those kinds of starts where he looks like a phenom and others where he struggles to get past three innings and issues walks.
In a season like this one, he will help your strikeouts most likely but hurt your ratios. If your pitching staff is solid, it is probably a stay away. If you are desperate for help, he might be worth a stash if you have the bench room.
Fantasy Baseball Prospect Rankings #5-25
Beyond the top three or four prospects, it is very difficult to see what kind of impact, if any, the rest of the list makes. Their debuts could happen anytime and some of these guys could be used for an IL stint call-up and sent right down. I do not believe any of these players will make a big impact in the fantasy baseball landscape until we get into September potentially.
Stowers-Moreno-Aranda-Pratto are all guys that have made their debut but are back in the minors. Stowers has to deal with a crowded outfield and Moreno is the odd man out as the third-best catcher on the Blue Jays.
Brandon Lowe is back for Tampa Bay, not leaving much room in the infield for someone like an Aranda, as he is likely an injury away from coming up and Pratto is in a similar situation where a trade or injury would be necessary for him to come back up to the majors. If any of these guys were to be called up for the rest of the year, they could contribute but that seems unlikely based on what we know at the moment.
Jordan Westburg makes his debut on the list at No. 10. Initially, I was big on Gunnar Henderson as he has been playing well in the minors and is a fun and exciting prospect. Westburg also plays 3B and SS, is older, and perhaps more likely to be called up than Henderson would be. Westburg is batting .304 with seven home runs and three steals in 32 games played at the Triple-A level.
He also has a .261 ISO and a 135 wRC+. The concern with Westburg is his walk rate is just 4.1%. Baltimore is .500, but still in last place in the AL East. This week to 10 days out of the All-Star game is huge for this team to determine if they try to compete or just stand pat and play for 2023.
Triston Casas moves back up to No. 18 on the list. He is currently rehabbing in rookie ball and playing well. He has six hits in 14 at-bats, three walks, and one home run. At some point he will move up to I assume Double-A or Triple-A and would need to show progress there before being called up to Boston.
With Boston a couple of games out of the Wild Card, my feeling is they trade for 1B help this year. Casas might get a call-up at some point but I am not sure they feel like they can wait for him.
Gunnar Henderson, Corbin Carroll, and Oswald Peraza remain some of the more talked about prospects that are having good seasons but it is unlikely they will contribute anything significant in 2022 from a fantasy baseball perspective. They remain on the list as people to have an eye out for because they offer as much if not more upside than any of the other prospects on the list.
Honorable Fantasy Prospect Mentions
Download Our Free News & Alerts Mobile App
Like what you see? Download our updated fantasy baseball app for
iPhone
and
Android
with 24x7 player news, injury alerts, sleepers, prospects & more. All free!
More Fantasy Baseball Prospects and Rookies