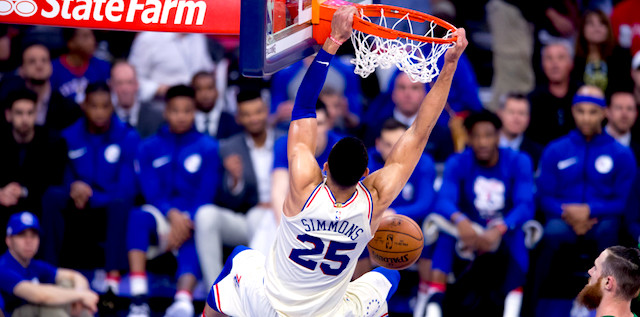 Are you in a league where some of your rivals use the Yahoo default rankings to help them out while they draft? If so, here's how you can use that against them to gain advantage and pick up some bargains much later than their real value would suggest. Creating quality rankings ahead of each NBA season is quite challenging. It's one thing when you want to compare two or three players and you already have a team build in mind. But when you have over 200 players on the table and you need to theorize which of them will prove more valuable to fantasy owners in general, that's when the trouble starts. Yahoo faces this conundrum each year and it's no surprise that they get some of the values wrong - especially when we factor in the subjective values each fantasy owner has for certain players.
Now even though most of us fantasy nuts go ahead and create our own rankings in the Yahoo website to use while we draft (and I strongly advise you do the same), there still is a vast majority of fantasy owners that use the defaults rankings. And even us that create our own rankings, we still base it roughly on the default rankings, so when Yahoo "prices" a player 30 spots below his realistic value (let's say at #120 instead of #90), it will most probably impact our rankings at least by 10 spots as well (and land that player at around #100 just because Yahoo has him THAT low). So, when Yahoo has ranked a player poorly, for example, way below their actual value, this is an opportunity to pick that player up at a bargain pick a round or two later than he should go as other players will probably fall victim of these slight inconsistencies.
Here are some guys I find to be undervalued by Yahoo at the moment.
Editor's Note: Our friends at Monkey Knife Fight have the best, most fun, fastest growing DFS props game! It's super simple to play and to win real money. Just choose your NBA, NHL or PGA game, and make your picks! Get a 100% instant deposit bonus up to $50 using promo code: BALLER. That's $50 for free - don't miss out!
Play Now!
Undervalued Players in the Top 50
Russell Westbrook, PG, Houston Rockets - Ranked at #23
Westbrook's stats from last season: 22.9 PTS on 42.8 FG% and 65.6 FT%, 1.6 3PM, 11.1 REB, 10.7 AST, 1.9 STL, 0.5 BLK and 4.5 TO in 36 minutes a game.
A consensus top-3 pick two seasons ago. What has changed?
Although it seems that ages have passed since Westy was considered in the #1 pick equation, not all that much has dropped in Russ' game last year compared to his 2016-17 season. Back then he averaged 31.6 PTS on 42.5 FG% and 84.5 FT%, 2.5 3PM, 10.7 REB, 10.4 AST, 1.6 STL, 0.4 BLK and 5.4 TO in 35 minutes a game.
Negatives: Yes, his points dropped by almost nine and his threes by almost one three per game. He also went from a very positive to a negative influence in the FT department.
Positives: He improved in all other categories, which compensates a little for those negatives. Not nearly enough to land him in the top-10, but, in my humble opinion, he shouldn't slip past top-20.
But, the biggest change that will affect Russell's value is, of course, his trade to Houston.
What to expect from Westy in H-Town?
Last season if you picked him in the first or second round you were probably forced to punt turnovers and at least one of the percentages. With him being surrounded by James Harden and Houston's sharpshooters, Westbrook will no longer be asked to carry 50% of the offense, to take that many poor shots and handle the ball most of the time. This should result in him having a better shot selection (higher FG%), not having to invent plays and passes on the fly (lower TO) and use up less energy (which should help with his concentration from the charity stripe and improve his FT%).
So all of his weaknesses should be much more tolerable this time around.
What about his counting stats? Well, while it is expected that Russ will play a little fewer minutes which will no doubt affect his statistics, I don't think the drop will be all that significant. His defensive stats should remain similar as not much will change there, although his rebounds might take a small hit with less playing time.
As for the offensive stats, with The Beard being the primary option on offense, Westy will probably have fewer opportunities for both points and assists. But if he can adapt to Houston's three-point philosophy he will probably take more quality shots which could keep his points on track and improve his 3PM. Furthermore, with better shooters surrounding him, his passes should end up as assists a lot more often than in Oklahoma City.
Conclusion
With the Rockets, most of Westbrooks weaknesses should decrease so he shouldn't drag your team into a must-punt position anymore. Furthermore, his counting stats might take a hit, but will still remain elite in most categories, which is very helpful and difficult to find from a PG spot. #23 is way too low for such a quality player, a triple-double record-setter and 2017 MVP.
I have Westbrook ranked at #15 in my own rankings.
Ben Simmons PG, Philadephia 76ers - Ranked at #33
Simmons' stats from last season: 16.9 PTS on 56.3 FG% and 60.0 FT%, 0.0 3PM, 8.8 REB, 7.7 AST, 1.4 STL, 0.8 BLK and 3.5 TO in 34 minutes a game.
'Member when Ben was a top-15 pick ahead of last season? Oh I 'member!
Some punt strategies had him going in the top-10 too, and now suddenly he is at #33!? Come on Yahoo!
Let' compare his stats from the season which had him percieved as a top-15 guy. Two seasons ago he averaged: 15.8 PTS on 54.5 FG% and 56.0 FT%, 0.0 3PM, 8.1 REB, 8.2 AST, 1.7 STL, 0.9 BLK and 3.4 TO in 34 minutes a game.
That's pretty much the same. His dimes and steals have dropped a bit while his boards and percentages improved slightly. Nothing drastic.
So, why is he ranked this low compared to last season?
After winning Rookie of the Year in 2017-18, many were expecting him to take another leap forward last season. So a lot of his projected value ahead of last year was based on those expectations and not on his stats themselves. And now, when that jump hasn't happened, Ben's found himself buried in the late third round if we are to take Yahoo's for it.
And while the ceiling is a reason why we draft certain young players at a higher draft pick than their stats would suggest, the floor is something to be considered as well. Last season we knew how good Ben was, we hoped he will improve even more, but we had no idea if he can keep up the high level of performances he set for himself. Last year, although he didn't improve much, he did show us what we can pretty much rely on coming from him. Furthermore, there is a lot less worry about his injury history now than there was before.
Conclusion
With him being good in several big-man stats like FG%, REB and BLK, and being elite in assists and top-30 in steals, Ben's unique skill set can be put to even better use when deploying a clever punt strategy. This is why he really shouldn't slip past the 2nd round in most 12-team drafts.
I rank Simmons at #17.
Undervalued Players in the 50 - 100 range
Tobias Harris, SF/PF, Philadelphia 76ers - Ranked at #58
Harris's stats from last season: 20.0 PTS on 48.7 FG% and 86.6 FT%, 1.9 3PM, 7.9 REB, 2.8 AST, 0.6 STL, 0.5 BLK and 1.8 TO in 35 minutes a game.
The King of Undervalued Land
For years I've seen Tobias fall down in drafts 10-15 places below the rank that he finished at the year before. And now, Yahoo goes and ranks him this low as well. It still baffles me, but if my rivals fall for this and let him slip again, I will gladly make them pay!
So, why does this keep happening? My guess is as good as yours, but I think it might be because Tobias is not a "sexy" pick. He scores 20 per game - so what, so do 30 other players. He hits almost two three-pointers per game - over 50 guys did that last year too. He barely gets one stock per game if you add up his steals and blocks. Tobias is not elite at anything but contributes across the board - kind of a rotisserie dream. And this is why he often gets overlooked by managers in category leagues.
How does Butler's move have on Tobias?
With Butler's move to Miami, Tobias should have a more important role on the 76ers offense - even with Josh Richardson coming the other way. This can mean a slight increase in points and assists and a little less efficiency in his shooting, but nothing too drastic. We should expect the same old reliable Tobias, who has missed just two regular-season games in the past three years (and, if I recall correctly, he missed those games because of him being traded).
Conclusion
Tobias is like a Volvo. He will give you everything you need, but will rarely give you thrills and excitement that a brand new Lamborghini can. Many people will keep staring at a Lamborghini, even though they don't really need it. While they do, take advantage and pick up the Volvo on the cheap!
Harris's consistency has him way up at #26 im my book.
Steven Adams, C, Oklahoma City Thunder, Ranked at #76
Adams' stats from last season: 13.9 PTS on 59.5 FG% and 50.0 FT%, 0.0 3PM, 9.5 REB, 1.6 AST, 1.5 STL, 1.0 BLK and 1.7 TO in 33 minutes a game.
Russ is out, a round of rebounds for everybody!
Oklahoma City will look a lot different than they did last year. Their two stars in Westbrook and Paul George are both on different teams this time around, and even though Chris Paul and Danilo Gallinari are in town, these changes will certainly mean more opportunity for other guys to shine.
Now, even though Adams' partnership with Westy on the offensive end was quite successful, with CP3 in town and increased opportunities with the two All-Stars gone, should result in Adams keeping his points close to last years', if not even improving.
Furthermore, Westbrook's departure could further improve Adams' fantasy output. Russell's known for picking up a lot of rebounds which are supplied by other players boxing out the opposition. Now even though Paul is also good at picking up those loose balls, he is now Westbrook and it is quite likely that a few of those rebounds that would usually end up in Westy's hands will now land with Steven.
As for the other stats, I really can't find a reason for any of them to change significantly so I expect a similar FG%, poor FT% and elite STL/BLK from Adams again this year.
Conclusion
An animal on the boards with a meaningful contribution in FG%, steals, and blocks who's played more than 75 games in five out of his six seasons in the NBA so far, finished inside the top-50 last season and has an increased opportunity this year is ranked at #76 this season. Don't miss out on him in the 60-70 range.
I, myself, have got him much higher at #45.
Late Round Draft Flier
Dennis Schroder, PG, Oklahoma City Thunder - Ranked at #190
Schroder's stats from last season: 15.5 PTS on 41.4 FG% and 81.9 FT%, 1.6 3PM, 3.6 REB, 4.1 AST, 0.8 STL, 0.2 BLK and 2.2 TO in 29 minutes a game.
A full rebuild in OKC
Even with a ball hog in Westbrook and an elite player in PG-13, Schroder still managed 29 minutes, 15 points and four dimes per game. His talent is undeniable and with the overhaul taking place in Oklahoma, Dennis could become a much more integral part of the team.
Playing alongside CP3 should help Schroder mature and further improve his game, which could lead to better decision making when it comes to taking shots and making passes. If he is able to learn from Paul, the increased usage Schroder will probably see next year will not drag his FG% and TO into the deep end and you will be able to have him on a team that is not necessarily punting either of those categories. Of course, if you are punting them that would really improve Schroder's value to you.
Conclusion
Dennis the Menace's stock is way down ever since he was traded for next to nothing from Atlanta to OKC, and that translated to fantasy Bball apparently. Be wise and use this to your advantage if you see Schroder slipping big.
As a player who's proven he has the skills to be a leader of an NBA team, I have him at #135.
More Fantasy Basketball Analysis
By popular demand, RotoBaller has aggregated all of our fantasy basketball NBA waiver wire pickups into a running list of NBA waiver options, so bookmark the page and check back often for updates.