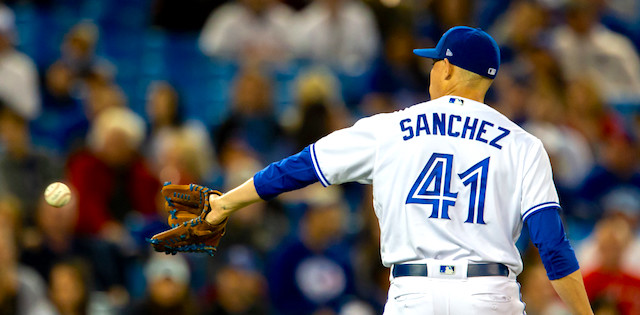 Up until the final hours of the 2019 MLB trade deadline, it was almost looking like every major league GM had made some sort of weird, simultaneous mistake where they forgot to mark the days off on the calendar and thought that it was only July 30th. When the deals started rolling in, they came in a mad flurry, but not necessarily including the names you were jazzed up to hear.
While we did ultimately see swaps for the likes of Zack Greinke, Trevor Bauer and Yasiel Puig, Nicholas Castellanos, Shane Greene, Marcus Stroman, and some of baseball's top prospects, the majority of moves were low-key and conveyed a prevalent aura from around the league: confidence in organizational position and identity.
With hotly discussed starters like Madison Bumgarner, Noah Syndergaard, Zack Wheeler, and Matt Boyd staying put, we can nonetheless find an advantage in the starters who do currently find themselves on new rosters, and with a new set of circumstances to exploit for a strong run down the homestretch. So, let's discuss the pitchers of the 2019 MLB trade deadline who may have flown under the radar, but whose acquisitions are worth your undivided attention.
Editor's Note: Get any full-season MLB Premium Pass for 50% off. Exclusive access to our Draft Kit, premium rankings, projections, player outlooks, top sleepers, dynasty and prospect rankings, 15 in-season lineup tools, and over 200 days of expert DFS research.
Sign Up Now!
29% Owned
Mike Leake had been having a durable, yet mostly forgettable season on the mound for the hot-starting (fast waning) Seattle Mariners, until he put together a fantastic month of July that saw him hitting on all cylinders. In 30.0 IP, he accrued a 3.60 ERA and 1.17 WHIP, causing his name to once again carry appeal on the trade market. He definitely looked appealing to the Arizona Diamondbacks, and backing up his hot run in the heat of July are several key statistical improvements.
In that time, Leake forced season-best figures for hard contact (29.2%) and soft contact (18.8%) on batted balls, he produced season-best figures of 19.5% and 1.6% for strikeout rate and walk rate, he forced a sub-1.00 HR/9 (0.90) for the first time all year, and he coaxed the opposition into a 2.00 GB/FB ratio on 50% grounders. It's questionable to go through a change of scenery immediately following your best month of work for the campaign, and the move to Chase Field could easily cause struggles for Leake who has had issues with the long ball in the past. With steady adaptation with the passing months, a severe aversion to walking batters, and a secure spot in the Diamondbacks rotation, its hard to see Leake not being a serviceable streamer at the very least as 2019 dwindles down.
26% Owned
Due to several unfortunate circumstances, the Oakland Athletics found themselves needing some urgent assistance in the heart of the rotation, already having taken steps to shore up the back end by acquiring Homer Bailey from Kansas City. The Cincinnati Reds simultaneously found themselves with a rental starting pitcher to spare, and as the action heated up, ultra-consistent Tanner Roark was on his way to play for the A's. Though, unlike Mike Leake, Roark is entering his new town fresh off of the worst month of his otherwise successful season.
In 24.2 IP throughout July, Roark mustered an ugly 7.30 ERA and 1.82 WHIP, posting his only poor stretch of the season. While the source can likely be attributed to the rise of his BABIP from .268 to .382, the deviation from his average performance has come on some rather minor missteps on the mound. His strikeout rate dropped to 18.3%, his walk rate crept back up to 7.8%, and despite maintaining a respectable rate for hard (32.5%) and soft (19.3%) contact on batted balls, he allowed an overly destructive 2.55 HR/9 over that stretch. The issue has been additionally allowing batters to produce 27.5% line drives, turning into XBH all over hitter-friendly Great American Ball Park.
Even with his first sub-par stint as a starter for Cincinnati coming right as Oakland has decided they need him, the fact that they have a wide-open spot for the reliable veteran in the rotation is always a plus, and the nature of the Athletics home venue will at least help to suppress any future artillery fire to the stands. Even with limited strikeouts, Tanner Roark could be immediately ready to get back on track.
14% Owned
Milwaukee had a certifiably snooze-worthy deadline approach, but after the injuries down the line of their pitching staff, they were badly in need of starters (and possibly long-relievers). One of their earliest moves was in grabbing Jordan Lyles from the Pittsburgh Pirates, and it wasn't an acquisition met with much enthusiasm by the Brewers faithful. In 82.1 IP across 17 starts for the Pirates in 2019, Lyles struggled immensely with a 5.36 ERA and 1.47 WHIP, which measures unfortunately close to his career average despite being around for so long.
He had a good first start as a member of the Brewers though, going five innings and allowing just one earned run, on three hits, two walks, and four strikeouts. The problem for Lyles this season hasn't really been in his tolerable 9.2% walk rate or his actually high-performing 24.7% strikeout rate on the year, the issue has been the fact that he has allowed a downright frightening 1.6 HR/9. That kind of figure may be understandable if he was still a member of the Colorado Rockies, but it shouldn't happen in PNC Park, and it could be a crippling obstacle in power-friendly Miller Park.
He has baited opponents into 17.5% soft contact on batted balls but has allowed a harmful (though still not unaligned with his career tendencies) 37.1% hard contact. The truth is, besides his slight strikeout upside, Jordan Lyles just isn't a reliable starter to deploy from a game-to-game basis, and should likely be avoided until a poignant change is noticeable in his approach and results.
10% Owned
Trevor Richards had been a part of a burgeoning rotation for the Miami Marlins, and though he had several strings of exemplary starts, he has ended up with a shaky cumulative ERA (4.50) and WHIP (1.38) across 112.0 IP in 2019 (23 appearances, 20 starts). The Tampa Bay Rays must've seen a spark in Richards (or were willing to bear the consequences), because they acquired him at the deadline in a package with strikeout-heavy reliever Nick Anderson. While it's true that Richards has been useful at times this season and the Rays were a club desperately in need of back-end rotation help, the momentum has shifted far out of the 26-year-old hurler's favor.
The only aspect of his game that has taken a turn for the better since the start of July has been his strikeout percentage which ascended to a season-best rate of 23.8% for the month. Other than that, his walk rate has ballooned to 13.1% for his work this past month, and he has allowed a highly dangerous 43.4% hard contact on a 0.75 GB/FB ratio (66.1% combined line drives and fly balls). Those kind of peripherals may have flown at Marlins Park, but they might not fare so well in Tropicana Field pitted against daunting batting orders of the AL East (not to mention their offense-friendly home fields). You can find strikeouts in much safer places than the hands of Trevor Richards, and he's a reluctant stream with the way he's been letting pitches spray back.
10% Owned
Aaron Sanchez was once thought to be right on the cusp of stardom with the Toronto Blue Jays (he is still only 27), and he looked like he was ready to hop back on board his own hype train when he started 2019 with a fantastic showing through the first month. Well, it all went barreling downhill (and into the outfield) from there, but that didn't stop Sanchez from being dealt along with teammate Joe Biagini to the super-stacked Houston Astros at the deadline.
It wasn't the biggest addition that Houston made to the rotation that day by a mile, but even with his struggles and some discouraging performance measures, there are some reasons to keep Sanchez in your peripheral vision. Across 25.2 IP for the month of July, he produced season-best figures for strikeout rate (23.7%), walk rate (6.1%), and HR/9 (0.70), while still forcing opponents into a GB/FB ratio north of 1.00 with 36.4% grounders. The biggest issue remaining was the fact that opponents could sustain a .360 BABIP over the past month by applying 45.5% hard contact to 29.9% line drives.
At least Minute Maid Park isn't too much more hitter-friendly than the Rogers Centre on any given day, and his limiting of long balls should be a vital factor down the homestretch. He may get a World Series ring out of this, but if Aaron Sanchez can limit the hard contact over the final months, he could be in position for a strong recovery.
3% Owned (Combined)
In further effort to supplant the innings and production of several starting pitchers recently forced out of action due to injury (and shall remain out for a considerable period), the Milwaukee Brewers opted to go one step further than Jordan Lyles in their underwhelming quest by snagging Drew Pomeranz and Jake Faria at the deadline. What makes this an interesting mix is the fact that both guys have had success in the past out of major league rotations, but have recently been utilized out of the bullpen by San Francisco and Tampa Bay.
Of the two, Pomeranz is the most likely to work his way into Milwaukee's rotation (or consistently extended innings) and close out the campaign effectively. Faria is still just 25, but he has failed to impress in mostly relief work for Triple-A Durham this season, and has been remarkably lucky to escape with a 2.70 ERA across limited major league work the Rays in 2019 with a 1.8 HR/9, 14.9% walk rate, and 1.70 WHIP. Pomeranz struggles with walks too (though to a lesser degree at a 10.7% clip for July), but he has been striking batters out with solid frequency at 26.8%, while lowering his hard contact rate allowed on batted balls to 37.1%. He needs to induce way more soft contact than his July rate of 2.9%, but his numbers on the year are highly inflated by a catastrophically bad time from the mound in May (19.16 ERA in 10.1 IP).
With two straight months of steady ground under his belt, Drew Pomeranz could be ready for a bounce-back of his own.  Though if another injury pops up, you could have worse choices than a strikeout-hungry Faria taking the stage for a contender like Milwaukee.
More 2019 Fantasy Baseball Advice