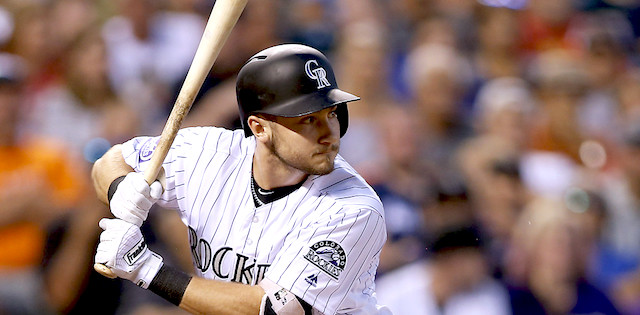 We are thrilled to announce that Marc Hulet has recently joined the RotoBaller team! Marc is also the longest-serving, active writer at FanGraphs. For 10+ years he has been focused on MLB prospects and their fantasy baseball impacts. Follow along all season!
I'm kicking off my tenure at Rotoballer with a two-part series looking at the four hitters and four pitchers that will help your fantasy baseball team in 2019 more than you expect. These are not just names to know in dynasty leagues.
Each piece will highlight one player who faces a little more adversity than the others and their inclusions might surprise you. Make sure you take time to read up on the under-the-radar pitching prospects piece.  Let's see which hitting prospects you should be monitoring in 2019 redraft leagues.
Featured Promo: Get any full-season MLB and DFS Premium Pass for 50% off. Exclusive access to our Team Sync platform, Premium articles, daily Matchup Rating projections, 15 lineup tools, DFS cheat sheets, Research Stations, Lineup Optimizers and much more!
Go Premium, Win More!
Forget fielding minor league baseball teams to develop players. The Rockies have built an assembly line for producing big league infielders. Or at least it feels that way. The organization might have more infield depth than any other club in the Majors, with a line of high-ceiling players stretching out from the Majors clear down to A-ball. The club graduated Ryan McMahon last year and will likely do the same with Hampson in 2019, followed by the likes of Brendan Rodgers, Colton Welker, Tyler Nevin, Josh Fuentes, and Ryan Vilade. But we're here to talk about Hampson so let's do just that. If the early fantasy drafts of 2019 are any indication, Hampson is becoming less and less of a secret, but he's still underrated.
I identified Hampson as a player to watch a couple of years ago because of his intriguing mix of versatility, speed, and line-drive pop. The key for Hampson is that he understands his strengths and weaknesses as a player and has bought into the game plan. He has a natural feel for hitting, but he also knows his greatest offensive weapon is his speed, so he focuses on putting the ball in play over swinging for the fences. And he's also more than willing to take a walk and beef up his on-base rate, which provides added opportunity to put his wheels in motion. During the past two minor league seasons, Hampson has stolen a whopping 87 bases. Anyone who has played fantasy baseball knows stolen bases have become harder and harder to come by, making them more and more valuable when you can find them. Hampson should provide those in spades, while also offering a solid batting average and versatility (qualifying at both second base and shortstop… and very likely the outfield early in 2019).
Detroit is by no means a hotbed for developing high-impact prospects, but Cameron comes to the Tigers by way of the Astros' outstanding player development system. And he has an outstanding pedigree as the son of long-time MLB outfielder Mike Cameron. It's been a relatively steady climb through the minors for the younger Cameron due to contact issues resulting in high strikeout rates. The good news is that he's shown a willingness to take a walk, which helps to offset the Ks and puts him in an excellent place to utilize his speed on the base paths. The young outfielder has the potential to steal 30-40 bases in a full season. Cameron also has the raw power for tons of doubles and 10-12 homers, if not more, as he matures.
With just 15 games of experience at the Triple-A level, the Tigers' top center-field prospect will need some additional seasoning before arriving in Detroit. The good news, though, is that he's looked good this spring (albeit with continued swing-and-miss tendencies). Cameron has appeared in 11 games which gives the Tigers a good long look at him, and they've seen him sting the ball with six of his eight hits going for extra bases. With the Tigers in a rebuild and the outfield in a state of flux, there could be plenty of opportunities for him throughout the year. Right-fielder Nick Castellanos would welcome a trade from Detroit. JaCoby Jones, well, isn't very good. And left-fielder Christin Stewart is a rookie who I've never been a huge fan of despite his first-round pedigree. Mikie Mahtook is also still hanging around but, like Jones, isn't much of anything. 
For every Kyler Murray that gets away, there is an offsetting win for baseball, like Alford. A star high school football player, Toronto took a risk drafting Alford with a relatively high pick and allowed him to split his time between college football and pro ball. But that also meant that the young outfielder compiled just 110 plate appearances in competitive games during his first three seasons of pro ball, spending most of his time in instructional leagues and spring training before leaving for the college football seasons. The key to Alford's success in overcoming the lost development time once he fully committed to baseball was a combination of outstanding athleticism as well as incredible makeup and maturity.
Things have not gone completely smoothly for Alford in pro ball, and he's been prone to injury and brings a troubling history of concussions with him from his gridiron days. Although he was mostly healthy in 2018, playing in more than 100 games for just the second time in seven years, the 24-year-old didn't look right for most of the season by showing decreased athleticism in the field and a regressed approach at the plate. Alford may always have some swing-and-miss to his game, but his walk rates dropped from historical levels of 12-13% down to just 7%. He started out the year hurt and looked terrible when he returned to action in April and May. Things slowly improved as the year progressed and he's been one of the Jays better hitters in spring training to date with a .333 average and a team-leading four home runs (Hitting the ball in the air more is a key to Alford unlocking his raw power potential).
With the outfield depth thinning out with Dwight Smith Jr.'s trade to Baltimore and Dalton Pompey perennially unable to stay healthy, the door may be opening for Alford to finally show what he's capable of with an extended taste of big league action.    
If there were a baseball award for the unluckiest player, Walker would probably have won it a few times. The first baseman has spent parts of the last five seasons in Triple-A while producing above-average numbers. He hit .309 with 32 home runs in 2017 and still couldn't earn a legit shot at The Show. He returned to Triple-A in 2018 and produced a similar HR-per-fly-ball rate and saw his line-drive rate skyrocket to 30%. Again, a career-high in MLB plate appearances topped out at 53. Why? Well, he's been stuck behind Chris Davis (back when he was good) and Paul Goldschmidt. But now the latter hitter has departed Arizona and Walker's competition for playing time is displaced third baseman Jake Lamb.
Early news out of Arizona's camp is that Walker is being heavily considered for a spot on the 25-man roster. The other good news (for Walker) is that Jake Lamb hasn't looked right since hurting his shoulder last April. He actually injured it twice and eventually needed rotator cuff surgery, which is often a very difficult injury to come back from, and we're seeing it early on in Lamb's spring numbers. If Walker can capitalize on the slow start — and he's doing a great job early in camp — then he could run away with the job and leave Lamb in a split role seeing time at both first base and third base. With Arizona being a good place to hit, Walker could produce some big-time power numbers for a very low price.
More Fantasy Baseball Sleepers and Breakouts