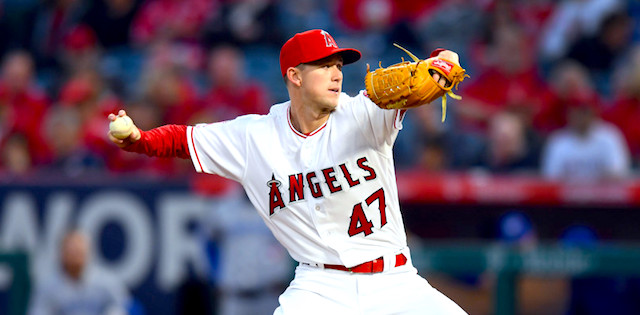 Hoo boy. This one is going to be rough.
OK before we get to this week's streamers, we'll recap how our first two weeks have gone. The winning pick from Week 2 ended up being JT Brubaker, who just narrowly edged out Jordan Montgomery for the Column MVP. And so far in Week 3, Huascar Ynoa is the early leader after striking out 10 and allowing just one run in six innings against the Marlins.
And now we get to the rough stuff. Much like last week, it's slim pickings among the under-50-percent rostered club. On top of that, I've had to make some last minute changes to this column as well. I was going to talk about Johnny Cueto (lat) as the only two-start streamer in the under-50, over-25 percent rostered range. But then he ended up being placed on the injured list on Thursday. I was also going to write about David Peterson as a possible two-start streamer, but oh hey, the Mets game Thursday was rained out so now Peterson is no longer in line for a two-start week. So at this point we're down to talking about five guys currently being rostered at a rate of 20 percent or less. I'm going to go ahead and say this will likely end up being the worst group of two-start pitchers I'll write about this year, but there's still a chance these guys will help you out in Week 4.
Featured Promo: Get any full-season MLB and DFS Premium Pass for 50% off. Exclusive access to our Team Sync platform, Premium articles, daily Matchup Rating projections, 15 lineup tools, DFS cheat sheets, Research Stations, Lineup Optimizers and much more!
Go Premium, Win More!
Week 4 Streamers — Under 25% Rostered
Griffin Canning, LAA - 20% rostered
Probable Opponents: vs TEX, @ HOU
So in this week full of risky picks, let's start off with Canning, who earned the loss in his latest start despite an otherwise decent showing. Going up against Kansas City on Wednesday, Canning allowed just two runs on six hits and two walks while striking out five in five innings of work. He dropped his ERA to 5.23 over 10 1/3 innings while also posting a 27.9 percent strikeout rate. The strikeouts are good, but his big problem this year — as well as throughout his career — is his tendency to give up home runs. He's already given up three homers in two starts this year after allowing eight home runs in 56 1/3 innings in 2020.
Canning is a risky play for managers this week, because while the Rangers have not been hitting for much power early on this year, the Astros are second in the Majors in home runs (19) and fourth in ISO (.197) and slugging percentage (.464). The Rangers also have the fourth-highest strikeout rate in the Majors (28.7%) while the Astros have the second-lowest rate (18.6%). Canning against the Rangers should be a decent enough matchup, and if he can put up similar numbers to his first start against Houston last season (six innings, one earned run, five strikeouts), Canning should provide good enough value in Week 4.
Joe Ross, WSN - 6% rostered
Probable Opponents: vs STL, @ NYM
Ross will probably be the best pitcher out of this week's group, as he is showing no signs of slowing down from his hot start to the year. He's opened the 2021 season with back-to-back scoreless outings against the Dodgers and the Cardinals, allowing just six hits and three walks while striking out nine in 11 innings of work. He earned his first win of the year on Wednesday against the Cardinals — striking out five over six innings of work — and now he'll get a rematch with them in Week 4. One concern is that over his career he has pitched better on the road (3.95 ERA, 21.3 K%, .253 OPP BA) than at home (4.33 ERA, 19.6 K%, .278 OPP BA), and both of Ross' starts this year have come on the road.
So while he had a good showing in his last start against St. Louis, it could potentially be a little more difficult for him in Week 4. In his second outing, he'll go up against a Mets team that hasn't shown much power so far (.368 SLG, .116 ISO) but they have the eighth-best batting average in the league (.252) and their 22.5 percent strikeout rate is the eighth lowest in the majors. Ross isn't going to keep that ERA at 0.00 forever, but this week he should be able to continue to build off his good start to the year, and despite the concerns he will likely be the best guy to target in this week's list.
Michael Fulmer, DET - 5% rostered
Probable Opponents: vs PIT, vs KCR
Fulmer had started the season pitching out of the bullpen, but once Julio Teheran (shoulder) went down with a shoulder injury, Detroit brought Fulmer back into their rotation. And so far this season, Fulmer has been looking fairly good — at the very least much improved from what we saw out of him in 2020. Through 12 innings of work, Fulmer has a career-high 27.3 percent strikeout rate. He is ranked in the 68th percentile in strikeout rate and in the 83rd percentile in chase rate (32.8%). Additionally, his 3.92 xERA so far is his best mark since 2016.
His first start of the year came in a tough matchup against Houston. He limited the Astros to two runs in five innings of work while striking out two en route to his first win of the year. Now he'll face off against a pair of teams that are striking out at a high clip (PIT: 25.5%; KCR: 26.2%) but they are still hitting well to start the year. The Pirates have a team batting average of .240 average and a team OPS of .705. The Royals are sporting a .247 average and a .702 OPS.
One factor that will help Fulmer's value is that he'll be pitching both games at home, as he has a career 3.59 ERA and 1.130 WHIP in Detroit as opposed to a 4.52 ERA and 1.314 WHIP on the road. Along with that, his start against the Royals has the potential to be a sneaky good matchup, as Kansas City is hitting worse against right-handed pitchers (.229/.304/.345, 28.5 K%) this season than against left-handed pitchers (.309/.345/.543, 18.0 K%). I still give Ross the edge this week for best choice, but Fulmer can be a solid two-starter as well.
Kohei Arihara, TEX - 2% rostered
Probable Opponents: @ LAA, @ CHW
This is where we start to get into the guys who are worth contemplating if you need them, but they aren't going to have as much upside as Canning, Ross and Fulmer. After lackluster results in his first two starts of the season where he posted a 5.00 ERA, 1.333 WHIP and 5.4 strikeout percentage across nine innings, Arihara looked good in his latest start against the Rays. He struck out five in 5 2/3 scoreless innings to earn his first career win. Now he'll be on the road for both starts this week against the Angels and White Sox.
The Angels will be Arihara's toughest outing of the week, as they are currently hitting .259 with a .742 OPS — both of which are the sixth-best marks in the majors right now. They also have the seventh-lowest strikeout rate in the majors at 22.3 percent. It'll probably be a rough go of things, but if he can get through the Angels relatively unscathed, he'll have a nice matchup against the White Sox at the end of the week (please note, as a Sox fan it kills me to say they'll be a good fantasy matchup). Chicago is currently middle-of-the-pack with a .233 average and .703 OPS, but their 22.5 percent strikeout rate is the ninth-lowest in the majors. A big positive for Arihara going into that start is that the White Sox have been struggling against right-handed pitching early on, as they are currently slashing .218/.328/.339 with a 23 percent strikeout rate against righties.
This will be the classic dilemma of one good matchup versus one bad matchup. If you're not sold on the other guys on this list and are willing to take a chance on the relatively unknown, Arihara could be your guy.
Tyler Anderson, PIT - 1% rostered
Probable Opponents: @ DET, @ MIN
Finally, we'll end this list with the guy that I think will have the lowest ceiling but the highest floor in terms of value in Week 4. Anderson has been relatively solid to start the year, posting a 4.02 ERA with 14 strikeouts in 15 2/3 innings of work in two starts against the Cubs and one start against the Padres. He's gone at least five innings in all three of his starts so far, and in his latest outing against the Padres, he earned his first win of the year by allowing just one run while striking out two in 5 1/3 innings of work. Anderson has also seen his strikeouts rebound from a career-worst 15.8 percent rate in 2020. He sports a 20.9 percent strikeout rate this year while his 29.2 percent chase rate and 28.4 percent whiff rate rank in the 68th and 56th percentiles, respectively.
Of his two interleague matchups this week, his start against Detroit should be his best one for fantasy. Detroit currently owns the fifth-highest strikeout rate in the majors at 27 percent. The other key to this matchup is the Tigers' early struggles against left-handers, as they are currently slashing .189/.259/.284 with a 29.6 strikeout rate against southpaws. While Detroit has struggled with left-handers, Minnesota has thrived against them early on by slashing .284/.347/.419 — albeit with a 22.8 percent strikeout rate. Anderson will be similar to Arihara this week, in that they both have one good matchup and one that will probably be a rough watch. Between the two, my pick will be Anderson because I think his outing against Detroit will be a far better fantasy matchup than Arihara's against the White Sox.
Download Our Free News & Alerts Mobile App
Like what you see? Download our updated fantasy baseball app for iPhone and Android with 24x7 player news, injury alerts, sleepers, prospects & more. All free!


More Fantasy Baseball Waiver Wire Advice
Check out RotoBaller's entire fantasy baseball waiver wire pickups and sleepers list, updated daily!