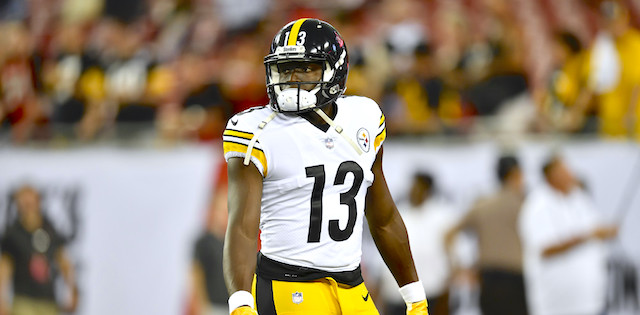 Throughout the fantasy football season, streaming becomes an important part of winning your weekly matchups. This is especially true when we start hitting the bye weeks. Knowing who to stream and when to stream them could be the ultimate difference-maker in a weekly matchup, and making the right streaming decisions throughout the season could easily be the difference in winning a championship.
Each week, I will create a team of streamers for you to choose from. They will be broken down based on ownership levels and league size. I will make specific recommendations for 14, 12, and 10-team leagues to give you the most guidance possible when selecting a streamer. 14-team streamers will be players with ownership levels around 15%, 12-teamers will be around 30%, and 10-teamers will be around the 45% mark. Keep in mind that just because a player is listed as a streamer for a particular league size, it does not mean you can't use them in a different league size. For instance, if a 12-team league streamer is available in your 14-team league, by all means, use them accordingly.
Let's take a look at Week 2's best streaming options with some highlighted players to keep an especially close eye on.
Editor's Note: Get any rest-of-season NFL Premium Pass for 50% off. Our exclusive DFS Tools, Lineup Optimizer and Premium DFS Research through the Super Bowl.
Sign Up Now!
Stream Team for 14-Team Leagues
QB: Andy Dalton, Cincinnati Bengals - 14% Owned
RB: CJ Anderson, Detroit Lions - 12% Owned
RB: Jalen Richard, Oakland Raiders- 18% Owned
WR: Mecole Hardman, Kansas City Chiefs - 20% Owned
WR: Randall Cobb, Dallas Cowboys - 16% Owned
TE: Tyler Eifert, Cincinnati Bengals - 8% Owned
Andy Dalton had a monster game against the Seattle Defense in Week 1 when he threw for 418 yards and two touchdowns. Doing this in Seattle is no easy feat, and now he returns home to face the San Francisco 49ers who will be traveling from the west coast to play in a 1 pm EST. start. The 49ers played admirably against an erratic Jameis Winston in Week 1, but their secondary can be exploited. In 2018, they gave up the third-most fantasy points to quarterbacks, who averaged 18.4 points a game. I am going to stick with my preseason prediction and say that Andy Dalton continues to shine Week 2.
Make no mistake about it, Jalen Richard is a third-down pass-catching back. In Week 1, the Raiders played from ahead the entire game and did not have much use for him. Week 2 likely will not be the same when the Kansas City Chiefs come to town. I would expect him to be much more involved in the passing game in a game where the Chiefs are favored by 7.5 points.
Eifert may seem like a stretch at 8% ownership, but he has a matchup that could favor him in Week 2. The 49ers appeared to hold down Tampa Bay's tight ends in Week 1, however, this is only because Cameron Brate had two touchdowns called back due to offensive holding. Last week, Eifert caught five of six targets for 27 yards, which garnered him 7.7 points in a PPR league. If he gets the same types of looks from Dalton this week at home vs San Francisco, he could easily surge into double-digit points.
Stream Team for 12-Team Leagues
QB: Derek Carr, Oakland Raiders - 30% Owned
RB: Chris Thompson, Washington Redskins - 31% Owned
RB: Carlos Hyde, Houston Texans - 37% Owned
WR: James Washington, Pittsburgh Steelers - 32% Owned
WR: Mohamed Sanu, Atlanta Falcons - 36% Owned
TE: Jack Doyle, Indianapolis Colts - 26% Owned
Chris Thompson should have a sizeable role in the Washington offense for the time-being as Derrius Guice recovers from a meniscus injury. Guice should be out the next few weeks, so Thomspon may make this list multiple times during that span. He will be especially effective in PPR leagues as he has averaged 41 catches per season the previous four seasons. Last week, he was targeted 10 times resulting in seven receptions for 68 yards. He should get plenty of looks next week against a Dallas defense that allowed 101 receptions to running backs a season ago as well as seven receptions to running backs against the New York Giants last week. Add in the fact that Dallas in a 4.5 point favorite, and you have a Washington Offense that should be is pass mode late and looking to get Thompson involved.
Last week, the Seahawks struggled mightily to contain the number two wide receiver of the Cincinnati Bengals, John Ross. This week will not get any easier heading to the east coast to play the Pittsburgh Steelers. Washington was third on the team in targets a week ago, trailing only JuJu Smith-Schuster and Donte Moncrief. Moncrief was targeted the most times with a total of 10, but he was only able to come down with 3 catches in the game. Meanwhile, Washington hauled in two of his six targets and turned one into a 45-yard gain. There has been a lot of hype surrounding Washington this offseason, and he may continue igniting that chatter this week against the Seahawks' secondary.
Jack Doyle (TE, IND) - 26% Owned
A week ago, several tight ends on the waiver wire could have filled this role for Week 2, however, due to the scarcity of the position, many of them were scooped up. Jack Doyle is still available in most leagues and could have a decent opportunity to perform well in Tennessee this week. The Titans allowed David Njoku to haul in four receptions for 37 yards and a touchdown last week. Doyle was one of Jacoby Brisset's favorite targets in 2017 when he was targeted 108 times resulting in 80 receptions for 690 yards and four touchdowns, so it is likely only a matter of time before the spark between the two is reunited. While Doyle is a decent stream this week, he may end up being a solid waiver claim for the season at the tight end position.
Stream Team for 10-Team Leagues
QB: Josh Allen, Buffalo Bills - 35% Owned
RB: Malcolm Brown, Los Angeles Rams - 51% Owned
RB: Adrian Peterson, Washington Redskins - 51% Owned
WR: D.K. Metcalf, Seattle Seahawks - 42% Owned
WR: John Ross, Cincinnati Bengals - 52% Owned
TE: Jimmy Graham, Green Bay Packers - 52% Owned
Josh Allen (QB, BUF) - 35% Owned
Josh Allen had a good week from a fantasy perspective Week 1 against the Jets in which he threw for 254 yards and a touchdown while also rushing for 38 yards and a score. This week he faces the Giants who gave up over 400 yards through the air to Dak Prescott last week. Couple that with the fact that the Giants gave up the seventh-most rushing yards to quarterback in 2018, and you have a prime spot to stream Josh Allen.
Adrian Peterson suddenly becomes the feature-back one week after he was tagged with an inactive status, thanks to the meniscus injury to Derrius Guice. Last week the Cowboys were gashed on the ground, allowing 140 yards on 15 carries. Let that sink in for a moment. They also allowed seven receptions for 43 yards out of the backfield. Washington is going to look to establish the run early, especially considering the passing game is their relative weakness. Be aware that Peterson may need to be taken out of the game late in exchange for Chris Thompson if Dallas has the lead (which they are expected to), but Peterson could rack up some points early on in the game.
John Ross (WR, CIN) - 52% Owned
Apparently, everyone hasn't gotten the message that John Ross is a major add in fantasy leagues this week as he is still only 52% owned. He torched the Seattle secondary last week to the tune of seven receptions for 158 yards and two touchdowns. The matchup this week could be just as juicy when he takes on the 49ers at home. As I mentioned earlier when discussing Andy Dalton, the 49ers may have kept Jameis Winston in check last week, but this is still a defense that allowed the fourth-most fantasy points to wide receivers in 2018. Until the 49ers show us they can consistently stop the pass in 2019, we can feel comfortable attacking them.
More Week 1 Lineup Prep