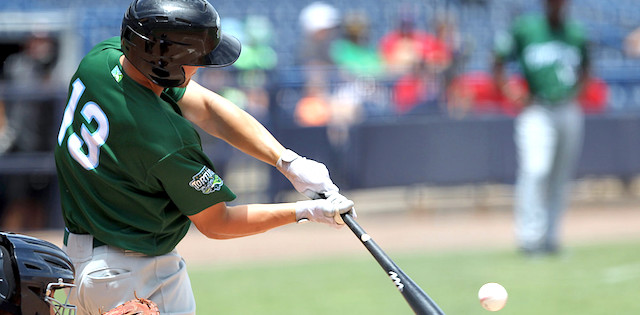 Taking a look at the top third base prospects in dynasty, you can split the list into two categories: Vladimir Guerrero Jr and everyone else.
Clearly, Guerrero is the most exciting prospect in fantasy right now after his monster 2018 campaign where he hit .381 with 20 home runs and a 1.073 OPS over 408 plate appearances. He's the consensus No. 1 fantasy prospect in our 2019-only and dynasty league rankings, but there are plenty of other third base prospects that have the potential to be fantasy stars. Reds prospect Nick Senzel has the potential to be a perennial 20-homer, 20-steal player, while Red Sox prospect Michael Chavis could put up numbers similar to Adrian Beltre in his prime.
So without further ado, let's take a look at the rest of the top 10.
Featured Promo: Want a free RotoBaller Premium Pass? Check out these sports betting promo offers from the top sportsbooks! All new sign-ups get a free bonus offer on their first deposit, and a free year of RotoBaller's Premium Pass for all sports ($450 value)!
Sign Up Now!
ETA: 2019
Let's just start off by getting Guerrero out of the way. There is no hotter prospect in baseball right now after his breakout campaign last season. On top of the stats touched upon in the intro, Guerrero finished the year with a 9.1 percent walk rate and a 9.3 percent strikeout rate while posting the highest batting average (.402) and the fewest strikeouts (27) in the Eastern League among players with at least 250 plate appearances. He missed a chunk of June and July due to injury, but he seemed unhampered by it upon his return as he finished out the year at Triple-A hitting .336 with six home runs and a .978 OPS over his final 30 games of the season.
Guerrero will turn 20 during Spring Training, and while he is unlikely to make the Opening Day roster he will almost certainly be in Toronto before the All-Star break. Once he gets there, he'll likely be in the majors for good and will become a perennial .300 average, 35-home-run threat. There isn't really much more to say about Guerrero — there aren't many players that are more valuable in dynasty leagues right now.
ETA: 2019
Senzel is worth mentioning on this list even though he might not be manning the hot corner once he gets his first shot in the majors. After playing exclusively at third base his first two years in the minors, Senzel got some time at second base during his injury-plagued 2018 campaign and now it's looking like the Reds are considering him in center field. Regardless of where he plays on the field, Senzel looks like he will become a solid fantasy player in the near future. He has hit over .300 in each of his first three seasons while also posting an OPS over .880, and despite missing significant time last season Senzel was on pace for a 23-home run, 30-steal season.
Long-term, there shouldn't be too much concern from the injuries Senzel dealt with in 2018. The only ailment that would potentially continue to affect him going forward would be the vertigo that caused him to miss time at the start of the season. But it appears that that is under control now. Like Guerrero, Senzel will likely start this season in the minors until the Reds are able to secure another year of control over him. Once he's up though, he's quickly going to become one of the rising stars in fantasy. Owners should consider him a lock for at least 15 home runs and 15 steals per season with at least a .285 average.
ETA: 2020
At the end of last season, it looked like Austin Riley could get a shot at cracking the Opening Day roster in 2019. But then the Braves signed Josh Donaldson to a one-year deal, and with Johan Camargo coming off a 19-home run, .806 OPS season it appears now Riley will need to wait a while longer before getting his chance. Riley isn't too far off from contributing though, as he hit .294 with 19 home runs and an .882 OPS over 455 plate appearances between the Gulf Coast League, Double-A and Triple-A. That comes off the heels of back-to-back seasons of 20 home runs and an average over .270. He also turns 22 at the beginning of April.
Riley hasn't grabbed the headlines as much as guys like Guerrero and Senzel, but he appears to be in that next tier down from them. The power looks legitimate and he should be a 20-home run threat at the major league level, but owners might want to expect a slightly lower average than what he has shown in the minors. His lowest strikeout rate was 22.9 percent in 2017, and he has had a strikeout rate over 25 percent in three of his four seasons of pro-ball — including a career-high 28.4 percent last year. Riley is the future at third base in Atlanta and he is in line to become a consistently solid fantasy third baseman as soon as he gets the opportunity.
ETA: 2023
The 19th-overall pick in last year's draft showed off his power potential in his first taste of pro ball, hitting 17 home runs in 274 plate appearances between Advanced-Rookie Johnson City and Single-A Peoria. While the power is there for Gorman, he's going to have to work on improving his plate discipline before he reaches the majors. Gorman did record a 12.4-percent walk rate and a .380 on-base percentage, but he also recorded a 27.7-percent strikeout rate while watching his .350 average at Johnson City drop to .202 at Peoria.
Gorman shows a lot of promise as a dynasty third baseman to invest in, but his career trajectory is still up in the air at this point. He could end up as one of the top power-hitting third basemen in the near future, but the holes in his swing right now could slow his rise through the minors. Owners might want to consider acquiring Gorman now while his stock is relatively low, but they will need to pay close attention to how he does this year at age 19.
ETA: 2022
Jones had a breakout season with his power output in 2019, hitting a career-high 21 doubles and 19 home runs over 120 games between Single-A and Single-A Advanced. Prior to 2018, Jones had hit four home runs and 23 doubles over his first two seasons in the minors. The increased home run total came at a slight hit to his average, as he hit .283 with an .871 OPS last year after hitting .317 with a .912 OPS in 2017. Despite the dip in his averages, Jones recorded his third straight season with a walk rate over 16 percent and his second straight season with a strikeout rate under 26 percent.
While it looks like the former second-round pick is beginning to really show his potential, he's still several years away from even sniffing the majors. The Indians are already pretty well set with Jose Ramirez at the hot corner, so they won't be in too much of a rush to push Jones through their system. Much like Gorman, owners should look at adding Jones while he is relatively cheap, but they will need to keep a close eye on his 2019 campaign to see whether last year was a flash in the pan or a sign of good things to come.
ETA: 2022
Another first-round pick in last year's draft, India showed some flashes last season of putting up numbers similar to what's expected out of fellow Reds prospect Nick Senzel. In 184 plate appearances between Advanced-Rookie and Single-A, India recorded six home runs and six steals, which when extrapolated out over a full season would put him on pace for a 20-20 campaign. While that will get owners excited for his future prospects, what will somewhat dampen those thoughts are India's .240 season average as well as his .229 average and .735 OPS upon his promotion to Single-A.
India was drafted out of college, so one would have expected him to put up better numbers at Single-A. It was also his first year in pro-ball though, so an adjustment period is to be expected. Despite his low average, that 20-20 potential makes him a very interesting stash in dynasty leagues. And if Senzel ends up sticking in the outfield, that can open up a quicker path to the majors for India. This season should indicate what to expect out of India, and he could be one of the more interesting third base prospects to keep an eye on.
Ke'Bryan Hayes (PIT)
ETA: 2019/2020
Hayes had a breakout season in 2019, as he set career-highs in just about every single statistical category. Over 117 games at Double-A, Hayes hit 31 doubles, seven triples and seven home runs with 12 steals, a .293 average and an .819 OPS. While he did see a decline in steals after swiping 27 bags in 2017, Hayes displayed his potential to become a 10-home run, 15-steal third baseman in the near future for Pittsburgh. The only question really is whether or not this is the future or a fluke for Hayes, who had held a career .280 average and .722 OPS prior to 2018.
Pittsburgh currently has former first-round pick Colin Moran starting at third base, but Hayes could quickly challenge him for that starting job. While 2020 seems like the more likely ETA for Hayes, it's not outside the realm of possibility for him to get the call to Pittsburgh this summer. Out of all the third basemen on this list, Hayes is likely the least flashy dynasty prospect. But that doesn't mean he's not worth owning. Owners should look to treat Hayes like they should treat Nolan Jones this year — try to add him while he's relatively cheap and then watch closely this year to see if he can repeat his 2018 performance.
ETA: 2021
With the Rockies extending Nolan Arenado through 2026, Welker isn't going to be starting at third at Coors Field any time soon. But if he can continue to hit as he has over his first three seasons in the minors, the Rockies might look at moving Welker to another position to get him to the majors. Welker currently sports a career .337/.383/.492 triple slash line, and last season he hit a career-high 13 home runs and 32 doubles in the California League. He did see his strikeout rate jump from 15.1 percent in 2017 to 20.2 percent last year, but he also saw an increase in his walk rate from 6.5 percent to a career-high 8.3 percent.
Welker looks like he can be a 15-to-20-home run, .300-average player once he gets to the majors. But again, the question is where will he play. In the aftermath of the Arenado extension, it's entirely possible owners will see the Rockies give Welker playing time at another position this year after having been exclusively a third baseman the past three seasons. Owners will need to monitor where he plays this year, as well as watch to see if he can repeat his 2018 campaign outside of the hitter-friendly California League.
ETA: 2019/2020
Much like with Hayes, Mountcastle is a guy who will most likely get his first taste of the majors in 2020, but there is a slight chance he could get a taste of the majors late this summer. Mountcastle is coming off back-to-back seasons with an average over .285 and an OPS over .800 while hitting a combined 31 home runs. He also showed improvement in his plate discipline in 2018 with a career-best 6.1 percent walk rate while his 18.5 percent strikeout rate marked the third year in a row where he recorded a strikeout rate of less than 20 percent.
Mountcastle is looking like a 20-home run threat for Baltimore, and it doesn't appear that there is much standing in the way of him breaking into the majors. Renato Nuñez looks to be the starting third baseman heading into 2019 for Baltimore, but Mountcastle should be competing for that job very soon. Owners should try to grab him now, because while he might not have the hype or potential of Guerrero or Senzel, in terms of how close he is to becoming fantasy-relevant, Mountcastle is right up there.
ETA: 2020
After coming back from an 80-game PED suspension, Chavis wasted no time in showing the potential in his bat. Over 194 plate appearances between Single-A Short-Season, Double-A and Triple-A, Chavis hit .298 with a .919 OPS, nine home runs and three steals. Extrapolated out over a full season, those numbers had Chavis on pace for his second straight 30-home run performance and a career-best 11 steals. Along with that, Chavis posted a 9.8 percent walk rate — his highest rate since making his professional debut in 2014.
At this point, it looks like Chavis doesn't really have much of anything left to prove. He's looking like once he reaches Boston, he could put up numbers like what Adrian Beltre was putting up from 2010 through 2013: around 30 doubles and 30 home runs with a .290 to .300 average and a .900 OPS. The Red Sox already have 22-year-old Rafael Devers starting at third base, but Chavis could very quickly force Boston's hand and take over the hot corner. His stock might be down right now after the PED suspension last year, so savvy owners should try to scoop him up while he can still be had for less than a king's ransom.
More MLB Prospects Analysis