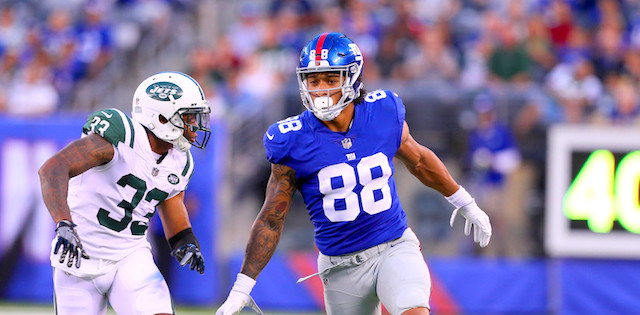 The expert rankers at RotoBaller are committed to providing you with the analysis that you need to formulate a plan as you proceed through your drafts - regardless of whether you are participating in Dynasty, Redraft, or Best-Ball leagues. Our rankings also include tiers, in order to supply a more detailed breakdown on which players you should target for your rosters, along with others that you should avoid. We will also deliver updated rankings and positional analysis as the regular season continues its relentless approach.
This breakdown will focus on the tight end position, which presents owners with several elite options, a select group of reliable alternatives, and the possibility of ongoing frustration for some owners throughout the season. This creates a challenging decision-making process during your drafts. Because the top two tiers provide the greatest potential for desirable weekly production, but drafting any of those players requires you to bypass talented backs and receivers with a valuable early round pick. However, there is also risk in waiting too long as your draft progresses through the middle rounds, as it increases the likelihood that you will be dependent on tight ends that are either inconsistent or encumbered by underwhelming snap counts. Worse, you could be forced to watch helplessly as the best remaining options are eliminated during a dreaded positional run between picks. All of which makes it critical that your patience does not result in roster selections which will leave you non-competitive at the position.
Fantasy Football Calculator's current ADPs reveal that three tight ends are being selected during the first four rounds, while seven more are drafted between Rounds 5-8. This mirrors our rankings, which include nine tight ends inside our top 100. Here is a specific breakdown of our PPR rankings at the position that can be very problematic for owners.
Editor's Note: Get any rest-of-season NFL Premium Pass for 50% off. Our exclusive DFS Tools, Lineup Optimizer and Premium DFS Research through the Super Bowl.
Sign Up Now!
Tight End PPR Rankings

Tier 1
Rob Gronkowski, Travis Kelce
You should be well-acquainted with Gronkowski's achievements at this point of his eight-year career. After generating 10 touchdowns as a rookie in 2010, he exploded for 17 during his second season. He also finished sixth with 1,327 yards to jump-start a career that has reshaped both the utilization and perception of his position. Gronkowski enters the year with 7,179 yards and 76 touchdowns in his stellar career, even though he has not played in 16 regular season games since 2011. But his potential for absence is offset by the consistency of his exceptional numbers when he is on the field, as he has surpassed 1,000 yards during each of the last four seasons in which he has appeared in 14+ contests.
Amid the ongoing greatness of Gronkowski, Kelce has actually finished at TE1 during the past two seasons by collecting 168 receptions for 2,163 yards. He led all tight ends in targets (123) and receptions (83) in 2017 while utilizing his 21 red zone targets to finish second at his position with a career-high eight touchdowns. He also paced the Chiefs in each of those categories and will remain an essential component in a Kansas City passing attack that has the potential to torture opposing defenses. While Sammy Watkins enters the mixture of weaponry that will compete with Kelce for targets, he will also join Tyreek Hill in running vertical routes that will clear additional space for Kelce to accumulate excellent numbers once again.

Tier 2
Zach Ertz, Greg Olsen, Delanie Walker
Ertz has garnered 100+ targets, collected 74+ receptions, and amassed 800+ yards for three consecutive seasons. That includes his 2017 output (74 receptions/824 yards) that supplemented a career-high eight touchdowns and was achieved despite performing with a snap count that was just 13th highest at his position (778/69%). The Eagles deployed a second-round pick on Dallas Goedert, who should capture a reasonable percentage of the 53 targets that were distributed to Trey Burton and Brent Celek last season. But Ertz should still commandeer a massive number of opportunities, while providing owners with a trustworthy point producer.
The 33-year old Olsen had not missed a game since Week 2 of 2007, before a foot fracture limited him to just seven contests, and career worst production last season (17 receptions/191 yards). That also interrupted Olsen's highly productive three-year stretch in which he averaged 80 receptions and 1,062 yards from 2014-2016. Prior to last season, Olsen had finished either first or second on the Panthers in targets every year since his 2011 arrival - which was also Cam Newton's first year with the team. They should connect with regularity again, as the three-time Pro Bowler delivers production that justifies his Round 5 ADP.
I have targeted Walker frequently throughout the offseason, as the result of his consistent production, and his ongoing importance to what should be a regenerated Tennessee offense. Walker finished at TE4 last season, after reaching 100 targets and 800 yards for the fourth consecutive year. His 807 yards led the Titans, as did his 74 receptions - which tied him for third among all tight ends. Walker also collected the third most targets at his position (111), and the commitment that Tennessee demonstrated by extending his contract in July underscores his continued importance in what will be a more proficient Titan attack.

Tier 3
Evan Engram, Kyle Rudolph, Jimmy Graham
Engram outperformed the customary expectations for rookie tight ends in 2017 by finishing at TE5. His 115 targets were second at the position, while elevating him into the top six in receptions (64), and yardage (722). But that target total also paced the Giants, which highlights the concern regarding Engram's ability to replicate his 2017 success. Odell Beckham Jr. was limited to just four games and 212 snaps, and has returned to capture a significant workload. Saquon Barkley should ignite what was a dormant Giant ground game, while also confiscating a sizable number of touches. But even though Engram's target total will decline, the current landscape of this position makes him a viable target in Round 6 of your drafts.
Rudolph's 81 targets only placed him 11th among tight ends. However, his 16 red zone targets tied him for fifth, and his eight touchdowns tied him for second, which propelled him to a TE8 finish. Even though Adam Thielen and Stefon Diggs will seize a sizable percentage of opportunities, Rudolph should remain heavily involved in the offense that will be spearheaded by new coordinator John DeFilippo, whose favorable usage of the tight end while guiding Cleveland's offense (2015) resulted in career-best output for Gary Barnidge (79 receptions/1,043 yards,9 touchdowns). Rudolph has not missed a game since 2014, which combines with his stable role to entrench him among the most reliable tight end options.
Graham led all tight ends in red zone targets (29), and touchdowns (10) in 2017. However, his reception total (57) placed him ninth, while he only finished 17th in yardage (520). That output in both categories was the lowest since his 2010 rookie season, and the seven-game sequence from Weeks 10-16 in which he scored six times, but only exceeded 34 yards once, was emblematic of his season. Aaron Rodgers should target Graham in the red zone with sufficient consistency to build a favorable touchdown total. However, the yardage that he will attain is less likely to inspire owners, and the touchdown dependency that they will endure keeps Graham from procuring a higher ranking.

Tier 4  
Jordan Reed, Jack Doyle, Trey Burton, George Kittle, David Njoku
Reed currently resides at TE9 in our rankings, and his current ADP makes him the ninth tight end to be selected in Round 8. That is the point in your drafts that Reed's potential for accumulating fantasy points gradually surpasses the concerns about his ability to remain on the field. After missing 28 games in his first five seasons, all hesitation about investing in Reed is justified. However, his TE3 finish while playing in 14 games during 2015 serves as a reminder of what he can achieve with sustained health.
Burton only played on 26.5% of Philadelphia's offensive snaps in 2017, but still produced a career-high five touchdowns. He also demonstrated enough athleticism for Chicago to entrust him with functioning as Matt Nagy's 'U' tight end, which will provide the opportunity to surpass his previous career bests in receptions (37) and yardage (327). It should also supply owners with a low-end TE1 option, who can be selected in Round 9.
Doyle evaded the statistical collapse that largely enveloped the Colt offense due to the absence of Andrew Luck, as he collected a career-best 108 targets, 80 receptions, and 690 yards. He also attained the second highest percentage of offensive snaps among all tight ends. But significant competition for targets serves as a deterrent toward selecting Doyle earlier in your drafts, as Frank Reich will distribute opportunities to Doyle and Eric Ebron when concocting his game plans.
Kittle endured a cluster of injuries during his rookie season (ankle/hamstring/calf/ chest/hip back/elbow) which played a role in his 54% snap count. Now, he must recover from a separated shoulder, which could discourage potential owners from selecting him. Still, he did tie for the team lead with 16 red zone targets, which was also fifth among all tight ends. He is also a hand-picked draft selection of John Lynch and Kyle Shanahan, and he should receive an expanded target total if he can avoid health issues.
Njoku was selected 29th overall by Cleveland during the 2017 NFL Draft, but the Browns split his usage evenly with Seth DeValve, who actually received a higher snap count (531/49.7% -501/46.9%). Their targets and receptions were also comparable (60/57- 32/33), although the 6'4" Njoku did lead the Browns with 10 red zone targets. His size and athleticism should compel Cleveland to increase his opportunities, and his production appears destined to outperform his 12th round ADP.

Tier 5 
Eric Ebron, O.J. Howard, Tyler Eifert, Austin Seferian-Jenkins
Ebron is still just 25 years old and has resurfaced in an environment that appears committed to deploying him in a consistent role. Reich should use the 6'4", 250-pound Ebron in various formations in order to create mismatches. Howard also delivers a combination of size and athleticism that would elevate him higher in our rankings if he would be operating as Tampa Bay's uncontested TE1. Instead, his production will fluctuate due to the ongoing presence of Cameron Brate.
Eifert's TE6 finish in 2015 still provides an enticement for owners, but his potential to function as an effective red zone weapon is offset by the 41 games that he has missed due to injury. Seferian-Jenkins generated career-best output in 2017 (50 receptions/357 yards) and could surpass that production while performing as Jacksonville's unchallenged TE1.      

Tier 6 
Jared Cook, Charles Clay, Cameron Brate, Benjamin Watson
Cook finished at TE12 last season, after leading the Raiders in receiving yards (688), and trailing only Michael Crabtree in red zone targets (11). Despite a propensity to disappoint owners during his career, he should exceed the modest expectations of his Round 14 ADP.  Clay has supplied steady but uninspiring numbers during his tenure with Buffalo (TE18/TE16/TE18). But he led the Bills in receiving yards (558), was second in red zone targets (12) and remains one of the few legitimate options in Buffalo's limited receiving arsenal.
During the past two seasons, Brate has received 33 red zone targets, averaged 625.5 yards, and produced 14 touchdowns. But his situation replicates Howard, as both Buccaneers will deliver inconsistent production. Watson finished at TE11 and TE7 during his last two seasons, will be operating as the clear TE1 for New Orleans, and is my favorite late round sleeper at this position.

Tier 7  
Austin Hooper, Mike Gesicki, Ricky Seals-Jones, Vance McDonald
Hooper only scored twice after Week 1, while exceeding 50 yards just once after Atlanta's opener. Still, he could generate modest improvement over last year's TE17 finish. Opportunity will not be an issue for Gesicki, as his challenge will be overcoming the hurdles that confront most rookie tight ends.
Seals-Jones could produce numbers that ascend well beyond this tier after accruing three touchdowns, five receptions of 20+ yards, and a 16.8 YPC average on just 132 snaps. McDonald entered Week 14 with five receptions for 79 yards, then overcame injuries to amass 104 yards on eight catches in Weeks 14-16, and 112 yards on 10 receptions during the divisional playoffs. Now, he must now overcome a foot issue.

Tier 8 and above  
Anyone who drafted Reed should strongly consider adding Vernon Davis (TE27) to avoid an in-season predicament if Reed is sidelined. Otherwise, the remaining options can be located beyond TE28 in our rankings, and all provide viable late-round options who could boost your scoring if they experience a surge in playing time.
More Draft Rankings Analysis
Check out all of RotoBaller's fantasy football rankings. Staff rankings are updated regularly for all positions and include standard formats, PPR scoring, tiered rankings and dynasty leagues.