Welcome to another edition of "The Tape Tells All," where I break down some film of an NFL's player performance and try to draw some fantasy football conclusions from that film.
This week, I'm looking at the Seattle Seahawks and their backfield. Chris Carson has been the unquestioned starter all year, but his fumbling issues opened the door for Rashaad Penny to lead the team in carries in Week 13.
Is that a sign of things to come? Is this a running back committee? Should Carson owners worry? Let's address a bunch of issues with this backfield using advanced stats and game film!
Editor's Note: Get any rest-of-season NFL Premium Pass for 50% off. Our exclusive DFS Tools, Lineup Optimizer and Premium DFS Research through the Super Bowl.
Sign Up Now!
Background Information
If we look solely at their stats from Week 1 to Week 10, the Seahawks backfield definitely looks like it belongs to Chris Carson:
Carson: 200 carries, 853 yards, four rushing touchdowns, 27 receptions, 290 yards, two receiving touchdowns
Penny: 36 carries, 167 yards, one touchdown, three receptions, 34 yards
There's certainly a clear takeaway there, which is that Chris Carson is a bellcow running back and Penny's value only exists in some future where Carson misses time.
Or, at least, that's what those numbers should mean, if there wasn't one issue with Carson:
Chris Carson now has 8 fumbles on the season. That is the most by a non-QB in over a decade as Adrian Peterson has nine fumbles in 2008.

— Anthony Staggs (@staggsNFL) November 24, 2019
See, Chris Carson's got a fumbling problem, and that's not good for the Seattle Seahawks or for your fantasy team, especially when Seattle has a talented backup running back who does not appear to have a fumbling problem.
Sunday, we finally saw Pete Carroll start to address this issue. Carson took just 54 percent of Seattle's offensive snaps, his fewest since Week 3, while Penny's 46 percent snap share was his highest of 2019. Penny's 14 carries was also his highest mark of the year, and he produced 129 yards and a touchdown on those plays. Carson, meanwhile, had just eight carries for 26 yards. It was his first time this season to finish with a single-digit number of carries, though he did add four receptions or 31 yards.
The thing about Chris Carson is that Seattle keeps feeding him the ball and he mostly keeps producing, but there are issues beneath the surface. He's just 32nd among running backs in true yards per carry. He's got the fumbling issue. His production premium is 48th at his position. Carson isn't in some unapproachable place when it comes to the security of his role with Seattle.
Penny is the faster player, and his true yards per carry is third among backs. He appears to be a more efficient runner, though his limited carries do make it tough to extrapolate too much from what we've seen of him.
Maybe we should actually watch a little of these guys.
The Game Tape
Let's take a look at a few plays from Sunday's game.
A lot of Carson's runs in this one looked like this: he gets the ball, he barrels into an unopened space, and he gets tackled. That's not necessarily a knock on him, of course, but the Seahawks offensive line wasn't giving him holes and he wasn't able to create much on his own.
Carson has under four yards per carry in three of his last five games, and it's starting to possibly look like his workload -- six games of 20 or more carries -- is getting to him. On Sunday, there wasn't a lot of bounce to Carson's game.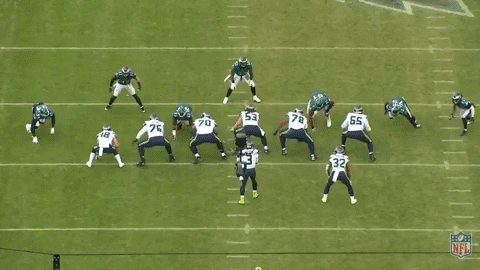 Here's his fumble. Another play where Carson gets hit fairly quickly after he gets to the line of scrimmage, and while that's no excuse for coughing up another football, it does provide some context. This is one of those times where a defender's coming unblocked off the edge and has a clear path to the running back, and it looks like Carson just had no idea that he was there.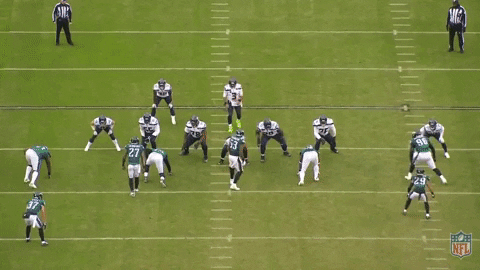 Let's not totally hate on Carson here, though. He's had a good year and has definitely shown that he's a strong running back, even if I think he'd be more effective with fewer touches. You don't just fall into four 100-yard games.
One thing Carson has that Penny hasn't shown is an ability to make at least a little bit happen as a receiver. He's only had four games with 30 or more receiving yards, so he's not, like, a major contributor there, but this play shows that if he gets space, he can make positive things happen.
Penny's got some more speed in his legs, as we see on the play above. Penny gets to the outside here and uses that speed to carry himself 26 yards down the field. Good misdirection at the start by Seattle here, who's got a sixth lineman in and motions him to the opposite side that they run the play too, which draws a defender over away from where Penny's going to run.
Anyway, Penny is fast, and he gets a chance to show that here.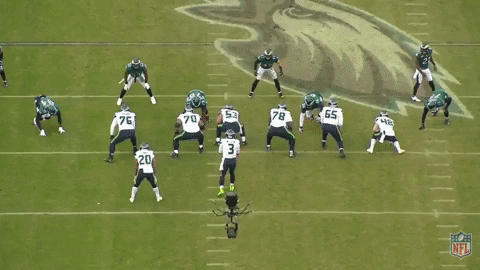 Ahh, long touchdowns!
Penny takes this one up the middle, squeezes through some small holes, and then stays on his feet after a big hit down the field. Again, speed. Penny's 4.46 40-yard dash is in the 89th percentile.
One takeaway from this -- and from the rest of the plays both backs made -- is that the line wasn't creating many holes in the middle of the field. Carson and Penny's best plays came when taking it outside, and Carson got six yards on a pitch play at one point and looked much better than he did on the plays where he ran it inside.
Seattle has two solid running backs. Maybe they should find ways to get the ball into both of their hands. Carson should touch the ball more than he did on Sunday, though the fumble issue obviously complicates things.
Fantasy Impact
So, how do we view these two going forward? Here are some quick outlooks.
Chris Carson
The fumble -- and his contribution to another fumble by Russell Wilson -- got Carson sent to the sidelines, and then Penny got things rumbling after Carson had spent the whole game frustrating his fantasy owners.
I can't imagine Pete Carroll keeps using Carson as a 25-carry guy. Penny looks good. Carson can't keep the ball in his hands. Yes, he's a fantasy RB1 based on his scoring total this year, but I think it's time to downgrade him to the RB2 tier. He's still near the top of that tier for now, but Carson feels like he's a key fumble away from Carroll's dog house. You start him in Week 13, but you no longer feel as good about it as you once did.
Rashaad Penny
I don't think Penny should jump into your RB1 spot because we've seen his lack of usage so far, but I do think he'll get consistent touches going forward, maybe somewhere in the eight to 10 touch range, with the chance for more if Carson doesn't get his stuff together soon.
The Seahawks have a good schedule coming up, so Penny's worth being deployed as a flex option right now, with the upside to move into the RB2 conversation should he get more touches. There's risk involved based on all the factors I've mentioned, but overall Penny should finally be carving out a useful fantasy role.
More Fantasy Football Analysis