Welcome to another edition of "The Tape Tells All," where I break down some film of an NFL's player performance and try to draw some fantasy football conclusions from that film.
This week, I'm looking at Kansas City Chiefs running back Damien Williams, who appears to have re-earned the main running back role for the Chiefs after splitting time with LeSean McCoy for most of the year.
But after a costly LeSean McCoy fumble in Week 8, things seem to be trending in a different direction. Williams played 43 snaps in Week 9, while McCoy played just six, with Darrel Williams taking the other 11 snaps among the team's running backs. For one week, at least, Damien found himself atop the depth chart. Will things stay that way? Can you trust him in fantasy? Let's try to answer these questions.
Editor's Note: Get any full-season NFL Premium Pass for 50% off. Our exclusive In-Season Lineup Tools, Lineup Optimizer and over 150 days of Premium DFS Research.
Sign Up Now!
Background Information
I've been a Damien Williams truther since his Miami Dolphins days, so when he broke out late last year for the Chiefs, I was completely on board.
And in the lead up to this year's fantasy drafts, I stayed on board. I ended up with a lot of shares of Williams even as voices around Fantasy Twitter raised up point after point about his previous workload and his deficiencies and all of that.
Then, of course, all that hype came crashing down as just before the season kicked off, as the Chiefs added veteran LeSean McCoy just before the season started. McCoy had history with head coach Andy Reid from their Eagles days and this backfield instantly became a timeshare. Williams received 66 percent of the offensive snaps in Week 1, but that number quickly started to fall, and after he missed two weeks with a knee injury, Williams returned to find his role was barely there. He had just one carry in Week 6 against the Texans, for instance, and followed that up with a nine-carry, seven-yard showing against the Broncos.
But this Sunday's numbers look different. 12 carries. 125 yards. One touchdown. Taken without context, you'd think Williams took the starting role in KC back and ran with it.
Putting some necessary context into things will show us that Williams did that in large part because of a 91-yard touchdown run, which meant his other 11 carries went for 34 yards. So, is Williams back to being a solid fantasy option? Or did his Week 9 performance just offer us a fleeting look at what he could be before he returns to inefficiency? Let's check out the tape.
The Game Tape
I guess we should watch this touchdown again, even though I'm sure we've all seen the video of Tyreek Hill chasing down Damien Williams and patting him on the back before he crossed the goal line an infinite number of times.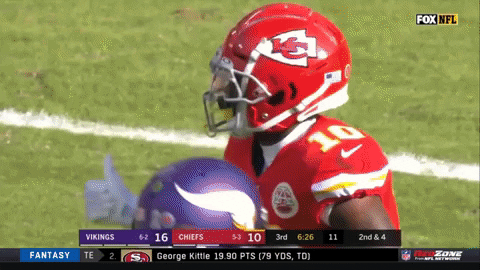 Here's the television version of this play, where we get to see some good moves from Williams in the open field and Hill chasing him down. It's a cool play. Williams ran a 92nd percentile 40-yard dash and has a 95th percentile speed score per PlayerProfiler, so him run away from everyone in the open field isn't the issue that's held him back.
Let's look from another angle.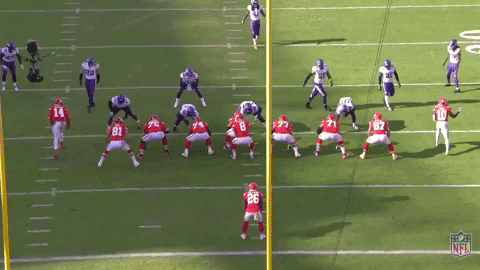 This gives us a better view of how Williams gets loose. The offensive line does an incredible job here, and Williams sees that wide open hole on the right side and heads for it. The Vikings defenders also aren't in a good position to get to Williams in the open field here, which helps spring him for the long touchdown.
A lot of things went right on this play, basically.
The Chiefs offensive line -- which ranks 31st in averaged adjusted line yards -- actually does its job of creating space for a running back. Williams -- who rates in the 25th percentile in elusiveness -- doesn't have to do too much work to get past the defenders. It's one of those really solid moments where things come together. Serendipity, or whatever.
I also watched all of the other runs by Williams over the course of this game. Here's a list of some of the things I thought as I watched those plays:
Starts split out and then motions into the backfield and then just runs smack dab into nothing because the Chiefs opened up zero space for him.
Gains seven yards on another play where the line doesn't really create space, but is able to bounce back inside and then get a little bit extra after contact
Yep. Again. No room.
Five-yard gain that features another good bounce out of Williams.
Oh look, consecutive plays where Damien Williams once again runs forward and immediately has nowhere to go.
Good, tough eight-yard gain on his first carry of the second half. Line does a little better job when it comes to creating space, but also good footwork from Williams.
Oh look, the very next play is for no gain.
[insert touchdown here]
Williams gets involved in the passing game. Chiefs run a screen for him and there's just no space. Loss of two.
Four yards. Runs sideways for awhile before cutting up field. Good block by Blake Bell, who also made a key block on the touchdown run.
The Chiefs really like to start Williams out wide then motion him into the backfield. On this play, they do that, then have him run a route out into the flat. Makes the catch, gains five. Is there a way they can get someone with his speed the ball in space more often?
Nice 11-yard run, but it was called back because of a Travis Kelce hold. But some good burst from Williams on the play!
Insanity is doing the same thing and expecting different results, right? Am I insane for watching more of these plays? I know what's going to happen. *watches Williams gain five yards* Oh...there was actually a brief hole there!
Okay, last run and OH NO WHERE DID HARRISON SMITH COME FROM. Williams gets hit immediately after getting the ball as Smith comes unblocked into the backfield. Loss of three.
Fantasy Impact
So, what's the takeaway from all this?
Williams is trending towards being the top player in this backfield. It's clear that he's more useful than McCoy at this point. But KC's run blocking is an issue, and I'm not sure how much I'm willing to trust Williams with the run blocking looking like this.
I mean, so many plays were just 1) Damien Williams motions back into the backfield, 2) Damien Williams gets the ball, 3) Damien Williams runs into a wall, and 4) sometimes he bounces out and gains a few extra yards.
That's not a great recipe for success.
But also, we can't forget that Williams has some huge speed and just needs to get past that initial line of defenders to make some good things happen. He's a missed tackle or a small hole away from a 10 to 15 yard run at any moment.
The Chiefs also should have quarterback Patrick Mahomes back moving forward, which raises the efficiency of this entire offense. Defenses have to back up and play the pass more. Williams can get more involved in the passing game. And for that reason, I'd probably consider Williams an RB3 with upside moving forward. You still won't feel great about having spent a third round pick on him, but you'll feel at least a little better.
More Fantasy Football Analysis