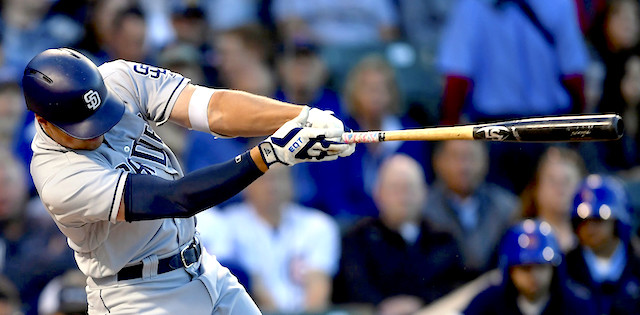 Time is running out to make a move in your league. You're still looking to hit on categories that are close while sacrificing those where you are fairly isolated in the standings with little to gain. Achievable gaps are only getting smaller, too. Harder to make up two or three home runs in three weeks than it was in four.
And as usual, playing time is an issue for some, poorly timed slumps for others, even both for a few. Guys who have served you well on the whole may not be the right call in the last few weeks.
Stats are through Friday, September 6, unless otherwise noted. Weekly reminders: Recommendations are for mixed leagues -- redraft, unless otherwise noted, as keeper leagues have their own rules. Recommendations in one league size obviously apply to smaller leagues. You can also feel free to drop a shallower suggestion in a deeper league, but the dividing line is generally there for a reason. And, as usual, you can find ideas on how to replace your cut candidates at the Waiver Wire Pickup List.
Editor's Note: Get our 2020 MLB Premium Pass for 50% off, with exclusive access to our draft kit, premium rankings, player projections and outlooks, our top sleepers, dynasty and prospect rankings, 20 preseason and in-season lineup tools, and over 200 days of expert DFS research and tools.
Sign Up Now!
10-Team Cut Candidates
Machado is hitting .211/.281/.317 with two home runs since August 1, a worse slash line than Orlando Arcia (.221/.286/.349) has on the year. And it's not as if that's his first extended cold spell of the season. Time is running out for Machado's San Diego debut to turn into a fantasy success, and with three weeks left in the regular season, you may want to look for a hotter hand the rest of the way. Outside of a .335/.380/.696 line from June 13 to through July 31, he has not come close to matching his draft price. Even the season as a whole doesn't paint an amazing picture for Machado: a .262 average, modest run+RBI numbers (he's unlikely to crack 90 in either), only a handful of steals, and the 28 home runs are tied for 42nd in MLB, hardly a game changer either.
Machado continues to play every day, as you'd expect with his contract, and bat third, in part because the rest of San Diego's offense has also faded of late. They already have just a 95 wRC+ this season, and that is just an 89 since August began. Hunter Renfroe, Manuel Margot, Luis Urias, and Franmil Reyes have either also slumped, not yet worked out, or been traded. And the struggling offense is a reason Machado also only has nine RBI since the start of the calendar's eighth month.
Even if Machado has a revival in the last few weeks, it will probably only come in home runs as the Padres aren't giving him the support for it to be much more than that. Name recognition means nothing once trade deadlines are past, and it's late enough in the season now that you can get away with moves like this if you want to try the wire.
[Note: Saturday's home run does show the danger in this idea, but he could easily go another couple weeks without one given how August/September has gone. Two, his number on Friday, is not zero, so he's run into the occasional home run, just maybe not enough to make the difference down the stretch.]
Benintendi has been adequate this season outside of the power department: .278 average, nine steals, and 131 R+RBI in 122 games. Despite only 13 home runs, it's made for a useful player, but no one groundbreaking. In a ten-team league for the stretch run, that might not be enough if there are categories that need to be made up for quickly.
The last month or so has not been great, however, with just 15 combined runs and RBI in 22 games since August 6, driven by a single home run and a meager .241 average, as well as an 0-for-1 in steal attempts.
As a non-game-changer in the midst of a downswing, what is Benintendi's value the rest of the way? Arguably, not much, and you may be able to find a bigger difference-maker on the wire.
For the second straight season, Berrios' August was a mess. This year, it was particularly bad, with a 7.57 ERA, and the first start of September (5 IP, 6 ER) was not much better. Most concerning is perhaps his August 23 start against the anemic Tigers, where he allowed five runs on 10 hits in 5 1/3 innings, including a grand slam to Ronny Rodriguez.
The struggles have ballooned his ERA by almost a full run, from 2.80 entering August to a 3.78 now. His control has suffered as well, as he was walking 5.1% of batters before August and 9.7% since. Can you really trust him against Washington and Cleveland next?
Berrios' predictive stats for the season as a whole may be the final straw. He has a 4.41 xFIP and 4.32 SIERA. In today's run environment, those are slightly above average. But only slightly, and can you afford that in your 10-team league right now, especially given how ugly things have gotten of late?
12-Team Cut Candidates
Machado isn't the only player who's had a rough go of things since the trade deadline passed. Santana is hitting .195/.212/.421 with 49 strikeouts in 137 plate appearances since August 1. He has eight home runs but not much else, including a sole steal after posting 12 in the first four months of the season. The 49 strikeouts are balanced by...two unintentional walks.
It was a breakout year for Santana but midnight may have arrived. Can your roster afford a single-category contributor right now? And not only is Santana only producing homers at the moment, he's actively killing your batting average.
If you grabbed Santana pretty much at any point before the All-Star Break, he's been a net plus, as his second-half numbers still look good. But what are the signs that he can be that Danny Santana again? With that 49-to-3 strikeout-to-walk ratio (he does have an intentional walk), not much. And naturally the lack of prior success also makes what success Santana did achieve look a bit flimsy as well. You might want to get out while you're still ahead.
Like Swanson (below), Voit had a late-season injury that makes him more useful in 2020 than the rest of 2019. Although Voit went 2-for-4 in his first game back, he is only 4-for-20 through Friday, September 6, after sitting on September 4 and batting eighth on the sixth and seventh of the month.
That eighth spot in the order is a problem, as is the questions that will continue to surround Voit's health even if he plays the rest of the season. Remember that the sports hernia might have necessitated surgery. Even if it didn't, is it still affecting his swing? Perhaps.
The stacked nature of the Yankees' lineup helps players collect counting stats...if they're hitting in a decent spot in the batting order. Voit has not, batting no higher than sixth in the lineup upon his return, even before dropping further. Given his injury, batting order spot, and modest .274 average with a 31-homer 162-game pace this season, there may be better use of his spot on your team for the stretch run.
Last week it was Lester, this week it's Hamels. He's made it 3 1/3 innings or fewer in three of his last six starts, in which he has an 8.53 ERA over 25 1/3 innings. For the season as a whole, he's provided a 3.95 ERA but little else over his 130 innings, including a 1.377 WHIP. Like Berrios, Hamels' peripherals are barely average for the season as a whole: a 4.36 xFIP and 4.55 SIERA.
Hamels is a 12-team cut because he plays for a worse team, hence fewer win opportunities, and the extra WHIP (Berrios is at 1.253), in a worse ballpark. Hamels also, like Lester, is getting up there in athlete years; in fact Hamels is just a month older than Lester, and will turn 36 in December. And so you wonder what that means at chances to stem the tide over the final handful of regular season starts.
At this point in the season, we know pretty well who the bad offenses are, and so it becomes easier to target them for streaming purposes. Hamels is the kind of struggling pitcher whose spot you can repurpose for streaming against the likes of Detroit and Miami.
14-Team Cut Candidates
Swanson was a breakout player of the first half, but you may want to wait until 2020 to buy in again. He missed a month with a right foot injury and only returned on August 26. It's only been nine games but he's just 4-for-32 since coming back, with a double and 12 strikeouts in 37 plate appearances. Swanson's season line now includes a .254 average and just 7-for-12 in stolen bases, and his only attempt at one since returning was a caught stealing on Friday.
If it were earlier in the season, a nine-game sample would matter less. But in this situation, the time Swanson appears to need before he can be dangerous again is running short. If it takes a week, you only get two weeks of real production. And if it never comes back this year? Then you could be in real trouble.
Some chances are less worth taking than others, and given that even Swanson's full-season performance isn't exactly spectacular, this appears to be one of those less worthwhile ones. He also bats only sixth in the order now and is eligible at just one position.
Renfroe's 27-home run first half leaves some hope for 2020. But his 2019 appears toast. A 10-team cut only five weeks ago, it's now pretty safe to drop Renfroe in almost any redraft league.
It's largely a performance-induced lack of playing time. There doesn't appear to be an injury here, or if there is, it's not been reported as one. And when a gigantic slump is sufficient explanation, you don't need to throw phantom injuries into the mix. And in the second half, "gigantic" is a fair description: his 48 wRC+ is the fifth-worst in MLB among qualified hitters. That's a .171/.263/.295 slash line with five home runs and, even worse, 13 RBI in 47 games. That's...not good.
As for the playing time, it's disappearing, as indicated. Try only three starts in the team's last nine games. You don't need that plus someone who's performed so terribly of late as the stretch run is here.
It's unfortunate given how we got here, but it's hard to see how Carrasco can contribute in fantasy this September. The early returns from the bullpen are not good: five runs in three innings including two home runs. His fastball has averaged 94.2 mph, compared to 93.4 mph when he was a starter, and most pitchers gain more velocity than that out of the bullpen.
The hope would have been for some strong ratios and maybe backing into a win or two. It does not look like that will happen and you probably can't afford to wait to see if it does.
Go get 'em in 2020, Carlos.
Last Week's Updates
| | | | |
| --- | --- | --- | --- |
| Player | Last Week (links to piece) | This Week | Reasoning |
| Mike Moustakas | Cut in 10 | Cut in 10 | Still a big question mark as health still not back |
| Daniel Murphy | Cut in 10 | Hold thru 9/18 | Had surprisingly decent week on the road and Colorado now has a nine-game homestand coming |
| Chris Paddack | Cut in 10 | Probably hold | Great start against Arizona, but Cubs another tough offense |
| Shin-Soo Choo | Cut in 12 | Cut in 12 | Homer and a steal in past seven days but no real change in profile |
| Kevin Newman | Cut in 12 | Cut in 12 | Missed some time so hard to change the call |
| Jon Lester | Cut in 12 | Hold | Worked out vs. Seattle and Padres are next |
| Justin Smoak | Cut in 14 | Cut in 14 | Not playing much, no change in profile |
| Kyle Gibson | Cut in 14 | Cut in 14 | DL stint makes this even easier |
| Sergio Romo | Cut in 14 | Cut in 14 | No change in profile, his or Rogers' |
More Fantasy Baseball Busts and Avoids