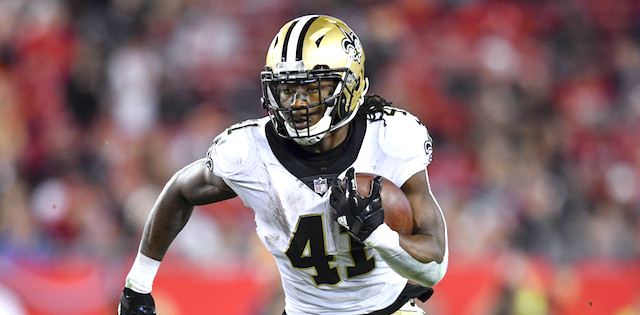 Thanksgiving is a very dope holiday - food and football is an undefeated combination as far as I'm concerned. Questionable origins in the United States, but if we strip it down to the bare bones, it's a time to, well, give thanks. We're all blessed to be breathing, and even though life may sometimes feel like a daily battle between pain and suffering, through it all, we all have at least one thing in which we can be grateful for. Be sure to take a moment to put the turkey down and express that tomorrow - outside of the generic, "Happy Thanksgiving!" Tell someone you love them, appreciate them, and if you can be specific, even better. It goes a long way, trust. Should your gratitude be for something of the non-human form, you're on your own, but figure out a way. Meditate, speak to the inanimate object, whatever, just be sure you express it; you'll feel much better having done so. That said, Happy Thanksgiving to you and yours, from me, and mine! I appreciate you all granting me the opportunity to subparly type words about the things other people do while playing sports, and I've wholeheartedly enjoyed every moment.
Moving on.
The Macy's Thanksgiving Day Parade is one of the more iconic Thanksgiving traditions, but come on, we all know it's football that takes the crown. The Dallas Cowboys and Detroit Lions have been a Thanksgiving Day staple since 1978 - a tradition that remains unchanged this year as the Cowboys welcome the Washington Redskins while the Chicago Bears head to Detroit to take on the Lions. The third, and final, game of the day features a NFC South showdown between the Atlanta Falcons and New Orleans Saints... Fire. Works. Food, football, family, and friends is more than enough on this day, but adding in a little daily fantasy surely won't hurt anyone (too bad dfs doesn't somehow start with a f) - why not see if we can't win some money on top of the festivities? Here are a few guys who should help us do just that.
Editor's Note: Get any rest-of-season NFL Premium Pass for 50% off. Our exclusive DFS Tools, Lineup Optimizer and Premium DFS Research through the Super Bowl.
Sign Up Now!
Quarterbacks - Thanksgiving DFS Lineup Picks
At first glance, Mitch Trubisky jumped out as having the most value -- $5,900 on DraftKings, $7,900 on FanDuel -- as he draws a Lions team which he dropped 355 yards on with three touchdowns through the air and another on the ground not even two full weeks ago. Only problem there is that Trubisky is doubtful as he deals with a shoulder injury he suffered last week, so building a lineup around him is likely to leave you scrambling with limited options. No thanks.
With Trubisky out of the equation, we're left with three options. We can target Matt Ryan ($6,100 DK, $8,600 FD) or Drew Brees ($6,700 DK, $9,000 FD) in a game which is likely to be a shootout, but also comes at the disadvantage of offering no differentiation. We could go super ballsy and play Colt McCoy ($4,700 DK, $6,500 FD) and say a few prayers. McCoy is virtually guaranteed to offer the differentiation, but comes at the obvious disadvantage of it being Colt McCoy... In a less than favorable matchup. Or, we take a reasonable floor with limited upside by rolling with Matthew Stafford ($5,300 DK, $6,800 FD) or Dak Prescott ($5,100 DK, $7,400 FD).
Neither Ryan or Brees is priced to the point where we'll have to make any significant sacrifices throughout the rest of the lineup, and while Prescott has been putting up solid fantasy numbers over his last five games, Washington's defense has reemerged itself over its last few which is enough for me to rule in favor of going chalky. Atlanta has allowed a Top-10 running back in nine of their ten games this season -- so Alvin Kamara and Mark Ingram should do work -- but still, give me Brees, at home, in primetime.
Running Backs - Thanksgiving DFS Lineup Picks
When it comes to segues, I'm normally putrid. This one, though? One for the ages. Ingram at $6,100 DraftKings/$7,400 FanDuel is simply too good to pass up. We could overthink it and say, "people are likely to fade Kamara with Ingram being priced cheaper, so we should go with Kamara in the anti-fade, fade" -- maybe that's just me, and my over-analytical nature -- but frankly, I don't think it matters either way.
The Falcons have allowed opposing backs to pick up 4.9 yards per carry, 67.2 receiving yards per game (the most of any team), and the 14 total TDs they've allowed to the position are tied for the fourth-most. The duo is once again harmonious -- after a rough transition upon Ingram's return -- and both should put numbers on the board tomorrow night. I'm just frugal.
Speaking of frugality (I'm on a roll with these segues), I'm here for Theo Riddick ($4,500 DK/$4,800 FD) with Kerryon Johnson listed as doubtful. LeGarrette Blount and and Zach Zenner are the likely beneficiaries in the carry department should Kerryon not go, but really? In addition to being uninspiring from the production standpoint, Chicago has limited opposing backs to 3.2 yards per carry (fewest), one rushing TD (fewest), and 17.8 PPR fantasy points per game (second-fewest).
The 36.1 receiving yards they've allowed to the position are also respectable, but Riddick brought in six passes for 60 yards when these two squared off in Week 10 and he's brought in at least five passes in each of the Lions last three - he's averaged 7.3 targets per game over that stretch. Five points is a solid baseline, and even though Chicago's front has been damn near impenetrable, a few additional carries definitely would not be frowned upon.
Wide Receivers  - Thanksgiving DFS Lineup Picks
In an effort to encourage diversity and inclusion, I will not discuss the Falcons/Saints wide receivers. I do not find value in stating the obvious -- though I am a fan of those Captain Obvious commercials -- and I feel it's universally known that Michael Thomas and Julio Jones are very good at catching footballs while running very fast and/or jumping into the air. However, I will say, Calvin Ridley ($5,400 DK/$6,200 FD) makes for a solid, mildly-priced, lineup filler.
Back to the diversity and inclusion.
Kenny Golladay saw 14 targets last week. Marvin Jones Jr. has already been ruled out for this one, and Bruce Ellington (who saw nine targets a week ago) is questionable with a back injury. In other words, Golladay should be plenty busy Thursday morning, and if Chase Daniel starts for the Bears, you have to figure the Lions offense will see a few more possessions than they would otherwise. At $6,400, Golladay is offering a gang of value on DraftKings, and while his $7,200 price-point on FanDuel isn't quite as enticing, he's still priced to where it makes sense to have him in your lineup.
Oh, before I forget, the Redskins have some guy called Trey Quinn and, evidently, him and Colt McCoy are homeboys (he saw four targets last week). 73.2% of Quinn's routes have come from the slot, and a combination of the Cowboys pass rush and McCoy under center could lead to another solid performance from this season's Mr. Irrelevant. Plus, it's virtually a lock that Byron Jones will shut down whoever is in front of him on the outside (not that the 'Skins are threatening anyone down the field anyway). Quinn comes in at $3,500 DK/$4,800 FD and should outperform his price with relative ease (assuming Jamison Crowder doesn't play).
Tight Ends - Thanksgiving DFS Lineup Picks
It's been a season to forget for Jordan Reed, but he saw 11 targets last week -- bringing in seven for 71 yards and a TD -- and with Colt under center, I'd imagine he puts up solid numbers for a second-straight week. Outside of Zach Ertz's monumental Week 10, the Boys have been respectable against opposing TEs, but volume is the play here.
Likewise, with Trey Burton should we see Chase Daniel under center. I really hate paying up at tight end because the position is more fickle than a Gemini and you can get quality production from a dart throw. But, if you want to roll the dice on Dalton Schultz or one of the Detroit guys, you're a bigger man than me.
Defense/Special Teams - Thanksgiving DFS Lineup Picks
The Bears and Cowboys are the obvious favorites here, but should you want to go a little less overt, the Lions ($2,400 DK/$3,400 FD) look to be a viable option. They've picked off their opposing QB in two of their last three games, and could potentially be dealing with Chase Daniel. The 28 sacks they've accumulated this season are tied for the 10th-most, and they're also at home, in a game with an implied point total of 43, which could potentially feature Chase Daniel.
More Fantasy Football Analysis