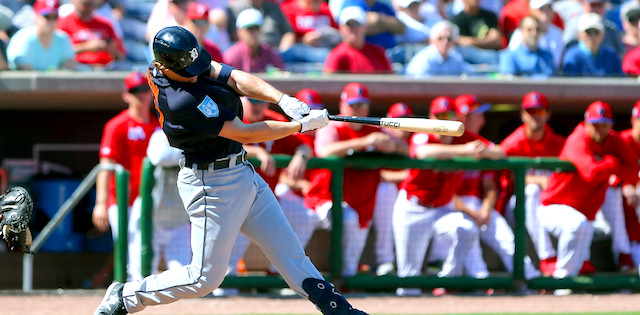 We're taking another deep dive into the Statcast data this week to find hidden power and to determine whether certain power hitters are legit.
In this edition of Statcast Hitter Analysis, we will examine the leaderboard for average hit distance. In this case, the data will interpret the distance of all batted ball events, not simply base hits. As explained by BaseballSavant, Hit Distance is "the distance away from home plate that a batted ball lands -- whether by hitting the ground, the seats, the wall or a fielder's glove."
While this data alone doesn't determine success or failure at the plate, if we put it into the context of other Statcast data along with a player's season, we can glean some important information. Let's look at this data in order to find buy/sell/add/drop candidates for 2019 fantasy baseball leagues as we prepare for the 11th week of the fantasy baseball season.
Editor's Note: Get any full-season MLB Premium Pass for 50% off. Exclusive access to our Draft Kit, premium rankings, projections, player outlooks, top sleepers, dynasty and prospect rankings, 15 in-season lineup tools, and over 200 days of expert DFS research.
Sign Up Now!
Surprising Chart Toppers
All stats current as of June 10, 2019 for players with at least 50 batted ball events.
233 ft. average batted-ball distance
What will happen to Bruce now that he's switched teams yet again? Nicklaus Gaut did an excellent writeup on him the other day, so I recommend reading that first. Then, consider the fact Bruce is second among qualified hitters behind only Gary Sanchez on average distance for batted balls. We know he's always swinging for the fences but did you notice that he's done a pretty good job reaching them this season?
In his first six games as a Phillie, he's gone deep four times and is batting .381. Not a bad way to make an impression. With Cutch out of commission, Bruce is assured regular playing time and could keep the good vibes going. With an 11.9 Barrels per PA rate that ranks 10th in the majors, Bruce is enjoying one of his finest seasons to date.
225 ft. average batted-ball distance
You already know Polanco has been one of the best offensive shortstops in the league this year and was a draft day steal for those who took a chance. It's not just about average though. His .333 AVG and .411 wOBA may distract from the fact he's brought career-best power to the plate too. Polanco has 10 homers already and has an xSLG in the 83rd percentile. He's also in the top 20 in Sweet Spot% which explains why his balls are carrying so much. The crazy thing is that he's only got a 29.7% fly ball rate.
He's been a line drive machine, raking at a 31.7% rate which is not surprising if you look at his track record in limited playing time. Polanco doesn't have 30-homer upside but those in points leagues need to be holding on tight or buying high, as he could end up as one of the league leaders in extra base hits to accompany a strong 5.9% K-BB%.
218 ft. average batted-ball distance
What if the Yankees had signed Belt in the preseason as many hoped? He'd probably have more than nine taters on the year, that's for sure. Belt has a strong hit distance and is averaging 397 feet on his home runs. That plays in any park but would be even better outside of San Francisco, especially considering the surrounding lineup talent.
So far, he's putting up Belt-like numbers with a middling .249 average and a 20-HR season far from guaranteed (he's never reached that mark). He's on pace for his best power output but that was the case last season too after two months. A trade to a contender before the deadline is the only thing that might make Belt interesting but for now he remains a borderline CI in deep leagues.
215 ft. average batted-ball distance
This isn't surprising if you've followed MLB over the past two weeks, but just in case you need reassurance that Riley is, in fact, good. His average batted ball distance is one away from Cody Bellinger and he is averaging 409 feet per HR. The fact that he's only walked four times and has a chase rate of 34.3% may catch up with him eventually but there is nothing but good contact coming off his bat when he connects. In a small sample size, his 9.7 Barrels per PA is encouraging, as is his 31.6% line drive rate. He's not yard or nothing, which can become a tendency for young prospects trying to make an early impression. Riley, thus far, is the real deal.
208 ft. average batted-ball distance
I probably saved you from having to look up what team Casali plays for by listing it next to his name. Don't feel bad - I had to look it up too. The former Rays backup backstop is now backing up Tucker Barnhart in Cincinnati and doing a fine job. Barnhart is slashing an atrocious .197/.294/.331, which has led to Casali getting more ABs than expected. He's made the most of it, batting .297 with 16 RBI in 91 at-bats.
Casali doesn't bring a lot of power potential but his career .369 xSLG is respectable for a catcher. It can't be ignored that he has a 48.5% Sweet Spot% that is second only to Cody Bellinger. There isn't much case to add Casali outside of two-catcher or NL-only leagues but if you are in such a format, he could be a sneaky add to help out at the shallowest of positions.
199 ft. average batted-ball distance
While Dixon comes in just shy of 200 and is down at 36th on this particular leaderboard, he is worth mentioning as one of the more surprising names. Dixon didn't take the field for Detroit in the first three weeks of the season but made an instant impact with four RBI in his first two starts. Since then, he's been a solid contributor for a team that's finally developing some semblance of offense.
Dixon has moved off of second base and found a home at first in Detroit. Over 110 AB, he's batting .297 with five homers and seven doubles. A strong 91.9 exit velocity, the same as Javier Baez and George Springer, ranks 30th among qualified batters. All other Statcast measures favor his potential to keep stroking extra-base hits as well. It would be more helpful if he qualified as a middle infielder but given how shallow first base has been this year, he could make a nice replacement for someone like Joey Votto (it's time for him to go). The Reds probably wish they had Dixon back at this point.
More Sabermetrics & Statcast for Fantasy Baseball