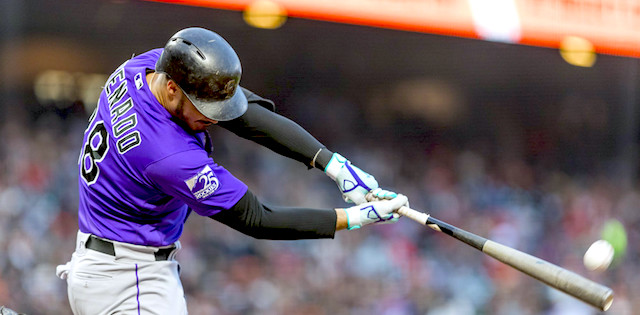 We are two weeks into the season, and panic has already ensued. The ebbs and flows of a 162-game season get overlooked as the day-to-day struggles of your fantasy team begin to mount.
There are certainly some players whose struggles might carry on into the rest of the season, but I am here to pull back owners from the cliff of a particular few.
Let's look at who is off to a terrible start that should not be taken as a sign of concern.
Editor's Note: Get any full-season MLB Premium Pass for 50% off, with exclusive access to our season-long articles, 15 in-season lineup tools and over 200 days of expert DFS research/tools.
Sign Up Now!
Nolan Arenado has not exactly been *terrible* but he has not been very productive either. Through 13 games (55 PAs), Arenado has five runs, six RBI, and no home runs. He's batting .255 and slugging .362. Since Arenado is not a speed demon, there is extra pressure on his four-category production to offset the lack of stolen bases. Luckily, it is just a matter of time before the dingers show up. Arenado is a first-rounder every year because of his consistency. Playing at Coors for half the season provides elite hitters a great baseline to mitigate variance. The power is low now, but come summer in Denver, everything will brighten up.
Only six of the Rockies' games have been played at home, the other seven have come in Miami and Tampa Bay, two very pitcher-friendly stadiums. His walks are down to pre-breakout levels but his strikeout rate is at a career-low. The biggest problem is that he's making soft contact a quarter of the time. Prior to this year, that percentage has never been higher than 17.6. Expect Arenado to make the proper adjustments in due time and regress to the mean.
It is not just Arenado struggling either, Charlie Blackmon's had a rough go about these first two weeks as well. Heck, the entire Colorado lineup is struggling to generate runs. Daniel Murphy, David Dahl, and Ryan McMahon's recent injuries do not help at all. When they return, the lineup should be a lot more fierce. For now, there are a lot of moving parts in the order with unproven youth and washed up vets being heavily relied on. Do not sell low on Arenado, his highs to come are worth the lows.
The Yankees are a mess right now. They are riddled with injuries across the board and below .500 in the standings. The only silver lining is that they still stand at second in the division, above last year's World Series Champions.
James Paxton, the Yankees big offseason addition, has been a disappointment thus far. Through three starts, Paxton holds a 6.00 ERA, 1.73 WHIP, with just one win and two losses. We have seen premier starters don the pinstripes and fail to produce (*cough* Sonny *cough*) but Paxton is significantly better. His elite swing-and-miss capabilities allow his stuff to play in any park, even a bandbox like Yankee Stadium. Although the surface stats look bad, he is still striking out over 28 percent of batters, as he has the past two seasons.
Paxton's biggest problems right now are luck and generating groundballs. The luck is related to BABIP. Nearly 44 percent of batted balls in play are turning into hits. Expect this to stabilize given that his career BABIP is about 30 percent. The groundball issue is trickier to resolve and requires him to make an adjustment. Currently, Paxton's groundball-to-flyball ratio is the lowest of his career and has been decreasing for the past three seasons. If there is an alarm, it should be this. Paxton cannot be an elite pitcher and generate as many flyballs as he has these past two seasons, especially at Yankee Stadium. Without an adjustment, expect him to be a high-threes ERA pitcher. Not bad, but not what he was drafted to be. Although his health is always a concern, Paxton should be better than he has been and at worst return SP3 value for the rest of his season.
More like Woodrough, amirite? He has been confusing to own and watch. The strikeouts are fantastic, the overall results...not so much. Through three games, Woodruff owns a 6.00 ERA and 1.33 WHIP. Only one of his starts have been atrocious (vs CHC), however, the most recent outing against the Angels should leave owners more concerned.
Woodruff gave up four runs to a Trout-less Angels' lineup, YIKES. He looked good through the first three innings then blew up in the fourth, and carried on as if nothing happened. The good news is that he did not go on a tailspin after the faulty inning, the bad news is that David Fletcher, Justin Bour, and Kole Calhoun took advantage of him.
Where does this leave owners going forward? Is Woodruff just a streamer in shallower formats? I struggle with the idea of dropping a talented starting pitcher on a very good team. Woodruff's 30 percent K-rate has me intrigued for now and is worth holding onto for another few starts. He has just recently been stretched out as a starter and has only allowed one home run through three starts. The upcoming schedule is brutal but everything clears up for Milwaukee after June and into the second half of the year. If Woodruff can make it out only slightly scathed during this next month or so, he could be a gem.
The most productive thing Yasiel Puig has accomplished in 2019 is getting suspended for two games so that his owners could replace him in their lineups. Dude has been downright bad. I am guilty of being way too high on Puig and even went so far as to feature him at the top of my bold predictions article. I still believe, and you should too. It has only been two weeks, and the Reds as a whole have been terrible. The Scooter Gennett and Nick Senzel injuries have put a damper on what should have been a stacked offense from the jump.
Nevertheless, there is still plenty of talent in Cinci that will put it together soon. Jesse Winker has finally busted his slump, why can't Puig? His walk rate is down and his strikeout rate is up. Definitely a concern, but one that should not be too worrisome yet. Puig just is not hitting the ball very hard yet. His soft contact percentage is at a career high and has increased incrementally since 2017.
Puig is quite the enigma. It is noticeable on the field and the stat sheet. When he's hot, he's a supernova, when he's cold, he's a tundra. This is a bad stretch, and understandable given how much earlier into the spring the season started. The midwest is cold and Yasiel Puig is used to sunny Cuba and Los Angeles. It is very possible that this is an adjustment period. The flyballs will naturally travel better when it gets hotter as well. Great American Ballpark is a bandbox and the first hitter-friendly home park for Puig in his career. Once he gets comfortable, and the team as a whole starts putting the pieces together, watch out.
More 2019 Fantasy Baseball Advice