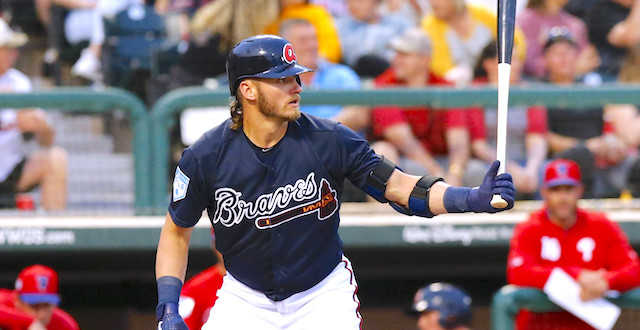 With all the recent emphasis on the MLB draft, striking on prospect call-ups, and finding early-season breakouts, it's easy to get lured into complacency during the dog days of summer.
The All-Star break marks a clean checkpoint and gives us the opportunity to take stock of underperformers or players poised to outperform their current market value. With the exception of Acuna, each player below has his warts, but they also represent a real buying opportunity.
Let's examine some players who could see their fantasy value surge in the second half of the 2019 season.
Editor's Note: Get any full-season MLB Premium Pass for 50% off. Exclusive access to our Draft Kit, premium rankings, projections, player outlooks, top prospects, dynasty rankings, 15 in-season lineup tools, and over 200 days of expert DFS research.
Sign Up Now!
For E², context is king, and I'm a firm believer in the regenerative power of Yankee Stadium, a pennant race, and good lineup position. The Yankees traded for Encarnacion so they could play him, and there's good reason to believe in New York's decision. Encarnacion has suffered from bad luck on balls in play (.204 BABIP) despite showing positive signs in both plate discipline, exit velocity, and launch angle. Expect improvements in Encarnacion's runs, RBI, and average, even as he maintains his impressive power output.
Biggio owns an elite 48.3 hard-hit rate, an excellent .60 FB/GB ratio, and a healthy 23% line-drive rate. Biggio's flyball rate is especially promising given his 11.4% Brls/BBE. To some extent, the rookie's solid debut has been lost in the shadow of Vlad's arrival and the Blue Jays' larger woes. Granted Biggio did struggle when he was initially called up, but fantasy owners should see his -.22 xwOBA differential (.329 wOBA vs. .351 xwOBA) and realize that he's been better than his production this season (111 wRC+). The batted ball profile suggests that he should be a top-5 second baseman for the rest of the season.
Notably, if you can still acquire Jose Ramirez at a discount, do it. If it doesn't work out, you can blame the demise of your fantasy season on me. Ramirez might not be a 30-30 candidate this season, but his .330 xwOBA is still well ahead of his actual .296 wOBA. Expect him to finish the season with over 20 HR and 30 SB.
We may have just missed the window to buy Donaldson, but there are certainly going to be owners looking to "sell high" on an aging star. If the Donaldson owner in your league is among those, then the third baseman is a valuable piece. Prior to the all-star break, Donaldson owned a .364 wOBA, a mark moderately below his .378 xwOBA. Moreover, Donaldson has overcome the groundball spike from early in the season: for the last month his GB/FB ratio has dropped to 1.12, much closer to the 1.04 that he averaged during his prime years of 2015 to 2017.
He is available in nearly all leagues, and he's shown signs that he could be emerging as an excellent hitter. Early in the season, Davis popped up as a potential breakout player, but he ran into a stretch at the end of the June and early July when he was constantly driving the ball into the ground. In response, the Mets relegated him to pinch-hitting duty. He seems to have escaped that pattern and returned to the batted-ball profile that brought him success earlier in the season.
Even with that brutal stretch, Davis still owns a 7.6 Brls/PA%, which is better than Michael Conforto, Max Muncy, and Charlie Blackmon. If he can find playing time, Davis could help plenty of teams in deeper formats.
After returning from Tommy John surgery that cost him 2018, the 25-year-old got off to a mediocre start this season. Fantasy owners were growing frustrated until Seager's GB/FB and hard-hit ratios spiked and his production improved -- at least until a hamstring injury sent him back to the IL. The Dodgers gave Seager only three rehab games to get ready, so he's likely going to show some rust for the next week or so. Use that window to get him.
The Dodgers have the third-best offense in baseball, and when healthy Seager has been featured in the two-hole. Even if Seager doesn't provide prodigious power or steals, his career .856 OPS should enable him to be the type of player who finishes as a top-50 bat in the second half. Carlos Correa is another candidate here, but his brand is still strong enough that it will be difficult to get him off owners who spent a top-30 pick to get him.
Another young player who suffered from a poor start. After last year's offensive success, the Red Sox did the logical thing and shuffled their batting order. In particular, the team moved Benintendi from the number-two spot to leadoff. Last month, Boston reversed course and switched him back, and Benintendi has responded with an improved, if not exceptional, performance.
It's hard to pin all of Benintendi's early-season struggles on that issue alone, but he's hit .303 in the two-hole versus .267 from the leadoff spot. Likewise, his strikeout, groundball, and slugging percentages have all improved since the change. Benintendi was probably overdrafted at the start of the season, but if he's available as a top-75 player, he should return good value.
The eighth-best player in 5x5 formats seems like a crazy name for this list, but I'm trying to pry Acuna away if he's available at all. The reality is that even as good as Acuna has been, he'll probably be even better in the second half. Last season, Acuna surged after the break; this year, his production (.371 wOBA) has somehow lagged behind his batted-ball profile (.393 xwOBA). For owners angling for an elite outfielder or a first-round talent, Acuna could be the best player in the second half, and he's likely more available than Betts, Yelich, Trout, or Bellinger.
Michael Conforto (OF, NYM)
Conforto's perception and production have been depressed by his shoulder injury from 2018 and his concussion from earlier this season. The combo means that his statistics for the last calendar year and his overall projections are somewhat underwhelming. These days, it's just hard to get too excited about 17 HR. However, Conforto's career .226 ISO is still the 15th best among outfielders since he debuted in 2015 (and that's if we count Just Dongs Martinez as an outfielder).
Consider the fact that Conforto played through a traumatic shoulder injury that cost him power for two seasons. The second half should allow us to see an evolution similar, though not equal to the one Joey Gallo is showcasing. Expect a bump in batting average, and another 17 home runs in the second half.
If Pollock only provides 100 games of real production a year, then we should have entered his productive period for this season. Obviously, the injury risk is constant, but the price has dropped to almost nothing. Currently owned in just half of all leagues, Pollock might be the best second-half value of any player on this list. For the last three years, Pollock has averaged 22 HR, 86 R, 74 RBI, 19 SB per 600 PA. Those numbers aren't overwhelming, but like Seager, Pollock has the advantage of the Dodger offense, and even though the NL West has its share of pitcher-friendly parks, it also has three pitching staffs in the bottom half of the league.
The story here is the same for both players. They're likely available for free or next to nothing, and they should both be solid OF4 or bench bats for the rest of the season. Both players have shown flashes of their talent this season and previously, and both players have suffered from bad luck. Despite similar peripherals to last season, Schwarber owns a .262 BABIP in contrast to last year's .288. Baseball Savant thinks his batting average should be closer to .258 rather than his current .231.
Similarly, Mazara hasn't looked particularly good this season. Despite owning a stronger xwOBA, launch angle, and barrel rate, his statistics look similar to last season when he was barely relevant in fantasy leagues. Baseball Savant thinks Mazara's slugging percentage is 40 points below where it should be. If the numbers are to be believed, his batted-ball numbers should have him closer to 16 home runs rather than 12. That doesn't make him an exceptional fantasy talent, but he should be a useful bat for the second half.
More 2019 Fantasy Baseball Advice