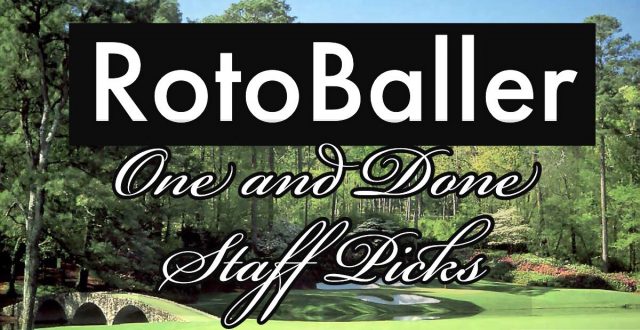 Here at RotoBaller, we are always searching for ways to give our readers the best fantasy sports content possible. With that goal in mind, we are very proud to announce the addition of a weekly PGA "One and Done" column. In this feature, our golf staff of Joe Nicely, Spencer Aguiar and Gianni Magliocco will provide their weekly golf picks every Wednesday. The purpose of this article is to present you with alternative options to consider and hopefully make your selection a much easier process weekly. With that plan in mind, let's get started!
After a poor start to the Genesis Open, all three of us added six-figure sums to our totals, although some will be more pleased than others. For myself, my gamble on Dustin Johnson backfired, and although DJ finished T9, both Spencer and Joe will be considering themselves the winners of the week seeing myself waste one of the best players in the game and only getting $177,600 in return. Spencer even matched the total I achieved with his pick of Hideki Matsuyama, who improved as the week went on, finishing T9. While for Joe, his pick of Xander Schauffele recovered from a slow start to claim a T15 finish and a nice payout of $100,788.
We're going south of the border for this week's WGC-Mexico Championship. The biggest event of the season thus far also holds the largest prize fund that we've had yet. With a $10,250,000 purse to be played for, and with an elite field assembled in Mexico, it's going to be fascinating to see what strategy the guys employ this week.
For an in-depth breakdown of the top DraftKings and Fanduel plays, check out Joe Nicely's weekly Horse For The Course that highlights the best fits for the week's course.
And you can also find out who the smart money is on by checking out Spencer Aguiar's PGA DFS: Vegas Report every week.
Editor's Note: Our friends at Fantasy National have built some incredible DFS Golf lineup tools including a Lineup Optimizer, Stat Engine, Ownership Projections and Course Breakdowns. They are by far the best daily fantasy Golf tools in the industry. Seriously. You can read all about them here and see screenshots. 
2019 WGC-Mexico Championship -Club de Golf Chapultepec
7,330 Yards - Par 71 - Greens: Poa
The course measures 7,330 yards but plays much shorter than that number due to the severe altitude at Chapultepec. Professionals have described the course as having a European layout, with plenty of tree-lined fairways to keep players on their toes when teeing off this week. Positioning yourself in the fairway off the tee will put a significant emphasis on approach play, and the slopey greens on offer this week makes it very important not just to hit the green, but to hit the right spots on the greens. Poa greens are in-play this week, which can give even the best putters in the world fits. Whoever is to prevail this week will undoubtedly need every element of their game to fire.
One and Done Selections
Joe Nicely - Justin Thomas
As I continue struggling to make up any ground on Gianni and Spencer, I decided that it was time to deploy one of my big guns this week. Justin Thomas is playing at an extremely high level in 2019 and I look for him to continue his dominance in the WGC-Mexico Championship. J.T. suffered an agonizing loss at last week's Genesis Open, but Club de Golf Chapultepec should be the remedy for any hangover that Thomas might have. In his two previous trips to Mexico City, J.T. has a runner-up finish and a T5.
I have tried to keep my truly elite options available for major championships, and it stings a little to pull the trigger on Thomas this early in the season, but looking ahead to the courses that will hold this year's majors, I don't see a true slam-dunk spot for him. There's also a bit of game theory involved in this decision, as Gianni and Spencer have both already used Thomas. With J.T. off the board for them this week, I feel like I have a great chance to get back in the mix if Thomas can keep his top-five streak alive or, in a dream scenario, pick up a win in Mexico -Joe Nicely
Yearly Earnings -$490,626

Yearly Cuts Made - 6/6
Spencer Aguiar - Xander Schauffele
The no-cut feature of a WGC tournament opens up a plethora of different routes to take this weekend. Every player is guaranteed a purse, so we don't have to worry about walking out of Mexico empty-handed. The question then becomes, "how conservative or aggressive do we want to be?" Historically, WGCs have been known to produce winners that are the who's who of the golf world, and it is difficult to deviate from that mindset when breaking down this event. In general, I'm not sure it makes logical sense to go ransacking down the board on most weeks, but it seems even less prudent to do so when we know the winner will most likely be an upper-echelon player in the world.
I highly considered selecting Bryson DeChambeau with the hope that golf's "mad scientist" would be able to concoct a solution to solve Mexico's 7,500 feet of elevation at Club de Golf Chapultepec. However, I eventually settled in on Xander Schauffele as my choice this week. Of Schauffele's four career PGA Tour victories, three have featured the same two dynamics we will be facing this weekend of a limited field and no cut. Very few players have better form entering Mexico than the seventh-ranked player in the world, and while Schauffele is an elite player in the game today, there aren't many spots that I am eagerly looking to use the 25-year-old at this season. I expect the San Diego native to be a popular choice this weekend, but his success on Poa Annua greens mixed with his propensity to create scoring opportunities has me struggling to look elsewhere. - Spencer Aguiar
Yearly Earnings - $1,934,117
Yearly Cuts Made - 5/6
Gianni Magliocco - Tommy Fleetwood
After last week's disappointment, I've decided to play reign back on the use of an elite player this week, despite it being a WGC. Tommy Fleetwood is my choice at this week's event, and there are a couple of main factors behind that decision.
Firstly, Fleetwood has a superb record at Chapultepec. Last year, the Englishman finished T14, while in 2017, Fleetwood was runner-up. The course seems to fit his eye, and I'm banking on him producing another similar display this time around. Secondly, Fleetwood isn't a player that tees it up all the time on the PGA Tour. The 28-year-old plays a lot of events in Europe, so there are a limited amount of tournaments to use him in for this competition. At a course where he has performed excellently on in the past, this looks like as good a time as any to play Fleetwood. - Gianni Magliocco
Yearly Earnings - $2,280,368
Yearly Cuts Made - 6/6
Running Totals
Joe Nicely

Spencer Aguiar

Gianni Magliocco

Sony Open

Gary Woodland 

$11,520

Justin Thomas

$99,200

Kevin Kisner

$12,864

Desert Classic

Jon Rahm

$212,400

Jon Rahm

$212,400

Patrick Cantlay

$159,300

Farmers Insurance

Marc Leishman

$21,158

Patrick Cantlay

$0

Charles Howell III

$79,804

Waste Management

Hideki Matsuyama

$113,600

Webb Simpson

$76,917

Justin Thomas

$482,800

Pebble Beach

Chez Reavie

$31,160

Phil Mickelson

$1,368,000

Phil Mickelson

$1,368,00

Genesis Open

Xander Schauffele

$100,788

Hideki Matsuyama

$177,600

Dustin Johnson

$177,600
Golf DFS News and Player Outlooks
Premium DFS Golf Tools and Lineup Optimizer
Our friends at Fantasy National have created some game-changing DFS Golf tools, and you can read all about them here. They are hands-down the best daily fantasy Golf tools in the industry.