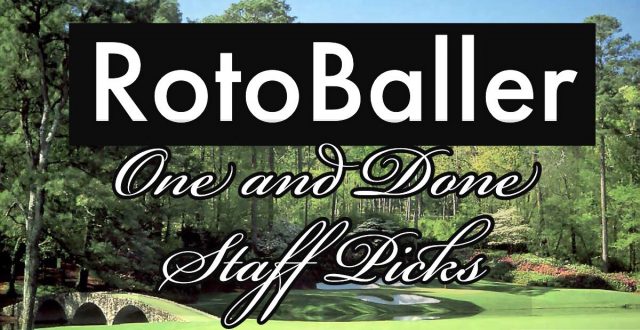 Here at RotoBaller, we are always searching for ways to give our readers the best fantasy sports content possible. With that goal in mind, we are very proud to announce the addition of a weekly PGA "One and Done" column. In this feature, our golf staff of Joe Nicely, Spencer Aguiar and Gianni Magliocco will provide their weekly golf picks every Wednesday. The purpose of this article is to present you with alternative options to consider and hopefully make your selection a much easier process weekly. With that plan in mind, let's get started!
Last week's Farmers Insurance proved to be a mixed bag for our group. Taking Charles Howell III paid off for myself, whose late birdie barrage on Sunday gave him a Top-20 finish, and more importantly a decent payday of $79,804 to keep me in touch in these early stages. For Joe, he kept his balance ticking along with Marc Leishman, who despite failing to find anywhere close to his best form for the four days of action at Torrey Pines, still brought home $21,158 with a T43 finish. Things didn't go to plan for Spencer though, whose pick Patrick Cantlay was nowhere near his best at the San Diego course. Cantlay missed the cut to make it a barren week for Spencer. However, it must be said that it could have been an entirely different story had it not been for some cruel luck on the final hole on Friday where Cantlay hit the flag with his approach shot sending the ball flying away from the hole, costing Cantlay his spot in the field for the weekend. Despite the bad break, Spencer still holds the top position in the contest.
The big purses keep coming, as this week it's the turn of the Waste Management Phoenix Open, where the winner will receive a juicy payout of $1.278 million. As always at this event, a top field has been assembled, with the likes of Justin Thomas, Jon Rahm, Hideki Matsuyama, Rickie Fowler and Phil Mickelson all ready to take on the challenge of the course and the boisterous fans in Phoenix this week. With the leaderboard between the three of us nice and compact, it's going to be very interesting to see what strategy the guys employ this week.
Editor's Note: Our friends at Fantasy National have built some incredible DFS Golf lineup tools including a Lineup Optimizer, Stat Engine, Ownership Projections and Course Breakdowns. They are by far the best daily fantasy Golf tools in the industry. Seriously. You can read all about them here and see screenshots. 
Sign Up Now!
For an in-depth breakdown of the top DraftKings and Fanduel plays, check out Joe Nicely's weekly Horse For The Course that highlights the best fits for the week's course.
And you can also find out who the smart money is on by checking out Spencer Aguiar's PGA DFS: Vegas Report every week.
Editor's Note: Our friends at Fantasy National have built some incredible DFS Golf lineup tools including a Lineup Optimizer, Stat Engine, Ownership Projections and Course Breakdowns. They are by far the best daily fantasy Golf tools in the industry. Seriously. You can read all about them here and see screenshots. 
2019 Waste Management Phoenix Open - TPC Scottsdale
7,266 Yards - Par 71 - Greens: Bermuda
After a couple of events which featured course rotations, I'm delighted to say that this week's event will be held solely on TPC Scottsdale's Stadium Course. The familiarity with the course should make things easier than the last couple of tournaments in terms of identifying who is going to perform well this week, and we also get the bonus of having Shotlink available for all four days.
At 7,266 yards and with generous fairways, players will be attacking TPC Scottsdale with their driver this week. The course features three reachable par-5's as well as a reachable par-4. While not quite a bombers paradise, the course does lend an advantage to those players who possess length, while those who can be a little wild off the tee often benefit from the lack of significant rough here in the desert. With the winning score at this event being no worse than 14-under-par in the last twenty years, players will need to chase birdies from the off, and with plenty of opportunities on offer, expect to see those who run hot with the putter to be there or thereabouts on Sunday evening.
One and Done Selections
Joe Nicely - Hideki Matsuyama
I know I'm not really going out on a limb by making Hideki Matsuyama my selection, but it's better to be boring and right than exciting and wrong. Matsuyama will be hugely popular in OAD formats this week and rightly so...he's been nothing short of dominant at the Waste Management Phoenix Open. Before being forced to withdraw with a wrist injury after the first round last year, the Japanese star had logged back-to-back wins at TPC Scottsdale in 2017 and 2016, on the heels of consecutive top-five finishes in 2015 and 2014.
Matsuyama never really got things going after the wrist injury last season, but he's kicked off 2019 in sharp form, logging a T3 at last week's Farmers Insurance Open. The finish was powered by his impeccable iron play, a trait I'm always looking to target at the WMPO. Yes, Matsuyama's balky putter is a bit of a concern, but he's managed to roll it well enough to win on TPC Scottsdale's greens in the past, and I look for him to be in the mix here yet again. Selecting Matsuyama won't differentiate me from the crowd this week, but it's a long season, and there will be plenty of opportunities to go against the grain as the year progresses. - Joe Nicely
Yearly Earnings - $245,078

Yearly Cuts Made - 3/3
Spencer Aguiar - Webb Simpson
After last week's disastrous selection of Patrick Cantlay, my goal is to pinpoint a safe option while still trying to think slightly outside of the box. Hideki Matsuyama, Jon Rahm and Gary Woodland will all garner an immense amount of ownership for the Waste Management Open, and I have a feeling that Webb Simpson may slip through the cracks. The American missed the cut last year at TPC Scottsdale, which should be chalked up to an aberrational performance since the 33-year-old had provided five consecutive top-14 finishes in Phoenix before his bizarre result last season.
Simpson comes into the Waste Management Open this year rolling, having recorded five consecutive top-15 finishes since the BMW Championship in September, and I think this is a great spot to get him as an under the radar alternative. The only other tournament that I would have been actively trying to use Simpson at would have been the Wyndham Championship in August, and that likely would have resulted in the chalkiest selection of the week. I am hoping to lock in a top-20 appearance and think there is a possibility that the 19th-ranked player in the world walks out of Phoenix victorious. - Spencer Aguiar
Yearly Earnings - $311,600
Yearly Cuts Made - 2/3
Gianni Magliocco - Justin Thomas
With so many top players expected to go well this week, it's not been easy to pin my colors to just one player. Funnily enough, the man that gets the nod from me this week is one of the few elite players in the field without a stellar record at the event. Despite this, I'm taking Justin Thomas to light up TPC Scottsdale. Two top-20 finishes and two missed cuts show that Thomas has much improvement to make at TPC Scottsdale, but the more I look at the course, the more I feel that Thomas is ready to put together a week that he'll remember here sooner rather than later.
Thomas ranks first in this week's field for strokes gained tee to green over his previous 24 rounds, and the American has looked very sharp on his opening two starts to the year. In his two events played this year, Thomas has gained an average of eight strokes over the field for his approach shots, which suggests he is about to pop. With a nice early tee time to boot, I think this is the week that Thomas finally performs to the best of his ability at TPC Scottsdale. - Gianni Magliocco
Yearly Earnings - $251,968
Yearly Cuts Made - 3/3
Running Totals
Joe Nicely

Spencer Aguiar

Gianni Magliocco

Sony Open

Gary Woodland 

$11,520

Justin Thomas

$99,200

Kevin Kisner

$12,864

Desert Classic

Jon Rahm

$212,400

Jon Rahm

$212,400

Patrick Cantlay

$159,300

Farmers Insurance

Marc Leishman

$21,158

Patrick Cantlay

$0

Charles Howell III

$79,804

Waste Management

Hideki Matsuyama

Webb Simpson

Justin Thomas
Golf DFS News and Player Outlooks
Premium DFS Golf Tools and Lineup Optimizer
Our friends at Fantasy National have created some game-changing DFS Golf tools, and you can read all about them here. They are hands-down the best daily fantasy Golf tools in the industry.