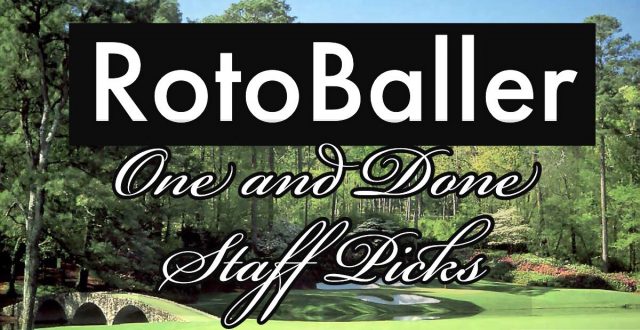 Here at RotoBaller, we are always searching for ways to give our readers the best fantasy sports content possible. With that goal in mind, we are very proud to announce the addition of a weekly PGA "One and Done" column. In this feature, our golf staff of Joe Nicely, Spencer Aguiar and Gianni Magliocco will provide their weekly golf picks every Wednesday. The purpose of this article is to present you with alternative options to consider and hopefully make your selection a much easier process weekly. With that plan in mind, let's get started!
Last week's Desert Classic proved to be successful for all three of us. Spencer and I both went with the defending champion Jon Rahm and it paid off, as the Spaniard came through with a solid solo-sixth finish that was good for $212,400 in earnings. Rahm's success was enough to give Spencer an early lead in our RotoBaller OAD standings, though he burned Justin Thomas in the Sony to get there. Gianni took a different route in the Desert Classic, but found similar success with Patrick Cantlay who recorded a T9 and grabbed a $159,300 paycheck. Though Gianni posted a slightly smaller payday than Spencer and I, he can probably be considered the winner of the week, as he still has a Jon Rahm bullet left in the chamber for use later in the season. Overall, it was a very solid week and I feel comfortable in speaking for the other guys in saying that we'll gladly take top-10 finishes every week.
The PGA Tour has eased us into the season with a couple of laid-back events, but things turn serious this week. The Farmers Insurance Open features the best field we've seen in 2019 and is held on a Torrey Pines course that hosted the 2008 U.S. Open and is scheduled to host another one in 2021. Jason Day is back to defend his title and Tiger Woods will be making his first start of 2019. They are joined by an elite list of names that includes Justin Rose, Jon Rahm, Rory McIlroy, Tony Finau and Rickie Fowler. The purse is a juicy $7.1 million and having this week's winner would be a huge bump to season-long OAD prospects. There is a buffet of big-time names to choose from this week, as well as a strong sub-set of players that have impressive course history at Torrey Pines. This is going to be a fun tournament and an interesting OAD week. I can't wait to see who the guys are going with!
Editor's Note: Our friends at Fantasy National have built some incredible DFS Golf lineup tools including a Lineup Optimizer, Stat Engine, Ownership Projections and Course Breakdowns. They are by far the best daily fantasy Golf tools in the industry. Seriously. You can read all about them here and see screenshots. 
Sign Up Now!
For an in-depth breakdown of the top DraftKings and Fanduel plays, check out Joe Nicely's weekly Horse For The Course that highlights the best fits for the week's course.
And you can also find out who the smart money is on by checking out Spencer Aguiar's PGA DFS: Vegas Report every week.
Editor's Note: Our friends at Fantasy National have built some incredible DFS Golf lineup tools including a Lineup Optimizer, Stat Engine, Ownership Projections and Course Breakdowns. They are by far the best daily fantasy Golf tools in the industry. Seriously. You can read all about them here and see screenshots. 
2019 Farmers Insurance Open - Torrey Pines South
7,698 Yards - Par 72 - Greens: Poa
While not as confusing as last week's Desert Classic, we are still faced with a multiple course rotation this week. Players will split their first two rounds between Torrey Pines South and Torrey Pines North, with those that make it through the 36-hole cut playing their remaining two rounds on the South Course. Since those that play all four rounds will face the South Course three times, that's where we'll focus most of out attention. The North Course is the shorter (7,250 yards) and easier of the two. Players will need to take advantage of their one round on the North Course with a low score, as scoring opportunities are few and far between on the South Course.
Torrey Pines South is an absolute beast. It is long with hard to hit fairways and thick rough. The greens are much smaller than the Tour average. The South Course will test every facet of a player's game. It has a U.S. Open pedigree and while it won't play "U.S. Open tough" this week, par will be a decent score. Last year's Farmers champion Jason Day shot a 64 in his North Course round while never breaking 70 in his three South Course rounds.
It sounds like a no-brainer, but we are looking for players with complete tee-to-green games this week. Any weaknesses will be magnified on a course as tough as Torrey Pines. The ability to scramble and avoid big numbers will be important. A player's ability to hang tough and mentally "grind" will also be a huge factor this week.
One and Done Selections
Joe Nicely - Marc Leishman
Man...this is definitely the toughest decision I've faced yet. I started with some of the obvious names...Tiger, Jason Day, and Justin Rose, to name a few...but found an excuse to slowly eliminate each one. Tiger has dominated Torrey Pines, but I'm leery of a winter's worth of rust on a fused spine. He can definitely succeed this week, but I'm taking a "wait and see" approach with Tiger and will save him for later in the season when he's hopefully firing on all cylinders. Day is just a little too erratic for my taste and with all the great options available, I don't want to put my faith in a guy that I feel is just as likely to miss the cut as he is to win the tournament. Rose has played great in his last two Torrey Pines appearances, but I'm saving him, as I'm almost certain that I will want to use him in one of the season's major championships.
After working my way through some other "elite" options, my decision came down to Tony Finau and Marc Leishman. While I love Finau's game for Torrey Pines and think he'll have a huge season, I'm slightly worried about this being his first start in over two months. I ultimately decided to go with Leishman, who should be the opposite of rusty. The "Big Aussie" has been on fire recently with a win in the fall and consecutive top-five finishes to kick off 2019. In addition to his recent form, Leishman has a history of success at Torrey Pines and has logged four top-10s in 10 career appearances in the Farmers. I might regret skipping over some of the elite options that are available this week, but I'm confident that Leishman will continue to play well. This selection also leaves me with some great players in my arsenal going forward. - Joe Nicely
Yearly Earnings - $223,920

Yearly Cuts Made - 2/2
Spencer Aguiar - Patrick Cantlay
For the first time this season, I am going to deviate from my original gameplan. I intended to use Tony Finau, but with how chalky he is shaping up to be, I am going to shift to someone that I think may go slightly overlooked. Patrick Cantlay was the second-most popular option last week at the Desert Classic and netted his backers a solid return of $159,300. However, his one-under par 71 on Sunday dropped him down the leaderboard, and I'd imagine most participants in a "One and Done" contest will be clamoring to use some of the shiny new toys that they have at their disposal this week.
Cantlay has not demonstrated the most pristine course history at Torrey Pines, missing the cut in his first attempt six years ago, while providing a share of 51st place last season, but the mediocre results do not deter me from backing the 26-year-old on a course that should set up ideally for him. Cantlay has provided four straight top-nine results on the PGA Tour and is ranked inside the top-10 in his last 50 rounds compared to the field in par-four scoring, bogey avoidance, strokes gained approach, and strokes gained off the tee. This tournament is stacked and I'd prefer to save some of my bigger names for a venue that will be easier to decipher. Cantlay may be considered as "clubbing down" with my selection, but he still has the upside to find the winner's circle in San Diego. - Spencer Aguiar
Yearly Earnings - $311,600
Yearly Cuts Made - 2/2
Gianni Magliocco - Charles Howell III
I've toyed with a few different names this week, but Charles Howell III gets the nod. The most important statistic for me at this current period in the "One and Done" season is 'cuts made' and I expect Howell to turn his 2019 season total of 2/2 into 3/3 this week. The American is 16/16 in made cuts at this event and has recorded eight top-10 finishes in that period. Howell was T6 here last year, and it's clear that he adores the track. The 39-year-old is a safe play this week with lots of upside. There isn't another track this year that I'd feel more comfortable using Howell, and taking a man with legitimate top-10 claims without burning a top player in an elite field is the strategy I'm implementing this week. - Gianni Magliocco
Yearly Earnings - $172,164
Yearly Cuts Made - 2/2
Running Totals
Joe Nicely

Spencer Aguiar

Gianni Magliocco

Sony Open

Gary Woodland

 $11,520

Justin Thomas

$99,200

Kevin Kisner

$12,864

Desert Classic

Jon Rahm

$212,400

Jon Rahm

$212,400

Patrick Cantlay

$159,300

Farmers Insurance

Marc Leishman

Patrick Cantlay

Charles Howell III
Golf DFS News and Player Outlooks
Premium DFS Golf Tools and Lineup Optimizer
Our friends at Fantasy National have created some game-changing DFS Golf tools, and you can read all about them here. They are hands-down the best daily fantasy Golf tools in the industry.