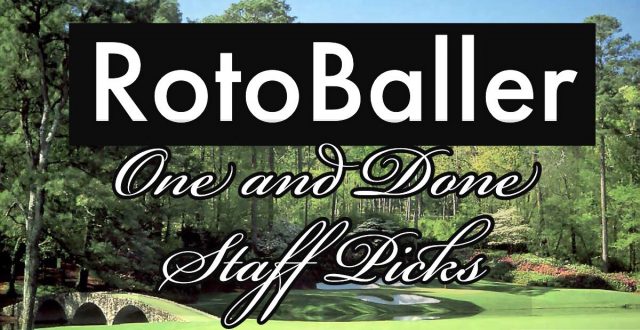 Here at RotoBaller, we are always searching for ways to give our readers the best fantasy sports content possible. With that goal in mind, we are very proud to announce the addition of a weekly PGA "One and Done" column. In this feature, our golf staff of Joe Nicely, Spencer Aguiar and Gianni Magliocco will provide their weekly golf picks every Wednesday. The purpose of this article is to present you with alternative options to consider and hopefully make your selection a much easier process weekly. With that plan in mind, let's get started!
The Sony Open turned into a puzzle that the three of us weren't able to crack last weekend. While we all managed to get our golfer through the initial cut, we were only able to provide $123,584 in combined earnings. That is not where any of us want to be, but it is a long season to get back on track. Joe and Gianni took more conservative routes to open the year with Gary Woodland and Kevin Kisner, respectively, but I decided to go for a big haymaker and use Justin Thomas in the opening event. A paycheck of $99,200 is decent, but I can't help but feel like I wastefully burned the fourth-ranked player in the world. However, I don't think it caused any seismic shifts to what my gameplan will be going forward, and I will stick to my original strategy for now.
The Desert Classic features the smallest purse of the season at only $5,900,000 and presents a unique circumstance with only three players ranked inside the top 30 in the world rankings. World No. 1 Justin Rose, No. 7 Jon Rahm and No. 19 Patrick Cantlay are all options, but it comes down to if you want to burn one of them during such a small prize pool event. Nineteen players are ranked between 34 and 75 in the Official World Golf Rankings, and it could be an excellent contrarian spot to use someone slightly off the radar if your contest features a lot of other participants.
For an in-depth breakdown of the top DraftKings and Fanduel plays, check out Joe Nicely's weekly Horse For The Course that highlights the best fits for the week's course.
And you can also find out who the smart money is on by checking out Spencer Aguiar's PGA DFS: Vegas Report every week.
Editor's Note: Our friends at Fantasy National have built some incredible DFS Golf lineup tools including a Lineup Optimizer, Stat Engine, Ownership Projections and Course Breakdowns. They are by far the best daily fantasy Golf tools in the industry. Seriously. You can read all about them here and see screenshots. 
2019 Desert Classic - TPC Stadium Course
7,300 Yards - Par 72 - Greens Bermuda
The 2019 Desert Classic will be held across three courses: Stadium Course (Pete Dye Design), Nicklaus Tournament Course (Jack Nicklaus design) and La Quinta CC (Lawrence Hughes & Clive Clark design). The players will rotate the courses on Thursday, Friday and Saturday, playing each venue once. At the end of 54-holes, the cut will take place, and the remaining players will play the Stadium Course one final time. The tricky part of the event, from a viewing perspective, is that ShotLink data and Shot Tracker are only available on the Stadium Course. The other two venues not only don't have trackers but also have limited camera coverage. It is going to be difficult to know what is going on with your players, and you expect a handful of misreported birdies, eagles and triple-bogeys.
The tournament is a Pro-Am, which adds to the gimmicky nature and rounds can take FOREVER to finish. The cut will trim the players to the top 70 and ties for Sunday, unless 78 players or more qualify, which will establish the dreaded MDF finish. During a typical event, if 78 or more players make the Friday cut, we would see a secondary cut happen on Saturday, and the top 70 and ties would play the final round. In La Quinta, though, only the top 60 would make the cut to play the final round if an MDF finish does come into play. Confusing enough? It does add an interesting dynamic for DFS contests because all players are guaranteed three rounds, and it allows a little more aggression for your roster construction, but I don't think it helps much from a betting aspect or one and done contest. You don't know where you stand until Sunday with all the golfers playing different courses.
The Stadium Course will be the most difficult of three and features water on nine of the holes. The La Quinta and Nicklaus tracks are the two easiest on tour and will be where you need to do most of your scoring. Rain is expected in the forecast for Thursday and could add an unusual wave advantage for players that play a certain course on a given day. What is that advantage? I don't know. But I would assume playing the Stadium Course on Thursday in the rain would make things more difficult. All in all, the tournament isn't one of the better viewing events that we have on the year, but there could be some value in it if we can correctly gauge where the advantages lie.
One and Done Selections
Joe Nicely - Jon Rahm
After kicking off the season with a disastrous Gary Woodland pick last week, I'm looking to right the ship at the Desert Classic. Along with Justin Rose, Rahm is one of the two truly elite players in this rather weak field. An argument could be made for Patrick Cantlay or a "course horse" like Adam Hadwin, but I'm not playing around this week. I could easily see myself using Rose in one of the four major championships this season, but I can't really say the same thing for Rahm, due to his erratic history in majors. Rahm has shown the ability to dominate these weaker-field events and even though he was slightly underwhelming in the Sentry Tournament of Champions a few weeks ago, I still like his current form. So, while I might regret it somewhere down the line, I'm taking the Spaniard (who also happens to be this event's defending champion) simply because he's one of the best players in the field.
Yearly Earnings - $11,520

Yearly Cuts Made - 1/1
Spencer Aguiar - Jon Rahm
With it being such a small prize pool, I did consider going with Luke List or Joaquin Niemann. Ultimately, though, I decided to roll with Jon Rahm. There are very few venues that I am actively looking to use the Spaniard at this year, and outside of a guaranteed payday event like one of the three World Golf Championship's, this is quite possibly the best opportunity I will have all season. I am not usually a big fan of taking guys when they are the defending champion, but Rahm has shown the ability to dominate weaker-field tournaments in the past. While it could be perceived that I am creating some potential late-season difficulties with the aggressive route I am taking, I have no concerns about being able to adjust on the fly.
Yearly Earnings - $99,200
Yearly Cuts Made - 1/1
Gianni Magliocco - Patrick Cantlay
My selection for this week is Patrick Cantlay. The third favorite in the betting market may seem like an aggressive play, but it's more strategy based. The 26-year-old is making his first start of the year, and in what is a weak field, only two players are given a higher chance of winning than he is this week. What this means is that we find ourselves in a rare situation where we can take the third betting favorite without burning a star player. That by no means is a show of disrespect to Cantlay, who has proved himself to be a quality player. The American has finished inside the top-25 in nine of his last 11 events on the PGA Tour, and sits second in this week's field for strokes gained total over his previous 12 rounds. However, how many times do I expect to see Cantlay in the top three of the betting card in an event this year? Not many, that's for sure, and it makes him a very attractive option to use in this format right now.
Yearly Earnings - $12,864
Yearly Cuts Made - 1/1
Running Totals
Joe Nicely

Spencer Aguiar

Gianni Magliocco

Sony Open

Gary Woodland 

$11,520

Justin Thomas

$99,200

Kevin Kisner

$12,864

Desert Classic

Jon Rahm

Jon Rahm

Patrick Cantlay
Golf DFS News and Player Outlooks
Premium DFS Golf Tools and Lineup Optimizer
Our friends at Fantasy National have created some game-changing DFS Golf tools, and you can read all about them here. They are hands-down the best daily fantasy Golf tools in the industry.
Premium DFS Golf Tools and Lineup Optimizer
Our friends at Fantasy National have created some game-changing DFS Golf tools, and you can 
read all about them here
. They are hands-down the best daily fantasy Golf tools in the industry.
Sign Up Now!