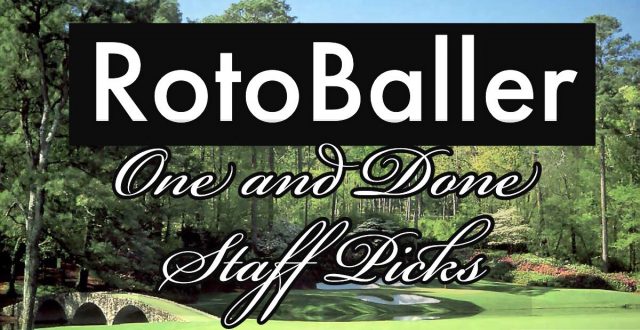 Here at RotoBaller, we are always searching for ways to give our readers the best fantasy sports content possible. With that goal in mind, we are very proud to announce the addition of a weekly PGA "One and Done" column.
In this feature, our golf staff of Joe Nicely, Spencer Aguiar and Gianni Magliocco will provide their weekly golf picks every Wednesday. The purpose of this article is to present you with alternative options to consider and hopefully make your selection a much easier process weekly.
With that plan in mind, let's get started!
Editor's Note: Our friends at Fantasy National have built some incredible DFS Golf lineup tools including a Lineup Optimizer, Stat Engine, Ownership Projections and Course Breakdowns. They are by far the best daily fantasy Golf tools in the industry. Seriously. You can read all about them here and see screenshots. 
Sign Up Now!
2019 PGA Championship
I know you guys are probably interested to hear our thoughts on the PGA Championship, so I won't spend much time on last week's AT&T Byron Nelson. My pick - Keith Mitchell - finished a disappointing T59 for a measley $17k and change. Spencer was the big winner of the week by pulling out one of his big guns in Brooks Koepka. It worked well, as Koepka was in the mix to win the tournament before settling for a solo-fourth finish worth $379,200. Our season-leader Gianni had a strange week to say the least. His selection - Marc Leishman - was a super-late WD and Gianni's alternate - the great Tony Romo - was a choice made in jest that he honorably decided to stick with. Here's how sharp Gianni's been in this competition...he's had two WD's and a Tony Romo this season and he's STILL leading Spencer and I...so you might want to pay special attention to our boy's picks going forward!
We all know that OAD seasons and segments can be won or lost at major championships and we've got the potential for a classic this week. The PGA made the wise choice to grab Bethpage Black as a host venue for its crown jewel event. The New York track is one of the best in America and welcomes all 100 of the OWGR's top golfers. With an $11 million purse and the winner's share at just under $2 million, this is without a doubt a tournament that the boys and I want to get right. Let's get to the picks!
For an in-depth breakdown of the top DraftKings and FanDuel plays, check out Joe Nicely's weekly Horse For The Course that highlights the best fits for the week's course.
And you can also find out who the smart money is on by checking out Spencer Aguiar's PGA DFS: Vegas Report every week.
2019 PGA Championship - Bethpage (Black Course)
7,432 Yards - Par 70 - Greens Poa Annua
This AW Tillinghast design is perhaps the best public golf course in the United States. By public, I mean that anyone can go play it and it won't cost you $800. The Black Course is the crown jewel of Bethpage State Park's five courses. It has hosted two U.S. Opens ('02 & '09) and two FedEx Playoff events (Barclays '12 & '16).
There isn't anything tricky about the Black Course, it's just long and mean and in your face. Its length forces players to hit driver, but you can't miss the (narrowish) fairways because nasty rough awaits. We've seen the USGA dial Bethpage up to 11 for the U.S. Opens and the PGA Tour scale things back a bit for the Barclays events...we can probably expect a degree of difficulty that falls somewhere in the middle for this week's PGA Championship.
One important note, it's rained in New York for about two months straight and will continue to do so for at least part of the tournament, so this beast will be playing even longer with players getting next to no roll out off the tee. Players will be required to be both long and accurate off the tee, and precise on approach shots. Cavernous bunkers await those that miss the green and tricky Poa Annua grass will greet players when they finally reach the dance floor.
One and Done Selections
Joe Nicely - Brooks Koepka
Alternate - Jason Day
Last week's selection of Keith Mitchell didn't work out for me, but I'd probably make it again at what's quickly becoming one of my least favorite courses on the PGA Tour schedule. While I gained a tiny bit of ground on Gianni (his alternate pick of Tony Romo was TOTALLY worth it for comedic value), Spencer got a pretty big leg up on me in Dallas with his Brooks Koepka selection being worth over $300k.
I'm gonna follow in Spencer's footsteps this week and go with Brooks Koepka at the PGA Championship. Bethpage Black is a big, intimidating course...so why not go with a big, intimidating golfer on it? Koepka has ran roughshod through the major championships over the last two years by collecting three wins, but we can go even further back and find that he hasn't missed a cut in a major championship that he's participated in since the 2013 Open Championship! So while the wins have put him on the map, Koepka has been quietly playing very well in golf's biggest events for years.
A lot of my usual evaluations go out the window when dealing with Brooks. You can toss out recent form, stats, and course history when he's heading into a major championship, as he's proven that he can kick his game into another gear. I'm well aware that Koepka will be a popular OAD pick this week, but with both Tiger Woods and Rory McIlroy already off the table for me - and plans for some the field's other elite players later in the season - I feel that Koepka offers the best chance to grab a win at Bethpage.
- Joe Nicely
Yearly Earnings - $3,634,307

Yearly Cuts Made - 14/17
Spencer Aguiar - Rory McIlroy
Alternate - Bryson DeChambeau
Without a doubt, this was the most challenging decision for me so far this season. Perhaps the uncertainty with how Bethpage Black is going to play factored into the arduous journey I've had this week, but this is a decision I can not afford to get wrong if I want to remain in contention.
If we start with who I don't have at my disposal anymore, Brooks Koepka makes a lot of sense, although you might be dealing with the most popular choice at the PGA Championship if you select him. On the other hand, Jon Rahm is my personal favorite, but I have already used him at the Desert Classic. My decision ultimately came down to Rory McIlroy, Bryson DeChambeau and Jason Day, and I have decided to roll with my top gun, even if reports are indicating that the rough will be severe.
I create two spreadsheets every week. One at Fantasynational.com and the other on my own. It is not always the case with how I weight my statistics on each model, but McIlroy graded out first on both. This week, I attached a 17 percent weight to driving distance, which obviously will benefit the Irishman, but even when I played around and moved that weight calculation to accuracy off the tee - a statistic that could potentially plague him at Bethpage Black - he still ranked first overall because he was so strong everywhere else. I considered throwing the ultimate curveball and selecting Bryson DeChambeau, but I am okay living with him as just a 40/1 outright wager and going with the hottest player in the world to try and catch Gianni. - Spencer Aguiar
Yearly Earnings - $3,846,135
Yearly Cuts Made - 16/17
Gianni Magliocco - Brooks Koepka
Alternate - Peyton Manning (Just kidding, Justin Rose)
Well, that didn't go to plan. Seeing that I had Tony Romo as my OAD pick last week will probably surprise you all, and it should. But as Jack Nicholson once said, "never complain, never explain."
Here's the thing...I have had two withdrawals and a pick of Tony Romo, and I'm still in command of the competition. We're witnessing what could be the greatest OAD victory of the year, as I doubt anyone else with a lead in their respective contest has had the severe bad luck I've had, as well as a former NFL QB in their past selections.
Anyway, it's time to get back on track, and I'm taking the big game hunter Brooks Koepka to get the 'W' this week. He's the most consistent player in the world, and nobody is performing better in majors in recent years than Koepka. "Majors are the easiest events to win" and "I don't see why I can't get to double digits (major wins)" is the sort of talk I like before a big week, and I've no doubt that Koepka will now deliver. A lock for a top-10 finish, and it'd be surprising to me if Brooks finished outside the top-two in New York.
- Gianni Magliocco
Yearly Earnings - $5,844,045
Yearly Cuts Made - 14/17
Running Totals
Joe Nicely

Spencer Aguiar

Gianni Magliocco

Sony Open

Gary Woodland 

$11,520

Justin Thomas

$99,200

Kevin Kisner

$12,864

Desert Classic

Jon Rahm

$212,400

Jon Rahm

$212,400

Patrick Cantlay

$159,300

Farmers Insurance

Marc Leishman

$21,158

Patrick Cantlay

$0

Charles Howell III

$79,804

Waste Management

Hideki Matsuyama

$113,600

Webb Simpson

$76,917

Justin Thomas

$482,800

Pebble Beach

Chez Reavie

$31,160

Phil Mickelson

$1,368,000

Phil Mickelson

$1,368,000

Genesis Open

Xander Schauffele

$100,788

Hideki Matsuyama

$177,600

Dustin Johnson

$177,600

WGC Mexico Championship

Justin Thomas

$201,000

Xander Schauffele

$128,000

Tommy Fleetwood

$103,750

Honda Classic

Adam Scott

$0

Gary Woodland

$25,346

Adam Scott

$0

Arnold Palmer

Rory McIlroy

$294,613

Justin Rose

$19,474

Jason Day

$0

Players Championship

Sergio Garcia

$125,000

Tiger Woods

$77,625

Rory McIlroy

$2,250,000

Valspar Championship

Patrick Reed

$0

Sergio Garcia

$15,209

Henrik Stenson

$54,270

WGC-Match Play

Ian Poulter  

$108,429

Haotong Li

$167,000

Francesco Molinari

$712,000

Valero Texas Open

Tony Finau

$16,275

Rickie Fowler

$112,500

Tony Finau

$16,275

Masters

Tiger Woods

$2,070,000

Bubba Watson

$225,400

Rickie Fowler

$310,500

RBC Heritage

Byeong Hun An

$0

Matt Kuchar

$745,200

Brandt Snedeker

$17,342

Wells Fargo Championship

Rickie Fowler

$311,063

Tony Finau 

$17,064

Webb Simpson

$99,540

Bryon Nelson

Keith Mitchell

$17,301

Brooks Koepka

$379,200

Tony Romo

$0
More PGA Analysis and DFS Lineup Picks
Premium DFS Golf Tools and Lineup Optimizer
Our friends at Fantasy National have created some game-changing DFS Golf tools, and you can read all about them here. They are hands-down the best daily fantasy Golf tools in the industry.