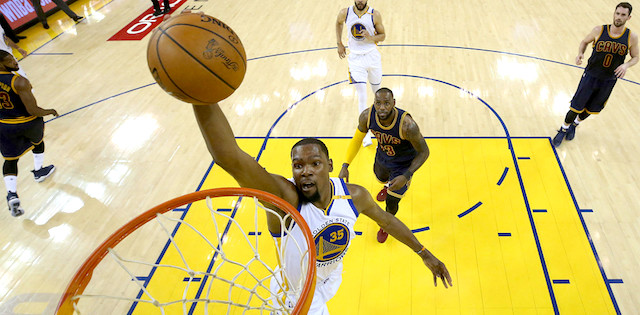 Welcome to the RotoBaller NBA Recap. In this feature, we highlight three fantasy basketball takeaways from last night's slate of NBA games.
The second half of the NBA season is officially underway and what a Thursday slate we received. Just for a quick overview:
The Bucks and Celtics faced off in a potential ECF matchup that came down to the final seconds. The battle was a lot closer than some expected give Milwaukee's recent dominance, home-court advantage, and Boston's questionable chemistry.
Fellow east-coasters Philly and Miami faced off in a matchup that should have been much more one-sided. Erik Spoelstra's squad kept it close but ended up just short as the Heat continue their slide out of the playoff picture.
Phoenix and Cleveland played a basketball game.
Los Angeles and Houston provided plenty of controversy as Chris Paul and Mike D'Antoni were consecutively T'd up in the final minute of the game, essentially handing the game to the Lakers. As a Lakers' fan, I'll take it. As a basketball fan, it felt cheap. Scott Foster apparently has a long history as a questionable referee and the league should look into his actions. However, I do appreciate him calling fouls on James Harden that no other referee would dare to. Chris Paul's dirty play did not go unnoticed either as he fouled out with Harden in the fourth quarter.
Anyway, let's take it away with the Thursday, February 21st recap with these fantasy highlights!
Editor's Note: Our friends at Monkey Knife Fight have the best, most fun, fastest growing DFS props game! It's super simple to play and to win real money. Just choose your NBA, NHL or PGA game, and make your picks! Get a 100% instant deposit bonus up to $50 using promo code: BALLER. That's $50 for free - don't miss out!
Play Now!
KD always comes to play. His floor is insane as he efficiently scores between 20 and 40 points each night along with stuffing in some assists and rebounds. I've heard complaints from some Durant owners that he has not "wowed" them of late. My response is that he has not let them down either. Durant has not scored in the single-digits at all this season and he's scored fewer than 20 points just four times...don't complain if you own him.
Thursday night, Durant scored 28 points, then threw in nine rebounds, four assists, a steal, and a three. Oh, forgot to mention the SEVEN blocks. His stocks have come and gone this year but nights like tonight provide some positive regression. He has been a top-5~ player all season and should be ROS as long as he is on the floor (please don't rest players GS).
Al Horford: MVC - Most Valuable Celtic
Big Al is a stud. Even though his fantasy performances have underwhelmed for the most part this season, Horford's picked it up over the past month. In February, he's averaging 15 points, eight boards, six assists along with more than one three, steal and block per game. He will have the occasional single digit scoring game here and there, but games like Thursday should continue to average it out.
Horford's been a top-10 player since mid-January and he excelled against the Bucks. With Giannis Antetokounmpo primarily guarding him, Horford put up 21 points, 17 rebounds, five assists, three blocks, two steals, and two threes. His shooting efficiency was not perfect but owners can look past that given the rest of the line. It might be an unpopular opinion given that Kyrie Irving is his teammate, but the Boston Celtics are driven by Al Horford and everything he does on the floor. His rim protection, passing, shooting acumen, and all-around game provide a catalyst in the middle of the floor that wins them games consistently.
The title was between this and "In His Bagley" and I picked the one that readers would not hate as much...you're welcome. Anyway, Marvin Bagley proved himself as a force against the Warriors on Thursday. His 28 points and 14 boards were integral in keeping the game as close as it was. Bagley was even wide open under the rim on the last possession but Buddy Hield did not look his way at all. He might have been the headliner if he'd secured the tie and sent the game to OT.
Regardless, Bagley was impressive and has been solid even with Harrison Barnes' arrival. He's a must-hold going into the playoffs thanks to his recent play and the Kings' favorable schedule. Don't expect 28 and 14 every game though.
More Fantasy Basketball Analysis