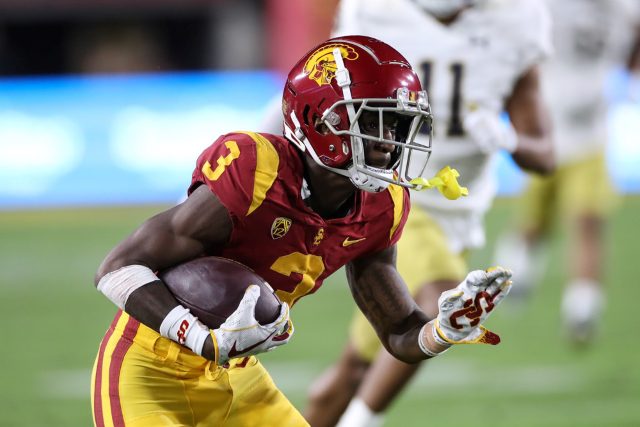 Rookie receivers are all the rage right now and with good reason. Fantasy managers have experienced monster rookie seasons from the likes of Ja'Marr Chase, Jaylen Waddle, Garrett Wilson, Chris Olave, Justin Jefferson, and CeeDee Lamb. We all want to be in on the next one that hits.
All of those players had plenty of factors working in their favor that allowed them to be immediate fantasy football producers. Some of them, like Lamb, had excellent quarterback play and high-end team passing volume. Others, like Waddle and Wilson, were walking into situations with very little target competition, allowing them to operate as the alpha from day one.
The point is that sometimes when it comes to immediate fantasy success, especially for a rookie, it takes more than just that player's individual talent. They need the right situation, the right environment. Today, we'll be discussing which rookie receivers have the best chance to be immediate fantasy producers this season. Let's dive in and please be sure to use promo code "BOOM" for 10% off of any premium purchase.
Featured Promo: Get any full-season NFL and DFS Premium Pass for 50% off. Exclusive access to our Team Sync platform, Premium articles, Matchup Rating projections, 15 lineup tools, DFS cheat sheets, Research Stations, Lineup Optimizers and much more!
Go Premium, Win More!
There is no rookie receiver set up better for immediate success than Jordan Addison. He's walking into a situation where he'll be catching passes from an extremely effective quarterback on a high-scoring offense with upper-tier team passing volume whose defense is expected to be quite awful.
Everything fantasy managers want for their rookie receiver crush exists in Minnesota for Addison. People fret about Kirk Cousins way too much. The reality is, he's a damn good quarterback. Over the last three years, he has cleared the following in every single season: 65% completion percentage, 4,200 yards, and 29 touchdowns.
Since 2020, only four quarterbacks — Patrick Mahomes, Josh Allen, Aaron Rodgers, and Tom Brady — have more passing touchdowns than Cousins. He has more than Justin Herbert in the same number of games played.
He's also been fantastic in terms of passing yards. Over the last three years, he has the fifth-most passing yards, behind only Mahomes, Herbert, Allen, and Brady. You know what? All that success has trickled down to his receivers.
Vikings top-two fantasy football WRs with Kirk Cousins:

2022: Justin Jefferson (WR2); Adam Thielen (WR43)
2021: Jefferson (WR4); Thielen (WR14)
2020: Jefferson (WR9); Thielen (WR11)
2019: Stefon Diggs (WR25); Thielen (WR42)
2018: Thielen (WR7); Diggs (WR11)

— Ian Hartitz (@Ihartitz) May 16, 2023
Last season, the Vikings distributed 143 targets to Adam Thielen and Irv Smith, both of whom are no longer with the team. They finished with 95 receptions, 898 yards, and 8 touchdowns, which indicates there's plenty of opportunity available for Addison right away.
We also need to factor in T.J. Hockenson being in Minnesota for a full season, but it's also possible K.J. Osborn's role could diminish this season with the addition of Hockenson and Addison. He had 90 targets, 60 receptions, and 650 yards and likely played a bigger role due to Thielen's diminishing results. That shouldn't be a problem for Addison.
New Vikings WR Jordan Addison in #ReceptionPerception 👀

- 71.3% success rate vs. man coverage
- 80% success vs man
- Crazy high success rates on the slant, curl, dig

Perfect NFL flanker/slot receiver. pic.twitter.com/vSgBAgNNOl

— Matt Harmon (@MattHarmon_BYB) April 28, 2023
At first glance, this may not look like one of the better landing spots because of how Baltimore's offense has historically operated with Lamar Jackson under center, but the winds of change are blowing hard. Not only did they sign Odell Beckham Jr. to a sizable contract, but they also drafted Zay Flowers in the first round, putting significant resources into their passing game. That wasn't even the biggest move though. That belongs to the offensive coordinator hire of Todd Monken.
The Ravens have been one of the most run-heavy offenses in the league since Jackson became the starter in 2019. Since that time, the Ravens have had the second-fewest passing yards and passing attempts. If their offensive coordinator hire and their offseason moves have told us anything, it's that we should expect immediate changes and those very well could be significant.
Working off the very reasonable assumption the Ravens are going to open up their passing game more in 2023, Flowers is in a fantastic spot to be an immediate producer.
OBJ will be 31 years old this season and is working his way back from a second torn ACL. The last time we saw him in 2021, he finished with just 537 yards in 14 games spent with the Browns and Rams. He's nothing more than a role player at this point and his name value is bigger than his on-field contributions. Flowers should have no problem surpassing him.
New Ravens WR Zay Flowers's #ReceptionPerception 🔥

- 73.1% success rate vs. man coverage
- 72.7% success rate vs. press
- 71.4% contested catch rate

You see this guy win at all three WR positions on film. Ravens have a LEGIT WR trio now.https://t.co/o3sICFzLPK pic.twitter.com/uoOr8DBfVr

— Matt Harmon (@MattHarmon_BYB) April 28, 2023
That leaves just Rashod Bateman. He's shown promise over the last two seasons, but during that time he's only appeared in just 18 games. With Flowers' speed, he may be better in best ball leagues, but it shouldn't be a surprise if he ends up drawing even with Bateman as the team's No. 2 target behind Mark Andrews.
We've all heard of ambiguous backfields and the value in targeting these situations. Well, the Kansas City Chiefs have an ambiguous group of pass-catchers, and fantasy managers should be targeting the top three: Rashee Rice, Kadarius Toney, and Skyy Moore.
Last year, Travis Kelce had 152 targets, 110 receptions, 1,338 yards, and 12 touchdowns. The entire group of receivers combined for 219 targets, 154 receptions, 1,966 yards, and 11 touchdowns. The two leading receivers — JuJu Smith-Schuster and Mecole Hardman — had 135 targets (61.6% of the WR total), 103 receptions (66.8%), 1,230 yards (62.5%), and 7 touchdowns (63.6%). They're both on different teams.
The remaining players include the three aforementioned receivers, Marquez-Valdes Scantling and Justin Watson. Watson is a 27-year-old, five-year NFL veteran. He has 74 targets, 38 receptions, and 573 yards in his NFL career. He set career highs in every category last year with 34 targets, 15 receptions, 315 yards, and 2 touchdowns. If you're looking for who will emerge as Patrick Mahomes' No. 2 target behind Kelce, keep looking.
MVS, despite playing with Aaron Rodgers and Patrick Mahomes and having the league's MVP QB in three of his five years in the NFL, has never recorded more than 85 targets, 45 receptions, or 700 yards. He's never accomplished any one of the three. He's also never had a season with a target share higher than 15.0%. It won't be him either.
This leaves us with Skyy Moore, a 2022 second-round pick who somewhat disappointed as a rookie. He played on fewer than 30% of the team's snaps and finished with just 33 targets and 250 yards.
Then there's Kadarius Toney. He's entering his third season and has played in just 19 games, missing 55.8% of the contests due to injuries. He has just 77 targets and 591 yards to his name, which brings us to Rashee Rice.
Brett Veach on second-round WR Rashee Rice

Maybe the closest 1:1 replacement for JuJu in the WR room

Inside game. Contested catch. Run after the catch. pic.twitter.com/Zc0uD2Wn2P

— Josh Norris (@JoshNorris) May 10, 2023
Rice posted a 9.53 Relative Athletic Score (RAS) which is higher than both Moore and Toney. The general manager talking about him being able to do a lot of the same things as JuJu is a great thing because he finished with 78 receptions and over 900 yards last season.
Rice was downright unstoppable last year at SMU. He finished with 157 targets, 96 receptions, 1,355 yards, and 10 touchdowns. His 30.6% target share was one of the highest in the country, as was his yards per route run (YPRR) average. His YPRR was 3.05 and the fifth-best in the country. According to PFF, he had a receiving grade of 85.6, which was the sixth-highest.
Rice has as good a chance as anyone to become Mahomes' No. 2 target this season and in an offense that finished fifth in pass attempts and first in both passing yards and passing touchdowns, that's an amazing place to be.
Jonathan Mingo wasn't the most well-known prospect, but after an absolutely incredible combine performance, fantasy managers and draft analysts alike certainly started paying attention.
Jonathan Mingo was drafted with pick 39 of round 2 in the 2023 draft class. He scored a 9.87 #RAS out of a possible 10.00. This ranked 42 out of 3062 WR from 1987 to 2023. https://t.co/7frwOHzS8P pic.twitter.com/Pc3AoiZY65

— Kent Lee Platte (@MathBomb) April 28, 2023
He didn't have a very productive collegiate career, at least not from his counting stats. Some of that was injury related as he didn't play more than seven games in a season until 2022. He finished his senior season with 92 targets, 51 receptions, 861 yards, and 5 touchdowns. He posted a 23.8% target share.
However, some believe Ole Miss didn't use him properly, lining him up as an outside receiver on the majority of his snaps. Mingo finished 2022 ranking 17th in broken and missed tackles per reception. He also finished eighth in yards after contact per reception at 7.5 yards. That type of skillset could be best utilized out of the slot where the quarterback can get the ball into his hands early and often, and let Mingo do the work.
With his size and athleticism, Mingo may be best used in a role similar to that of Deebo Samuel. For the Panthers, there is nothing holding them back from using Mingo in the best way possible. That's because the rest of the receivers on the depth chart leave an awful lot to be desired.
Jonathan Mingo's target competition in Carolina looks crowded but...

DJ Chark
-370th/390 in success rate vs man last year in @MattHarmon_BYB 's ENTIRE database.
-387th/390 against zone

Adam Thielen
-1.16 Yards per route run last season (76th/84 WRs
w 50+ targets).
-0.80…

— Connor Allen (@ConnorAllenNFL) May 3, 2023
Since the start of last season, the Panthers have lost D.J. Moore, Christian McCaffrey, and Chosen (formerly Robbie) Anderson. This trio combined to have 188 targets, 109 receptions, 1,371 yards, and 9 touchdowns. Adding just D.J. Chark, a one-hit-wonder, and Adam Thielen, a very past-his-prime receiver, Mingo has all the opportunity to make noise right away.
I'm a big fan of Jonathan Mingo and have a lot of faith in the Panthers' coaching staff to get him in the right role.

You're gonna love his #ReceptionPerception player comparison pic.twitter.com/mHy300BteS

— Matt Harmon (@MattHarmon_BYB) May 6, 2023
With Mingo being selected in the same year as Bryce Young, it's very possible Young leans on Mingo throughout the year. If fantasy managers get the rookie receiver in a role similar to Deebo Samuel or Amon-Ra St. Brown, watch out.
At first glance, being drafted to a team that already employs Keenan Allen, Mike Williams, Austin Ekeler, Joshua Palmer, and Gerald Everett could be construed as a negative thing and while there are certainly some barriers he needs to overcome, the landing spot is not without promise.
The reason for that is simple: Justin Herbert and an incredibly pass-heavy offense. Last year, the Chargers attempted 711 passes. A 15% target share on that volume would equate to 107 targets. Give say, Jaxon Smith-Njigba a 15% target share on Seattle's 2022 pass volume of 573 and you get just 86 targets.
Johnston will need to separate himself from No. 3 receiver Joshua Palmer, which given his veteran status is not assured, but it's also not a daunting task either.
ALL Early Declare Wide Receivers to be drafted Top 25 and put up 2.00+ YPTPA in EVERY collegiate season👇🏼

📍Calvin Johnson
📍Justin Jefferson
📍AJ Green
📍Mike Evans
📍CeeDee Lamb
📍Amari Cooper
📍Marquise Brown

another Quentin Johnston tweet 😌 pic.twitter.com/GDL23hOJ9F

— DynastyIM (@dynasty_im) April 29, 2023
Johnston had a fantastic final season at TCU finishing with 96 targets, 60 receptions, 1,069 yards, and 6 touchdowns. He constantly delivered in some of TCU's biggest games, up against some of the best competition they'd face all year.
Against #19 Kansas, he finished with 14/206/1.
Against #13 Oklahoma, he finished with 8/180/1.
Against #17 Kansas State, he finished with 5/75/1.
Against #18 Texas, he finished with 3/66/1.
Against #13 Kansas State, he finished with 4/139/0.
Against #2 Michigan, he finished with 6/163/1.
He finished second in the country with an 8.9-yard after-contact per reception average. He was a menace in the open field, consistently breaking tackles. His yard per route run average of 3.05 was the fifth-highest. He also finished sixth with a 17.8-yard per reception average. He can beat you on a short crosser because of his ability to make big plays after the catch and he can beat you downfield too.
New Chargers WR Quentin Johnston's #ReceptionPerception profile.

- 74.8% success rate vs. man
- Came on a small handful of routes
- Middling vs zone/press
- Some hand concerns

Brings the juice the Chargers need downfield and in the YAC game:https://t.co/gnXH03KeJy pic.twitter.com/OxSzloNPLS

— Matt Harmon (@MattHarmon_BYB) April 28, 2023
As long as Johnston is able to beat out Palmer and command the lion's share of the No. 3 receiver role, there's enough volume in this offense where he could become an immediate fantasy producer, especially with his penchant for big plays. This probably doesn't even need to be said, but in the event of a Keenan Allen or Mike Williams injury, Johnston's value would skyrocket. Being a starting receiver and getting to catch passes from Justin Herbert will do that.
As a reminder, if you're interested in purchasing any of our premium packages for the upcoming fantasy football season, use promo code "BOOM" to receive a 10% discount.
Download Our Free News & Alerts Mobile App
Like what you see? Download our updated fantasy football app for
iPhone
and
Android
with 24x7 player news, injury alerts, rankings, starts/sits & more. All free!
Win Big With RotoBaller
Be sure to also check out all of our other daily
fantasy football articles
and analysis to help you set those winning lineups, including this new RotoBaller YouTube video:
More Fantasy Football Analysis