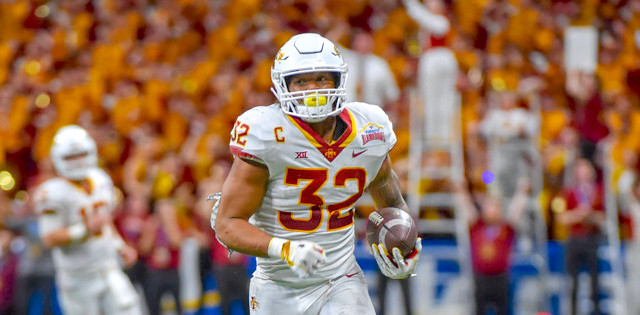 There has been some great rookie running back draft classes in recent years. This year wasn't one of those. While there was a number of players that were solid options later in the draft, there were only a couple that have the opportunity to be full-time starters in Year 1. These are not those guys. We're all about committees today.
The RBs I'll mention here are handcuffs or stashes in dynasty formats that could develop into something as their career goes on. Even first-round draft pick Josh Jacobs may be heading for a committee after the team signed Doug Martin, who head coach Jon Gruden said would be a good mentor for Jacobs. They could be keeping him as a depth piece in case of injury, but there is absolutely no way to know what Gruden is going to do.
When you're drafting these guys, you shouldn't be planning for them to be your starters or as your first option if your starter is on a bye or has a bad matchup. These are the ones you should grab in case you have no other picks late in the draft, but you want to grab a guy at a position that could have value if things fall right. So let's take a look at some committees.
Featured Promo: Get any full-season NFL Premium Pass for 50% off and win big in 2023. Exclusive access to our Premium articles, 15 lineup tools, new Team Sync platform, Lineup Optimizer, Premium DFS tools and cheat sheets, and much more!
Sign Up Now!
When you saw the Patriots drafted Damien Harris, you knew he was heading to a committee. The team already has James White, their first-round pick from last year in Sony Michel and utility-man Rex Burkhead. Harris is immediately the fourth guy in the room. Harris played a lot in college, and that experience will help him earn snaps. However, he has no set role that you can say that's what he's going to do.
If you own Harris, you'll likely be hoping that the Patriots use him similar to how Alabama did down around the goal line. He totaled 20 touchdowns over the last two seasons, and the Patriots have had some success with bigger running backs, namely LeGarrette Blount, down in the red zone. Harris might not be worth draft unless it's late in the game, but he could have some sneaky vulture value on a regular basis this year.
The Bears traded Jordan Howard to the Philadelphia Eagles, and they went to work replacing him with David Montgomery, who plays an extremely similar style of football. Montgomery now comes into a backfield that features sparkplug Tarik Cohen along with recent free agent acquisitions Mike Davis and Cordarrelle Patterson. That's a lot of mouths to feed, and head coach Matt Nagy showed last year that he has no problems splitting up his carries.
The main thing going for Montgomery will be the consistent production that he put up in college. He totaled 2,815 yards from scrimmage and 24 touchdowns over the past two seasons. The guy gained yardage, and he got the ball into the end zone. Nagy was around when the Kansas City Chiefs discovered running back Kareem Hunt and there have been many comparisons made between the two. So, Montgomery is heading into a crowded backfield, but there is always a chance he could evolve into the lead back. As of right now, it's far from guaranteed that he'll see more than 12-15 touches per game.
The Ravens added running back Mark Ingram this offseason, and they already had Gus Edwards and Kenneth Dixon on the roster. Similar to the first two guys on the list, Hill is heading into a situation where he's the fourth guy on the totem pole, and there is no set way that he's going to have a major impact on this team. He's not an elite receiving option, and they have two pure runners already in Ingram and Edwards. Where does that leave Hill?
That leaves Hill as a fourth-string running back that can be avoided unless you're playing in an extremely deep league or dynasty formats. He's just not going to get the run that's necessary to have him soaking up a roster spot when you can use it on other players like wide receivers or that sleeper pick you've been eyeing all offseason. It may be a run-heavy offense but that doesn't mean much if you're buried at the bottom of the depth chart.
The other guys on this list have had three players ahead of them on the depth chart. In Philadelphia, Miles Sanders comes in as the fifth running back with four guys that have all started at one point or another in their career. He was a second-round pick, which could give him some increased possibility of getting on the floor, but, at the end of the day, it's your play that gets you on the field, not your draft stock.
Due to the fact he was playing behind current New York Giants running back Saquon Barkley for the first two years of his college career, he doesn't have a ton of experience outside of his final year as a starter. The Eagles used all of their running backs last year. While some of that was due to injury, you never knew who was going to be the guy. Sanders is talented enough to make some noise as a rookie, but there is absolutely no guarantee that he does anything fantasy-relevant in this backfield.
For a few different reasons, including the inexcusable sin of trying to spoil Avengers Endgame on Twitter (what's wrong with you, Shady??!!?), current Bills' running back LeSean McCoy could be out the door, which would make things a lot easier for Devin Singletary to break into the backfield rotation. However, if the Bills keep McCoy and free agent acquisitions Frank Gore and T.J. Yeldon, Singletary could be nothing but an afterthought this season for the Bills.
Singletary was an incredibly productive player in college. He rang up 4,287 yards and 66 touchdowns in college. However, playing in Conference USA is much different than playing in the NFL. He'll need some time to get more seasoned and get his feet under him. With an injury or two, he could gain some easy fantasy relevance, but, as it stands now, it doesn't seem too likely. Oh, and his lack of size (5'7") AND speed (4.66 40 time) doesn't bode well either.
More NFL Draft Analysis