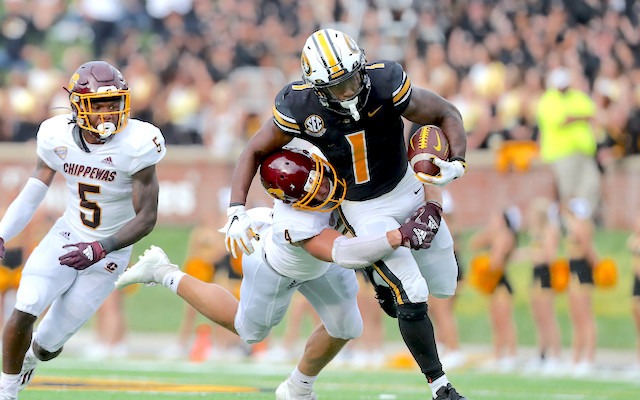 Each year, we see a handful of incoming rookie RBs finish as an RB2 or better in fantasy football. While the best rookies are typically those who are drafted on Day 2 or earlier (Najee Harris, Jonathan Taylor), there are also some recent examples of Day 3 picks and UDFA RBs who had great rookie seasons (Elijah Mitchell, James Robinson).
In this article, I'll be covering the most important RBs that were drafted in Rounds 5-7 of the 2022 NFL Draft, as well as any notable UDFAs. 
To read my article about each of the RBs drafted in Rounds 2 & 3 (Breece Hall, James Cook, and more), you can check it out here. To read my article about the RBs drafted in Round 4 (Dameon Pierce, Isaiah Spiller, and more), you can check it out here.
Featured Promo: Get any full-season NFL Premium Pass for 50% off and win big in 2022. Exclusive access to our Draft Kit, new Team Sync platform, premium articles, rankings and projections, 15 lineup tools and Premium DFS tools and cheat sheets.
Sign Up Now!
Atlanta Falcons: Tyler Allgeier (Pick #151)
Tyler Allgeier was a workhorse RB prospect coming out of BYU, scoring a ridiculous 23 TDs, second-most in 2021. He was also able to reach 100 rushing yards in seven of 13 games. Now, the former linebacker enters a backfield with Cordarrelle Patterson, Damien Williams, and Jeremy McNichols. Considering that Patterson and Williams are each 30+ years old, and McNichols' career-high in rushing yards is just 204, there is a clear path towards immediate relevance in the Falcons offense for Allgeier.
Following his three-touchdown game last season, Cordarrelle Patterson outcarried Mike Davis 10.5/gm to 7.2/gm. Heading into next season, I don't expect the 31-year-old career kickoff specialist to improve as a runner, and I think he will likely return to normalcy with fewer than 10 carries per game. This being said, Allgeier could easily become the team's go-to option on early-down and goalline running plays.
Come the end of the season, I believe that this backfield will have been split evenly between Patterson and Allgeier, with each receiving ~8-12 carries/game based on the game script. Jeremy McNichols will play sparingly in the run game, primarily being used as a pass-catcher when Patterson is unavailable to do so. This means Tyler Allgeier is likely just competing for early-down work with Damien Williams, who's had fewer rushing yards in his entire seven-year NFL career than Allgeier did in just his final season at BYU.
Jacksonville Jaguars: Snoop Conner (Pick #154)
Snoop Conner (5-10, 215 lb) is a very interesting bruiser prospect out of Ole Miss who is now entering a Jacksonville Jaguars backfield with some wiggle room on their depth chart. Travis Etienne will definitely receive the bulk of the carries in this offense, but there is an opportunity for someone who can run between the tackles and wear down the defense.
The team had drafted Etienne 25th overall in last season's NFL Draft before he suffered a serious Lisfranc injury during the preseason that sidelined him for his entire rookie year. Due to Etienne's injury, the Jaguars were forced to turn back to their standout UDFA RB James Robinson, who was great, until he tore his Achilles in Week 16. The typical recovery time needed to return to play as a professional football player after an Achilles tear is 11 months. Considering this timetable and the fact that the injury occurred on December 26, I'm pretty confident that we won't see James Robinson for most of the 2022 season. More importantly, when he does return towards the back-end of the season, I don't expect Robinson to be nearly as efficient as we saw pre-injury.
Throughout all three of his collegiate seasons, Snoop Conner was outcarried by fellow Ole Miss RB Jerrion Ealy. However, come draft time, Conner was the one who earned the fifth-round draft capital, while Ealy signed as a UDFA with the Kansas City Chiefs as a WR. Clearly, despite the team relying on Ealy over Conner throughout their entire time together, the NFL saw Snoop Conner as the much preferred running back prospect out of Ole Miss. It is also worth noting that in the only game Jerrion Ealy missed during the 2021 season, Snoop Conner put up an impressive 12-110-3 statline. Conner has an immediate opportunity to beat out career backup Ryquell Armstead for the second option in this Jaguars offense.
New England Patriots: Kevin Harris (Pick #183)
In the sixth round, the Patriots drafted another "bruiser" RB to add to their current combination of Damien Harris and Rhamondre Stevenson, selecting Kevin Harris out of South Carolina. The Patriots have historically rotated through a combination of different RBs in order to keep them fresh and healthy, and their recent draft picks seem to support this statement.
As a sophomore in 2020, Kevin Harris broke out for 1300 all-purpose yards and 16 total touchdowns, all in just 10 games. Harris surpassed 100 rushing yards in 50% of his games that year due to his huge workload of 18.5 carries per game. However, after having back surgery during that offseason, Harris' workload plummeted to just 11 carries/game prior to his last game of 2021. In that final showing, after disappointing all year, Harris put up a 31-182-1 stat line before declaring for the 2022 NFL Draft.
While he does have a chance to beat out Rhamondre Stevenson for some backup work, Kevin Harris will not have any immediate fantasy value in this crowded backfield. The team will continue to rotate between multiple different backs, while mostly leaning on Damien Harris near the goal line.
Baltimore Ravens: Tyler Badie (Pick #196)
Tyler Badie was a very interesting pick, joining an extremely crowded backfield including J.K. Dobbins, Gus Edwards, and new veteran signing Mike Davis. At Missouri, Badie performed as an outstanding pass-catcher out of the backfield, receiving 300+ receiving yards in each of his sophomore, junior, and senior seasons, including an impressive 54 receptions in his final year. Despite the lack of draft capital and the mountain of running back competition to climb in Baltimore, Badie clearly possesses the talent to be a surprising standout in 2022: 
The Ravens' projected starting RBs, J.K. Dobbins and Gus Edwards, are each just one year removed from season-ending ACL injuries, and both could struggle to return to pre-injury form in their first season back. According to head coach John Harbaugh, there is a chance both running backs start training camp on the PUP list, and he also added that the team will remain cautious with both players leading up to the regular season. If this is the case, Badie has a clear path toward meaningful touches in this high-volume offense, as long as he can beat out 29-year-old Mike Davis.
In a run-heavy scheme that loves to rotate between their running backs, Tyler Badie has the opportunity to quickly rise up the depth chart and become an important piece of the Ravens' offense this season and beyond. Hopefully, we'll hear his name throughout the offseason out of camp to help instill more confidence in his role.
Kennedy Brooks enters a backfield that has recently moved on from veteran RB Jordan Howard, now consisting of just Miles Sanders, Kenneth Gainwell, and Boston Scott. While Gainwell (5-9, 200 lb) and Scott (5-6, 203 lb) are great in space and in the receiving game, they do not contain the size to become the team's two-down grinder on the ground. This is where Howard (6-0, 224 lb) and Sanders (5-11, 211 lb) saw the bulk of their work. Now, following the team's recent departure from Jordan Howard, the Eagles signed Oklahoma running back Kennedy Brooks (5-11, 215 lb) to the highest guaranteed contract ($240,000) of any UDFA RBs in the class. It is important to note that this contract is equivalent to a late fifth-round pick, as he's seeing more guaranteed money than any prospects drafted after pick #180.
In Miles Sanders' and Jordan Howard's two games together in 2021, their rush attempt splits were 16/10 and 18/15, respectively. Both Gainwell and Scott saw little to no ground work in these matchups featuring both bruiser backs. While I don't expect him to beat out Sanders for the majority workload, Kennedy Brooks should fit right into this role that was previously held by Howard last season. With this in mind, it is not unreasonable to project ~12 carries per game for Sanders and ~8 carries/game for Brooks. Gainwell and Scott will continue to see the majority of their work through the passing game, with Gainwell having the much higher upside if anything were to happen to either Sanders or Brooks.
New Orleans Saints: Abram Smith (UDFA)
Abram Smith is entering a New Orleans Saints backfield including Alvin Kamara, Mark Ingram II, and Tony Jones. Of course, Kamara is the clear lead back for this team, but there is still some fantasy value for the second option on the depth chart. In their four games together last season, Alvin Kamara averaged 14 carries per game while Mark Ingram saw 7 carries/game. In the matchups that Kamara missed due to injury, Ingram saw a bump up to 13.3 carries/game. We've already seen Mark Ingram's efficiency drop significantly over the past two seasons, as he had the worst YPA of all qualified RBs in 2021 with 3.5. Now, he's entering his age 33 season, leaving the path towards significant touches wide open in this high-upside offense.
The Saints signed Baylor running back Abram Smith (5-11, 221 lb) to the second-highest guaranteed contract ($222,000) of any UDFA RBs in the class. Last season, Smith had the third-most rushing yards of all Division I RBs, behind only Kenneth Walker and Tyler Badie. Just like I mentioned above with Kennedy Brooks, Abram Smith's contract is equivalent to a late fifth-round pick, as he's seeing more guaranteed money than any prospects drafted at pick #180 or later. For comparison, fellow Saints UDFA RB Tony Jones' contract only includes $50,000 guaranteed, significantly less than any prospects that were actually drafted.
Still, I expect Abram Smith's main competition for the short-yardage duties to be Tony Jones (5-11, 224 lb), who is a near-identical build to Smith. Nonetheless, considering he is being paid 78% more than Jones, I fully expect Smith to earn that role outright. For further context, in each of their respective senior seasons, Smith (1601) nearly doubled Jones' (857) rushing yardage totals despite playing against significantly tougher competition. Abram Smith has a clear path towards becoming the main short-yardage rusher in this Saints backfield, and he could hold significant upside if Kamara were to ever go down with an injury during the season.
Download Our Free News & Alerts Mobile App
Like what you see? Download our updated fantasy football app for iPhone and Android with 24x7 player news, injury alerts, rankings, NFL rookies & more. All free!


Win Big With RotoBaller
Be sure to also check out all of our other daily fantasy football articles and analysis to help you set those winning lineups, including this new RotoBaller YouTube video:


More Fantasy Football Analysis