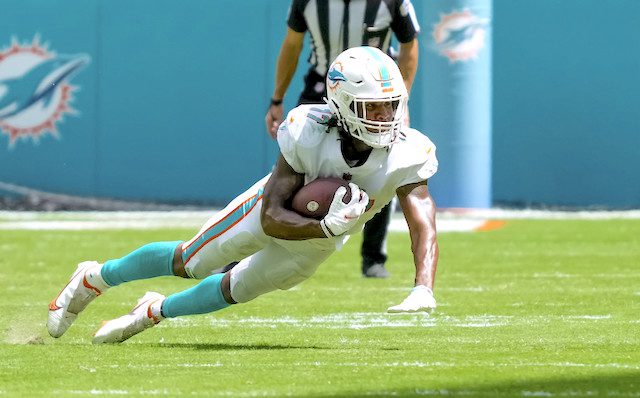 We have been blessed by a massive influx of talent at the wide receiver position in recent years, and 2021 has been no exception. Five receivers were drafted in the first round in the 2021 draft, with another 10 coming off the board on the second day of the draft.
With that in mind, we had high expectations for this rookie receiver class coming into the season. Thus far though, I think it's safe to say that all expectations have been exceeded. With us being almost three-quarters through the season, now would be a good time to revisit this rookie class. How have the rankings changed, and who is at the top?
We'll analyze each of the following seven receivers' outlooks for the rest of this season, in addition to their 2022 outlook as well. Without further ado, let's re-rank the 2021 rookie receiver class.
Featured Promo: Our friends at RIVAL Fantasy have created fun and unique DFS games including over/under contests and Fantasy Bingo. Use promo code BALLER to get a free year of RotoBaller Premium access ($199 value), and a $50 risk-free deposit.
Play Now!
Remember when there were concerns about Ja'Marr Chase's drops and ineffective play during the preseason? Those seem quite silly now.
As things stand, Chase is the overall WR6, while his big-play ability has provided a major boost for the Bengals' offense. His 2.52 yards/route run not only leads all rookie receivers, but ranks fifth amongst all receivers with at least 60 targets. In fact, he's right on par with former LSU teammate Justin Jefferson (2.53); he's essentially been as fantastic as last year's rookie sensation.
With Cincinnati actually increasing their frequency of pass attempts as of late, there isn't any reason for Chase not to be a WR1 for this season. The same goes for next year, where all the key pieces of Cincinnati's passing attack will be intact. It's unlikely that he continues his absurd rate of touchdowns (eight), but that's what happens when you're consistently featured in the red zone (eight end-zone targets in his past four games) and possess the big-play ability that he has.
While expected points totals will always be lower on him, it's common for deep threats like Chase to generally exceed those expectations, similar to DK Metcalf. Chase is a WR1 for the foreseeable future, and Bengals fans surely must be happy about the selection of him now. Watching Joe Burrow throw passes to him for the next 5-10 years is going to be extremely entertaining.
When the Dolphins selected Jaylen Waddle with the sixth overall pick, there was some surprise. Many didn't believe he was even the best receiver on his own college team. The Dolphins, who traded a future first-round pick to come up and draft him, certainly were convicted in his abilities. Ignoring the optics of trading away a future first-round pick for a non-quarterback, it's safe to say that they're justified about him being the #2 receiver in this past draft.
Per FantasyData, Waddle was the 45th receiver drafted this past offseason in redraft leagues. In other words, it's safe to say the public didn't have high expectations for him, while he was generally overlooked in dynasty leagues. However, as they say, chase the luxurious draft position. Waddle is the WR20 thus far, while he's been a top-16 finisher in four of the past six weeks. It was difficult for him to produce with Jacoby Brissett, but the results have been significantly better with Tua Tagovailoa under center.
That bodes well for Waddle's outlook moving forward. His 6.9 average depth of target is low, but it's much higher when he's been paired with Tagovailoa. We know that he's an electric playmaker that can make plays after the catch, yet there is true big-play potential here for him to improve his fantasy profile as well, especially since the days of catching short passes from Jacoby Brissett are hopefully in hindsight for the foreseeable future, Consider him a WR2 this season, and heading into 2022 as well. I don't like to make comparisons, but we're looking at an exact clone of Diontae Johnson. I think it will be a similar career trajectory for Waddle.
After winning the Heisman trophy, De'Vonta Smith had a lot of proponents going into the 2021 draft. In fact, there were some who thought he was the best receiver in the draft. At the same time, there were concerns about his frame (6'1", 175 pounds). Would he be able to handle the physicality of the NFL? Simply put, that answer is an emphatic "yes."
Smith's 77 PFF receiving grade actually leads all rookie receivers, while he's averaged 1.84 yards/route run, a very respectable number considering the limited passing offense he's been in. For him to be as productive as he has as the sole contributing receiver in Philadelphia's offense – while catching passes from Jalen Hurts, who can be inaccurate at times – is very impressive.
In terms of pure talent, Smith ranks second on this list; however, other factors matter when it comes to ranking one's fantasy outlook, and Smith's attachment to a run-heavy Eagles offense not only limits his ceiling this year but potentially next year as well. He'll eventually have more consistent success coming down with more contested catches (5/16, 31.3%). That being said, he may end up as a better "real-life" player than a fantasy asset as long as he's attached to Hurts and the current iteration of Philadelphia's offensive gameplan.
We're going outside the first round here. That's right, Elijah Moore WASN'T a first-round pick! How could that be the case? In hindsight, it's clear that he was quite deserving of that honor.
Moore didn't start the season in a starting role, but he's earned the Jets' coaching staff's trust as the season has gone on. Since Week 6, he's finished as a top-16 wide receiver in four of the past six weeks, which is mightily impressive given his situation. Not only has he been having to catch passes from a lackluster group of quarterbacks, but the team has been adamant on rotating receivers. Thus, Moore has only been playing around 60% of the team's routes.
That was until Sunday, though, where Moore parlayed a season-high 81% routes run into a WR11 finish. For the year, he's averaging 1.69 yards/route run, has worked more down the field (12.1-yard average depth of target) than expected, and is playing a lot on the outside (72.9%). Considering he was expected to be a slot receiver, this is a pleasant surprise and helps ensure him more playing time moving forward. The Jets' quarterback situation isn't great, but Moore is at least a high-end WR3 if he continues to run at least 80% of the routes. Heading into the next year, that could jump into him being a consistent WR2. His stock is rising to an all-time high now, and hopefully, we won't ever have to look back!
After undergoing core-muscle surgery, Rashod Bateman was unable to make his NFL debut until Week 6. As a very hyped-up prospect coming out of Minnesota and the 27th overall pick in last year's draft, he was someone that plenty of fantasy managers wisely stashed on injured reserve. They were betting on his talent being worth the patience.
So far, it's been an up-and-down performance for Bateman. Overall, he's only averaging 7.5 fantasy points/game, but that would appear to be misleading. The Week 8 bye week gave Bateman a chance to get healthy and acclimated into the offense, and from there he received eight targets in back-to-back games, finishing as at least a WR3 in both of those weeks. His production suffered without Lamar Jackson in the lineup, but we should expect better things ahead.
We should be rightfully worried about Bateman's overall target volume considering Baltimore plays a lot of two-receiver sets and remains a run-heavy team, even if they are passing more. He's going to have to continue to outperform Sammy Watkins to have as many opportunities as possible, and with Marquise Brown and Mark Andrews already in the fold, I'd consider Bateman a low-end WR3 with upside for the rest of the year. Next season though, I expect the 21-year-old to have a more clear role with the team, allowing him to rise into low-end WR2/high-end WR3 status, a la Michael Gallup last week when Amari Cooper wasn't in the mix. Considering the circumstances, whatever we get from Bateman this season is a bonus; next year is the year to take advantage of his talents.
As the 102nd receiver drafted in redraft leagues this past offseason, it's safe to say that expectations weren't high for Ka'Darius Toney in his rookie season for the Giants, even though the team spent the 21st overall pick on them. Now it's clear that he was misrepresented this offseason.
Toney's peak performance came in Week 5, where he had 10 receptions for 189 receiving yards and 24.6 PPR fantasy points. From that point on, his stock skyrocketed, but he didn't post a top-60 finish until Week 11, where he was the WR33. The good news? Toney did see 11 targets in that game and seems to be Daniel Jones' favorite target. The bad news? This production mainly came from the slot (64.3%) and on underneath targets, which could be taken away with the return of receiver Sterling Shepard.
It's clear what Toney brings to the table. He's not going to stretch the field vertically (seven-yard average depth of target), but he's incredibly elusive after the catch (6.3 yards after catch/reception), allowing him to manage some big-play ability (11.2) in the mold of Deebo Samuel. As long as Shepard is out, the targets he's receiving are enough for him to muster as a WR3. However, with Shepard, his outlook is much murkier. We'll have to see how new offensive coordinator Freddie Kitchens uses him the rest of the year, and what a new coaching staff next year does to maximize his talents. My advice? I'd trust that his talent wins out over time. Toney has some clear limitations, but the upside is clear if he's given the chance to shine.
Making plays after the catch? That's Rondale Moore's specialty! The 21-year-old has averaged 8.5 yards after catch/reception this season, which ranks second amongst all receivers, while he's earned a 75.2 PFF receiving grade. As someone who ran a 4.32 40-yard dash on his pro day, he's an athletic freak, which is exactly why the Cardinals selected him in the second round of the 2021 draft.
If this was the entire story, Moore would rank higher on this list. Unfortunately, it's not. With an average depth of target of just 1.4 yards, which is the lowest amongst all receivers, he's being used exclusively at the line of scrimmage. In other words, he has essentially been a glorified running back for Arizona this season.
Since he's not a full-time player for the Cardinals, it's hard for him to consistently produce at the level he needs to, and that production will only go down when running back Chase Edmonds returns. With such a limited ceiling currently, I'd treat him as a WR5 the rest of the way. The hope is that A.J. Green and Christian Kirk depart as free agents, allowing Moore to have a more traditional full-time role. If that happens, Moore's outlook would be much better heading into 2022. However, it's unclear if that happens, and everything outside of his current role is a massive projection for him. Thus, we have to ask: is his talent worth the risk? I believe there's more to be untapped here, but now, it's up to the Cardinals to believe in him the same way. If not, then it's going to be much more difficult for him to meet his fantasy potential.
Download Our Free News & Alerts Mobile App
Like what you see? Download our updated fantasy football app for iPhone and Android with 24x7 player news, injury alerts, rankings, starts/sits & more. All free!


Win Big With RotoBaller
Be sure to also check out all of our other daily fantasy football articles and analysis to help you set those winning lineups, including this new RotoBaller YouTube video:


More Fantasy Football Analysis