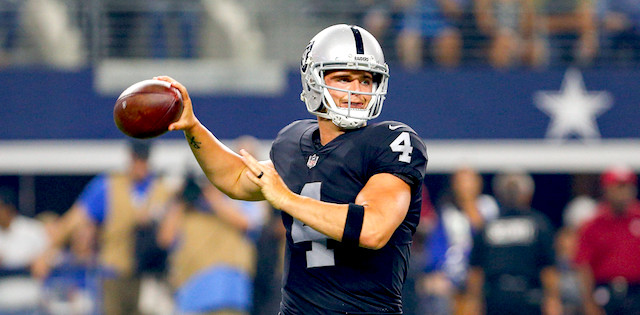 Week 15 is here, and the fantasy playoffs are rolling. Some head into the fantasy semifinals as big favorites but others are scrapping to keep their season alive. Real teams start at quarterback, and the position is pretty important for fantasy as well.
Quarterbacks have changed the game for fantasy football this year with guys like Lamar Jackson and Josh Allen taking full advantage of their running ability to stress defenses. It gives you more viable options on a week-to-week basis.
Right now, these are the weeks that we've spent months preparing and competing for. There's no room for an error, and it's not time to get cute. We have to set our best lineups to win because we aren't coming back next week if we don't.
Editor's Note: Get any rest-of-season NFL Premium Pass for 50% off. Our exclusive DFS Tools, Lineup Optimizer and Premium DFS Research through the Super Bowl.
Sign Up Now!
Look Away Before It Gets Ugly
Kyler Murray vs Cleveland Browns
Arizona Cardinals quarterback Kyler Murray has hit the proverbial rookie wall over the last few weeks. After throwing for at least 220 yards in eight of his first 10 games, he's failed to clear 200 yards in each of the last three games. A major issue with their offense over that stretch has been the play of the offensive line. They've struggled all season and they've allowed at least four sacks in each of the last three games after not allowing more than three in a game since Week 4.
Murray's opponent this week is the Cleveland Browns, who, despite losing star pass-rusher Myles Garrett, are still in the top 10 in the NFL in total sacks. They've piled up seven sacks in the last three games without him, and this offensive line is one that they can take advantage of. Cleveland still has a very slim shot at a playoff birth and they need to come out of this game with a big win.
Matt Ryan @ San Francisco 49ers
The Atlanta Falcons quarterback has been lighting up the stat sheet for much of this season. He's already over 3,500 yards on the year, and, with the lack of a running game, this team is forced to throw the ball a lot. However, due to a rash of injuries, this offensive line hasn't been able to keep Ryan upright as much as they're hoping. They're in the bottom 10 in the NFL after giving up 41 sacks on the season. That number is very likely going to go up this week.
The San Francisco 49ers Defense has an adjusted sack rate of 10.4 percent which is the best mark in the NFL, and their 45 sacks are third in the NFL. They're dealing with some injuries on the defensive front that could slow down their rushers as a whole, but they should have no trouble generating pressure against this struggling offensive line.
Andy Dalton vs New England Patriots
This New England Patriots Defense has regressed after their fiery start, but they're still playing like one of the best defenses of all time. They've gotten a number of sacks this season because their scheme just makes them nearly impossible to block with contributions coming from everywhere. Their 41 sacks have them sixth in the NFL. This team as a whole has been struggling as of late, but this is the perfect get-right game for them.
The Cincinnati Bengals, even with quarterback Andy Dalton back under center, are still a well below-average team. They've given up 43 sacks this season, and the Patriots defense has the pieces to slow down what the Bengals want to do. They can slow down running back Joe Mixon and wide receiver Tyler Boyd which forces someone else to beat them. Dalton just isn't talented enough to make that happen.
That's More Like It
Tom Brady @ Cincinnati Bengals
After a number of below-average matchups, quarterback Tom Brady finally gets the chance to get himself rolling. The way to beat Brady has always been to get pressure and knock him around. In each of the team's three losses, he's been sacked at least twice. In some of his best games, he has not been sacked or hit. He's been taken down 25 times this season and it's unlikely that he adds too many to that number this week.
The Bengals Defense has the second-fewest sacks in the NFL this season with 21, and four of those came in the team's lone win over the New York Jets. This isn't the stout defensive group that we saw Cincinnati trot out earlier in the decade. This is one that can be thrown on and ran on. Brady can give you some safe QB2 play in Week 15, and it allows you to have a safe streaming option over him.
Kirk Cousins @ Los Angeles Chargers
Minnesota Vikings quarterback Kirk Cousins is getting a chance to keep his team scrapping in the playoff race and he gets to do it against a defensive line that hasn't exactly been lighting it up. Minnesota has given up 23 sacks this year, which is the sixth-fewest in the NFL. Their elite running game slows down opposing pass rushers, and he is expected to get wide receiver Adam Thielen (hamstring) back from injury this week which gives him even more upside.
The Chargers Defense has multiple talented pass rushers in the fold, but it hasn't mattered. They have just 27 sacks this season, and they allow over four yards per carry. When Minnesota runs the ball, they'll get yards, and they'll use that to set up their passing game. The Chargers secondary is still limited by injuries which should allow Cousins to throw to everyone that isn't being covered by cornerback Casey Hayward.
Derek Carr vs Jacksonville Jaguars
This one is purely a gut call. This is the last game in the Oakland Coliseum, and it just seems like one of those games that we see the Oakland Raiders show out in a major way. Quarterback Derek Carr has only been sacked 20 times this season, and running back Josh Jacobs, who has been outstanding this year, is trending towards playing. Oakland's playoff chances took a hit but they still have a chance as long as they win.
This Jacksonville Jaguars Defense is fading fast. They are getting run over by everyone that they face as they've lost by at least 17 points in each of the last five games. That's never happened before. Even the 0-16 Detroit Lions didn't pull that one off. The Jaguars defense is in the top 10 in the NFL in sacks, but I just think Oakland comes out and wins in a big way for their final home game.
More Weekly Lineup Prep