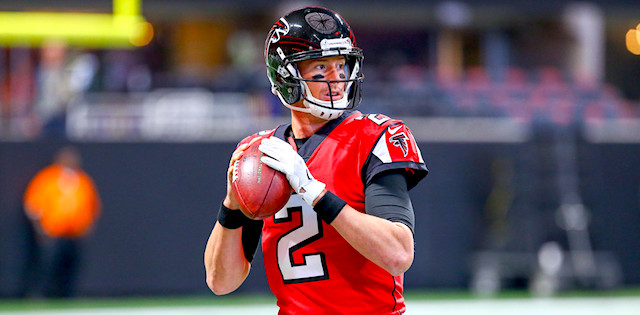 There are plenty of factors that go into a fantasy quarterback's success in any given season. While some passers could be said to be more "accurate" than others, what does this really mean? Completion percentage does little to tell us about a quarterback's overall ability in that department because it can easily be skewed by the talent around a quarterback, dropped passes, and various other factors.
Enter adjusted completion percentage, a metric that not only credits passers for wide receiver drops, but also factors out those passes that were batted at the line of scrimmage, thrown away, spiked, and even those that resulted from the quarterback being hit in their throwing motion.
Let's try and predict which fantasy quarterbacks could surprise using this helpful statistic.
Editor's Note: Our incredible team of writers received 13 award nominations by the Fantasy Sports Writers Association including Baseball Writer of the Year, Football Writers of the Year, Golf Writer of the Year and many more! Be sure to follow their analysis, rankings and advice all year long, and win big with RotoBaller!
Read More!
What is Adjusted Completion Percentage?
According to Pro Football Focus's Mike Clay, the following formula is used to calculate adjusted completion percentage (or "ACP") for a quarterback:
Adjusted Completion Percentage = (Completions + Drops) / (Pass Attempts – Spikes – Throwaways – Batted Balls – Balls disrupted by a QB hit)
As you can see, the formula is intended to provide a comprehensive picture of a quarterback's passing accuracy without the incompletions that were caused by either external factors (i.e. drops, batted passes) or game-specific decisions (i.e. spikes, throwaways). Elite names like Drew Brees, Aaron Rodgers, and Tom Brady can perennially be found in the top-10 for ACP and are already household names in the fantasy community. Although accurate passing isn't the only reason for a quarterback's success in fantasy football, ACP can help to predict which quarterbacks owners can draft as sleepers and avoid as busts.
Sleeper Candidates
Matt Ryan (76.6% ACP - 3rd in 2017)
The Atlanta Falcons have one of the most talented rosters in the NFL and a borderline elite quarterback under center in Matt Ryan. While Ryan catastrophically fell from his QB-2 finish in 2016 to QB-15 last season, he remained one of the league's most accurate throwers with a 76.6% ACP. What went wrong? Aside from career-lows in passer rating and completion percentage in the red zone, the Falcons also had the worst drop rate on third down in the NFL and more interceptions from non-turnover worthy throws (eight) than actual turnover-worthy throws (six). Now that Ryan is entering his second year with offensive coordinator Steve Sarkisian's scheme and will benefit from additions along the offensive line and at wide receiver, expect positive regression from "Matty Ice".
Case Keenum and Josh McCown (76.5% ACP - Tied 4th in 2017)
Both Case Keenum and Josh McCown are extremely likely to go undrafted in 2018 fantasy drafts. This is for good reason, as despite the two passers having tied for the fourth-best ACP among quarterbacks in 2017, their fantasy finishes of QB-14 for Keenum and QB-20 for McCown are perfect examples of where accuracy doesn't translate to fantasy production. Volume was undoubtedly a limiting factor for both passers, as the Minnesota Vikings ranked 17th and the New York Yets ranked 27th in pass attempts per game last season.
Philip Rivers (75.4% ACP - 8th in 2017)
It is truly shocking to see Philip Rivers being drafted as the QB-13 in mock drafts for 2018, as he has now finished as a top-12 fantasy quarterback in eight of the last 10 seasons. Even though Rivers might not be a flashy pick, fantasy owners would do well to remember that the Los Angeles Chargers led the NFL in passing yards per game last season (276.9) with Rivers finishing as the QB-8. His assortment of offensive weapons in Keenan Allen, Tyrell Williams, the newly returning Mike Williams, and Melvin Gordon inspire confidence that the Chargers will produce more touchdowns and Rivers will return on his eleventh round draft capital.
Potential Bust Candidates
Deshaun Watson (65.6% ACP - 38th in 2017)
With all the praise about DeShaun Watson's prolific rookie stretch, one of the biggest causes for concern as he enters his sophomore season with the Houston Texans is his accuracy. His abysmal 65.6% ACP is largely indicative of how he locks into certain reads before the football has been snapped, ultimately resulting in forced passes and risky throws. While he averaged 25.0 fantasy points per game in his rookie year, it wouldn't be shocking to see Watson regress significantly in fantasy football due to his accuracy problems.
Cam Newton (69.2% ACP - 32nd in 2017)
Many fantasy owners will struggle to match up Cam Newton's dismal 69.2% ACP with his stellar QB-6 finish in 2017. However, all becomes clear when looking at his dual-threat capabilities, as Newton led all fantasy quarterbacks in rush attempts (139), rush yards (757), and rushing touchdowns (6). While he might have some erratic tendencies throwing the football, Newton's prowess as a rusher and bevy of offensive weapons should help avoid a major fantasy slump.
Carson Wentz (69.6% ACP - 31st in 2017)
While I'm not going to project Carson Wentz as a bust for next season, he certainly had his fair share of mistakes as a sophomore quarterback that could rear their ugly heads in 2018. Wentz got away with a number of bad fumbles and errant passes early in the season, including a free 53-yarder against the Chiefs on a play that should have been picked off. Still, his ability to make big-time throws and zip passes into tight windows makes him the perfect gunslinger quarterback for fantasy football so long as he can avoid turnovers.
Jameis Winston (70.8% ACP - 27th in 2017)
Jameis Winston has been an incredibly inconsistent passer across his three years in the league, especially in the accuracy department. His ACP of 70.8% in 2017 is even more tragic when you consider that his pass catchers dropped only 16 passes all season, the fifth-best in the league. While Winston has never finished higher than QB-13 in fantasy football, he constantly finds himself on sleeper lists because of how truly prolific the Tampa Bay Buccaneers could be if more of his passes were on point. Could he make the leap in 2018? Owners will have to wait until his three-game suspension is over to find out.
More Draft Prep and Analysis