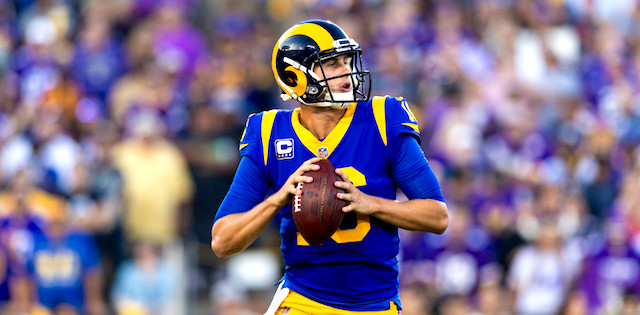 The biggest game of the football season is upon us, but it's a melancholy game. We all are excited to watch it and find out who wins, but as each second passes, the quarters go by, the closer we are to not watching a meaningful football game for seven months. That's why you need to make the most of this game. Most people do that by gathering with friends for Super Bowl parties. However, most of those people don't know anything about football. People cheer for meaningless plays and don't understand the basic concept of 1st-and-10. For some people, the Super Bowl is the only NFL game they'll watch all season. If your response is, "Well, why not watch it alone?" Because that's anti-social. At least Vegas gives you so many wild and crazy prop bets to follow and that makes me happy.
In this column, I will be breaking down the big game including several prop bets - whether it's a player prop or game prop. Prop odds I used were from VSIN's 89-page prop bet compilation. My best advice would be to handicap the game in what you think will happen, and bet accordingly. If you expect a shootout, then go over on pass attempts and completions. If you expect a ball control, low-scoring game, then go under rushing yards, etc.
Be sure to try out these great tools from our friends at Lineups.com as well. For live Super Bowl odds at the Vegas Sportsbooks, you can follow the Live Odds page. And check out the free NFL betting system - test your own player predictions and see the results using machine learning models.
Editor's Note: Get any rest-of-season NFL Premium Pass for 50% off. Our exclusive DFS Tools, Lineup Optimizer and Premium DFS Research through the Super Bowl.
Sign Up Now!
Super Bowl Picks - Player/Game Props
Shortest touchdown of the game under 1.5 (-160)
This is heavy vig, but it's worth it to lay the extra money. This prop has hit in seven of the last eight playoff games.
Patriots to score a touchdown in the first quarter (-120)
The Pats have never scored a first-quarter touchdown in Brady/Belichick's eight Super Bowls. They've scored a grand total of three points and that was last year. So how come the vig for the yes is -120 while the no is even? Vegas is trying to tell you something here and want you to bet the no. Vegas isn't fooling me here.
How many different Patriots players will have a rushing attempt in a game? Under 6.5 (-120)
The Patriots are so mercurial that seven different players having a rush attempt is possible. Here's who it can be; Sony Michel, James White, Rex Burkhead, James Develin, Cordarrelle Patterson, Julian Edelman, and Tom Brady. But that's just too many guys. Bill Belichick will go with players he trusts in this game. Seven seems too much.
Greg Zuerlein over 1.5 field goals made (-140)
Legatron averaged 1.68 made field goals per game in the regular season and 3.5 in the playoffs. This game is in a dome, so it'll be easier to kick.
C.J. Anderson under 11.5 rushing attempts (-110)
Everyone is obsessed with Anderson after his monster game against the Cowboys in the Divisional Round, but for the Rams to win this game, they'll need Todd Gurley to run a lot and play well. This is not an Anderson game.
Josh Reynolds over 3.5 receptions (+110)
New England takes away your best weapons. They took away Travis Kelce and Tyreek Hill in the AFC Championship game. Come Sunday, they'll take away Brandin Cooks and Robert Woods. Reynolds will get the targets, the only question is, will he catch them?
Gerald Everett over 2.5 reception yards (even) and Tyler Higbee over 2.5 receptions (+110)
Same logic applies to these two props as the one about Reynolds does. If you hit two of these three, you're making money.
Patriots more first downs than Rams (-110)
New England has 66 first downs in the postseason to L.A.'s 49. In the regular season. The Rams did lead the regular season in first downs, but they were also third in 20+ yard plays. They're a big-play team while the Patriots control the clock and go on long drives.
Stephen Gostkowski's first kickoff to be a touchback (+180)
The Action Network broke this one down well; "The league median for touchback rate this season was 62%, with Gostkowski getting no return on 53.8% of his kickoffs (with a slightly better rate on the road). His average kick distance of 62.2 yards was the lowest of his career, which is certainly meaningful information. But check out this stat: Falcons punter Matt Bosher, who kicks off for Atlanta, converted 70.6% of his home kickoffs into touchbacks in 2018 (seventh-best for any team) compared to only 39.5% on the road (third-worst) — i.e. there's really good evidence that kicks carry in Mercedes-Benz Stadium."
Super Bowl Picks - Miscellaneous Props
Zion Williamson -5.5 points/rebounds vs. St. John's over Patriots+Rams first-half points (-110)
This is my favorite prop of the year. I'm a big St. John's fan and watch every game. They do not have a big man and get dominated on the glass. The Johhnies are 172nd in opponent offensive rebounds per game allowing 8.4. Duke is second in the nation in offensive rebounds per game with 13.2. Williamson is ninth in the nation in that category averaging 3.6. In total, he averages nine boards per game, 43rd in nation. He's also averaging 22 points per game, 17th in the nation. Simply put, he's going to dominate St. John's. He's good for 25 points and 13 rebounds. Vegas pegs the first half total at 27.5 So assumes Zion gets 35-38 total points/rebounds, that's still slightly more while having to give 5.5.
Villanova points -7.5 over Brandin Cooks receiving yards (-110)
Nova struggled early on but in their last five games have scored 90, 85, 80, 80, and 86. In their last four, Georgetown has allowed 90, 74, 91, and 78. This game will also be played in Philly so let's say Nova scores 85. That'll be plenty to cash this ticket. If anyone knows how to shut down Brandin Cooks, it's going to be Bill Belichick who coached Cooks last year. Besides for his 107-yard outburst against the Saints, Cooks averaged 51 receiving yards in his previous six games.
Greg Zuerlein -3.5 points over Justin Thomas final round birdies (-110)
*Thomas must tee off in the final round for this to count*
I like Zuerlein to make more than two field goals and the Rams will score two or three touchdowns so let's say he scores eight points. That means JT would need five birdies to win. As I wrote in my preview for the Phoenix Open, Thomas struggles to get his game going early in the season and picks it up later in the season.
James White +10.5 receiving yards over New Hampshire points scored vs. Maine (-110)
I follow the America East (UNH's conference) because I'm a graduate of Binghamton University. The America East is a slow-it-down grind-it-out conference. There's no sense of urgency in these games and they love to walk it up, call a play, then when that play doesn't work out, call another play. On top of all that, UNH is the fifth-worst scoring team in the nation (349th) with 58 points. Maine does allow 72 points per game, but UNH hasn't broken 70 since Nov. 12. They only scored 70+ two other times all season. Those three times were the first three games of the season and two of those opponents were not even in D-1.
The Pats love using their running backs out of the backfield in the Super Bowl. White had 110 reception yards in the Super Bowl against the Falcons and Shane Vereen recorded 64 reception yards against the Seahawks. White had 97 receiving yards against the Chargers in the Divisional Round and 49 against the Chiefs. 49 will be just enough to win this bet.
Super Bowl Game Prediction
With two weeks to prepare for this game, both teams know every single thing about the other team. Every formation, tendency, play, you name it.
If the Rams are to win, they'll need Todd Gurley to come up huge. Jared Goff can't win this game by himself. People are saying Goff looked great against the Saints, but he really was shaky. On the last drive of the fourth quarter when the Rams were driving to kick a game-tying field goal, Goff threw it behind Woods which would've been a touchdown. When the pressure came on third-down, Goff simply threw it away. If he would have waited a half-second more, Woods would have been wide open for a touchdown. In overtime, he made two dump-off passes to get them into field-goal range. I think he'll be very panicked early on and take time to settle down. By then, the Rams will be behind and playing on the biggest stage from behind against the mighty Patriots, is a whole another story than playing from behind against the Saints.
We all know the only way to frazzle Brady is interior pressure. The Rams have that will Aaron Donald and Ndamukong Suh. Donald will be doubled and I expect the Pats offensive-line to continue their fantastic play. New England will run the ball and control the clock like they did against the Chargers and Chiefs wearing out the Rams defense. Brady will pick on Marcus Peters, who has been nothing short of awful this season.
One more thing to note, all eight Brady/Belichick Super Bowls have been decided by one-possession; 3, 3, 3, 3, 4, 4, 6, 8 points. Each game has come down to the final possession. I expect this one to be one possession, but not the closest game of them all. The Rams will score late to make it a one-possession game. Brady is on a mission to get that sixth Super Bowl ring to avenge last year's loss. Belichick will have the defense ready to rattle Goff.
Patriots 31 - Rams 23
Thanks for reading my column all year. I'll be back writing my NFL Survivor Picks column in the fall. Until then stay tuned for my weekly column on the PGA Tour.
More NFL Analysis