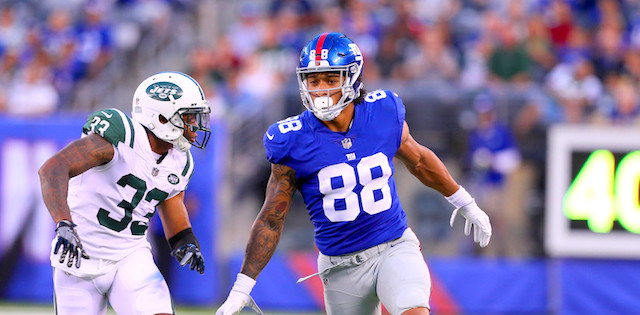 Tight ends are tricky in fantasy football. Due to the top-heavy nature of the position, it is typically best to either land one of the top few or to wait until the end of the draft to find one. An elite TE like Rob Gronkowski in years past can elevate your roster with his performances relative to the rest of the field. This season is a bit different than years past.
Outside of the established top-three that is well known across football, there is a group of three in the next tier that could be even better over the next few years. The position is intriguingly deep in 2019 and there is value to be mined from even the mid-rounds.
TEs are naturally more appealing in PPR given the propensity for short-yardage looks they receive when quarterbacks are under duress. Jump on one relatively early this draft season to secure a solid floor/ceiling combo for the 2019 season.
Featured Promo: Get any full-season NFL Premium Pass for 50% off and win big in 2022. Exclusive access to our Premium articles, 15 lineup tools, new Team Sync platform, Lineup Optimizer, Premium DFS tools and cheat sheets, and much more!
Sign Up Now!
Updated PPR Tight End Rankings - Redraft
Below are RotoBaller's consensus staff rankings for the 2019 fantasy football season. These rankings are compiled by Nick Mariano, Pierre Camus, Scott Engel, Bill Dubiel, Dominick Petrillo, Spencer Aguiar, and Kev Mahserejian.
In case you missed it, our very own "Big Pick Nick" Mariano was the #11 overall most accurate industry expert ranker for the 2018 season, and #9 overall in 2017. Additionally, industry legend Scott Engel recently joined the RotoBaller team and provides his insights as well. Scott is an FSWA Hall Of Famer and award winner.
Tier 1
The cream of the crop. With Gronk out of the picture, three tight ends are vying for that unquestioned top spot for the next few years. Travis Kelce is the heir apparent after his performance last season with Patrick Mahomes under center. Kelce broke career highs in yards, receptions, and touchdowns last season on his way to a third consecutive 1000-yard year. With Mahomes continued growth, it's not unreasonable to think that Kelce takes things up a notch as one of the primary weapons in this high-powered Chiefs' offense.
On the NFC side, the top-dog at TE in recent years has been Zach Ertz. Although his game is not flashy, it is consistent. Ertz recorded 70~ receptions and 800~ yards for three straight years between 2015-2017. 2018 marked his first season above the 1000-yard and 100-reception threshold. Although there is a ton of skepticism as to whether the offense provides a similar target-share in 2019, it is hard to doubt the incredibly high floor Ertz possesses.
Challenging him in this tier as the NFC's top TE is 2018 breakout, George Kittle. Kittle's performance last season blew the 49ers away and gave them hope for the future while quarterback Jimmy Garopollo was injured. Kittle's topped 1300 yards in just his second season. What's most impressive, was how Kittle created most of it after the catch. He lead the entire NFL in YAC last season and blew the next highest TE (Kelce) out of the water with 300 more. Kittle's 136 targets/88 receptions are promising as to how much he will be used this season, but there is cause for concern as to whether he could repeat last year's performance due to the variance that comes with YAC year-to-year. PPR or not, these three TEs are viable top picks across all formats.
Tier 2
This tier is where things get interesting because any one of these tight ends could catapult themselves into TE1 territory by mid-season. Hunter Henry arguably should have been there last season if he had not torn his ACL. With Antonio Gates seemingly out of the picture, and the Chargers' offense as TE-friendly as it was/is, he should be in consideration with Kelce/Ertz/Kittle at the moment, but, fortunately, there is a significant discount with his current ADP around the sixth round. He was playing second fiddle to the veteran Gates in his first two seasons with LAC and still produced at a respectable, TE2 level. Now, he is ready for a full-on breakout.
O.J. Howard is in a similar boat. Last year, the former first-round pick supplanted Cameron Brate as TE1 on the Bucs' depth chart but had his season shortened by a season-ending ankle injury in Week 10. Had he stayed on the field for the full 16 games, Howard was roughly on pace for 900 yards and nine touchdowns. The only thing with Howard is that he does not need many targets/receptions to be effective. Throughout his first two seasons, he has managed 16.6 yards per reception, putting him above even Kittle. However, with this type of efficiency, there is the unfortunate PPR hit his value takes. He is not utilized as a safety blanket for Jameis Winston, more so as a deep/intermediate threat.
If you are looking for safety blankets in this tier, look no further than Evan Engram of the New York Giants. With Odell Beckham Jr. out of the picture, there are a ton of targets in the Giants' offense that will be available. Evan Engram is a beneficiary, partly due to his size/skill and also due to the fact that there is not really much else to throw to. Golden Tate is suspended for the first four games of the season and the WRs on this depth chart outside of Sterling Shepard are journeymen. Engram is probably the ideal PPR TE given that the Giants will have to throw plenty in the second half of games due to their defense and Engram will be fed in those hurry-up offenses. Scoring any one of the TEs in this tier is a win in PPR. They all possess a high floor and could all end up in tier one by 2020.
Tier 3
Now it is getting ugly fast. Each of these tight ends is noticeably flawed and while they do possess upside, it is a much longer shot to reach it compared to the ends in the prior tier. David Njoku is a highly talented TE but plays in an offense with so many mouths to feed. With the addition of Odell Beckham Jr., Cleveland now has to target: OBJ, Jarvis Landry, Nick Chubb, and David Njoku. That is a lot of high-end talent (to varying degrees), and Njoku is at the bottom of the priority list. While he should benefit from having defenders drawn away from him and attached to Beckham Jr. this year, unless an injury hits somewhere, he may not provide a significant return in fantasy, particularly PPR.
Jared Cook has his warts as well. While he did enjoy a late-career breakout with Oakland last season, there are concerns as to whether this was a fluke year or not. The upgrade from the Raiders to the Saints offense is certainly a boost, however, he is now competing with much more talented skill players for targets. Cook is in a similar situation as Njokue except he does not provide the same floor. The upside may be higher due to the dome and proven offense, but the bottom could fall out at any moment.
Eric Ebron is someone I just can not become comfortable evaluating. He enjoyed a massive touchdown breakout last season and did it while playing a limited number of snaps per game. He typically shared playtime with Jack Doyle among others and occasionally was not even in for half of the offense's snaps. While he may take another step forward this season, it is unreasonable to expect his TD total for 2019 to look anything like 2018. Given Andrew Luck's retirement and the fact that this is for PPR, it is probably best to avoid Ebron unless the price is too good to pass up.
Tier 4
Due to the drop in price, it is probably better to target tight ends in this tier and below rather than those in tier 3. Delanie Walker was one of the better at his position for a few seasons prior to breaking his leg last season. He was a top-10 TE from 2014-2017 and could recoup some of that lost value this season as he is getting taken towards the end of drafts. Despite his older age, he is fully healthy now and ready to contribute to an offense in need of anything. The Titans are in flux given the uncertainty around the future of their quarterback, running back, tight end and wide receiver corps. Walker might not produce like a TE1 but should have value as a safety blanket for whichever QB starts throughout the year.
Jack Doyle is pretty much a JAG and only viable in this format due to how often he's on the field. I would still just avoid him due to the lack of upside on a Luck-less offense. Yes, Brissett favored targeting him in 2017, however, that was pre-Ebron. They will eat into each other's snaps.
There's a lot of love lost from Trey Burton after last season. His performance was very average and he failed to do much with near full playtime. He's a post-hype breakout candidate but it's unlikely. Jimmy Graham is a well-known name but his role in the Green Bay offense is unknown and he has missed time with a finger injury in the preseason. Graham is not much a PPR target but could score a couple more touchdowns this season.
Mark Andrews is probably the best of this bunch. He was the second TE the Ravens drafted last season but turned out as the better one. He is more of a receiver than a blocker which is all that matters for fantasy but could hurt his snap-share if Hayden Hurst proves himself more along the line. Nevertheless, there is upside here in a Ravens' offense ready to burst. The targets might come as more quality than quantity though, making him less appealing here.
Tier 5
Chris Herndon IV would be higher had he not been suspended for the first four games of the season. The second-year TE showed plenty of potential last season. The rapport with quarterback Sam Darnold was strong and even with more targets-hogs in the offense this season, there was hope until now.
Don't draft a TE you have to stash him. Opt for someone like T.J. Hockenson out of this tier where the upside is plentiful due to the pedigree and lack of major targets in the Detroit offense. Kenny Golladay will see his fair share, but other than that, there is no reason for Marvin Jones to be considered more of a priority if Hockensen proves himself early on. Matt Patricia could utilize Hockensen as his version of Gronkowski and keep Matthew Stafford happy with a great safety blanket.
Darren Waller is a guy who could become a useful fantasy option on the lower end. The skillset is strong, but he has dealt with substance abuse in the past and has not done much in the league as a result of it. The Raiders' are not very deep at TE, which could lead to plenty of opportunities this season.
Tier 6 and Lower
At this point, we are at deeper and two-TE league options. Cameron Brate has had success in the past but is no longer the top option on his own team. If something happens to Howard, he immediately becomes viable in shallower leagues. Irv Smith Jr. will be competing with Kyle Rudolph for snaps but may have his opportunity deferred for a year or two as the Vikings develop him. Rudolph remains a solid PPR option with his familiarity in the offense and new contract. Minnesota is seemingly committed to him for the time being.
Potential TE1s (on their own team) from these tiers include Adam Shaheen, Dawson Knox, and Josh Oliver. Although they are young and do not possess much fantasy value, they could have some decent reception opportunities if things break their way. For the most part, you are throwing darts at this point and it is best to avoid drafting anyone here and maybe riding the hot hand during the season if someone pops up.
More Fantasy Football Analysis
Check out all of RotoBaller's fantasy football rankings. Staff rankings are updated regularly for all positions and include standard formats, PPR scoring, tiered rankings and dynasty leagues.