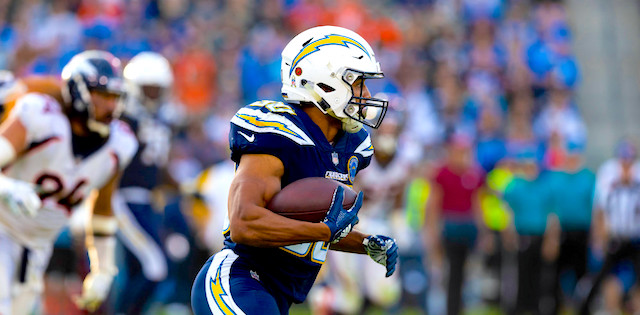 Welcome back RotoBallers! Is it too early to rank running backs for the 2020 fantasy football season? Never. Getting a good idea of the fantasy football landscape before training camp isn't a bad idea, and we're constantly bringing you fresh analysis here at RotoBaller HQ.
Today I'm here to discuss our fantasy football rankings for running backs, analyzing the first few tiers. The following rankings are based on the RotoBaller staff rankings (full-point PPR), brought to you by several of our site's lead analysis.
It's time to get yourself prepped for the 2020 season. Be sure to also check out our quarterback tiered rankings tiers and analysis, IDP rankings, dynasty rankings, best ball rankings and so much more when you're done reviewing these running backs.
Featured Promo: Get any full-season NFL Premium Pass for 50% off and win big in 2023. Exclusive access to our Premium articles, 15 lineup tools, new Team Sync platform, Lineup Optimizer, Premium DFS tools and cheat sheets, and much more!
Sign Up Now!
Running Back PPR Rankings and Tiers
Tier 1
Christian McCaffrey, Saquon Barkley, Ezekiel Elliott, Alvin Kamara, Dalvin Cook
The Tier 1 running backs are those who should be the "Slam Dunk" backs for the season. They're all high-touch, talented, and dynamic backs who serve as centerpieces of their respective offenses. Each has their own concerns, but their upside isn't in-doubt, and the likelihood they finish near the top is very high, assuming they can stay healthy.
Look, it's kind of insane to imagine Christian McCaffrey having a repeat of last season. That being said, it's equally insane to imagine he shouldn't be in the top three for running backs in 2020. We all saw what happened to Saquon Barkley and Alvin Kamara in 2019, fighting through injuries throughout the season. Injuries are hard to plan for, but the running back position is the most dangerous position when it comes to injuries because it simply makes sense. These guys near the top of the lists touch the ball over 25 times a game, so the mileage, play calls, and beatings they endure make them high risk candidates for injury. Christian McCaffrey has been an anomaly in that sense. McCaffrey hasn't missed a game in his professional career and much of that can be attributed to his weight gain, conditioning, and playing style. Last season, he rushed for nearly 1,400 yards and had over 1,000 yards receiving. Though we don't expect him to repeat it, Teddy Bridgewater loves a good check down, so McCaffrey isn't going to suddenly become less valuable in the passing game. Even if Kamara and Barkley hadn't gotten injured last year, there's a slim chance they'd have finished ahead of McCaffrey in a PPR format. His volume is high, his production is high, and he's incredibly durable.
Saquon Barkley had a fluky injury last season and it was clear it lingered for some time. Barkley and McCaffrey are seemingly the two most talented backs in the league right now, and Saquon has the potential this season to have a monster year. In 13 games last season, Barkley had 52 receptions, but averaged 8.4 yards per reception. In all likelihood, the Giants will try to use him a little more in the passing game and the Giants will be even better on the offensive line, especially after their draft. Barkley is easily the best weapon they have on offense and we expect the Giants to use him as such.
Zeke may have seemed out of gas for much of the season last year, but the reason he's so high on this list is more about the situation, the opportunity, and the lack of defensive improvement for the Cowboys. Zeke signed his big extension, and the Cowboys added another big offensive weapon who will help free up the box in 2020 when they drafted CeeDee Lamb. The fact is, Zeke is 24 and he's playing in one of the most potent offenses in the NFL. He had 355 touches last year and that's hard to ignore. Zeke is as close to a safe bet as any in the league, especially when you factor in his insane durability.
The Saints might be even better this season and should be in a positive game script even more than they were in 2019. Because of that, we likely won't see Kamara on the field a whole lot in the fourth quarter of games. The Saints have made key additions to their team through free agency, and the presence of Michael Thomas and Latavius Murray should be a cause for concern. We know Latavius Murray isn't an amazing back, but we've seen Sean Payton utilize a split backfield now for years. It would be ambitious to expect the kind of output we saw from Kamara two seasons ago, but a realistic expectation should be that Kamara still gets heavy usage in the pass game and light to moderate usage in the run game.
Dalvin Cook is a complete back, but the workload is a little questionable going forward. There's a risk the workload takes a hit this season as the Vikings plan to get Mattison a little more involved in 2020. Alexander Mattison was extremely efficient in the Vikings offense a year ago. Mattison was slightly better in YPC (4.6 to 4.5). Though Cook was the guy who found the end zone much more (13 to one), it was clear the Vikings like what Mattison can provide for them. Cook has a lengthy injury history and an offense that got a little easier to game plan against in the offseason. Cook may draw a few more defenders in the box this season, but he's an elite back and has plenty of juice left. I think Cook will get around 16 carries and four receptions per game. He had over nine YPR in the passing game, so his usage there should be similar in 2020.
Tier 2
Joe Mixon, Derrick Henry, Josh Jacobs, Austin Ekeler, Nick Chubb, Aaron Jones, Kenyan Drake, Leonard Fournette, Miles Sanders
The second tier contains a number of backs who could potentially finish at the top. There are more concerns for usage rates and time shares, but it's a talented and dynamic group with only the threat of coaching adjustments holding them back.
This may be the last great season for Joe Mixon. Over the past two years, people have severely underestimated him. In 2018, he was the AFC's leading rusher, behind a very average offensive line. In 2019, his receiving value went up as the YPR increased by 1.3 yards. Despite the eight fewer receptions in two more games in 2019, the Bengals coaching staff will likely take note and give him increased receiving work in 2020. Mixon's offensive line was historically bad at opening holes, and yet he surged late in the season and finished with 1,137 yards on the ground. Mixon is in his prime and should have a more potent passer to de-pressurize the run game and open the pass game for him. With the return of their 2019 first pick, Jonah Williams, at left tackle, the line should be better than in 2019.
Henry was the NFL's leading rusher in 2019. Though he had less than 20 receptions for the fourth straight year, Henry made the most of his receptions, going for 11.4 YPR. Henry is as good a bet as any to compete for the rushing title again in 2020, but they did lose one of their linemen to free agency, so they'll have to fill that void if Henry hopes to repeat again in 2020. Despite the lack of usage in the run game, Henry was a machine on the ground, rushing for over 1,500 yards at 5.1 YPC and 18 total touchdowns. We can't realistically expect Henry to repeat his touchdowns and overall performance in 2020, but if he's anywhere close to the same form from 2019, he's a strong candidate to finish in the top 10 again. Expect 20 carries again per game and one to two receptions per game. Henry should be good for another 1,400 yards on the ground, 175 in the air (25 receptions) and 11-16 touchdowns in 2020.
In case you can't tell, everyone is high on Josh Jacobs this year. Though the Raiders have not done much to this point to improve their line, they made strides in adding weapons on offense. That being said, Jacobs remains THE guy in Las Vegas. Last season, Jacobs was on a tear before his injury, sitting in the top five in standard formats. Mike Mayock, the Raiders GM, has already expressed their desire to get Jacobs more involved in the passing game, so it's probable to see some uptick in receptions this season. In 2019, Jacobs was on pace for 1,400 yards rushing and nine touchdowns, but still managed 1,150 yards in only 13 games. His 4.8 YPC was among the best in the league. His Vegas line for rushing in 2020 is 1,500 yards. There is every indication Jacobs should have a monster, breakout season, if he can stay healthy. Jacobs had only 20 receptions last season but averaged a massive 8.3 yards per reception, so the increased usage in the passing game appears imminent.
Ekeler is a tough call for me in 2020. The consensus fear is that the Chargers will utilize Justin Jackson and Joshua Kelly as platooning first and second down backs. Even with three backs in the fold, it was hard to ignore Ekeler's effectiveness a year ago in his relatively limited workload. Ekeler should account for over 50% of the touches in that backfield, even though his best role is a true passing down specialist. He may be the most difficult man in the NFL to cover out of the backfield as a pass-catching back. Last season, Ekeler had 92 receptions for 993 yards. He has gone over 10 YPR in each of his three NFL seasons, which is the best in the NFL over that span. The closest to him is Alvin Kamara but even in Kamara's best year, Ekeler still had a better YPR. Ekeler is a risky call in dynasty leagues and offseason trades, but his prospects in full PPR for a single season look good.
Nick Chubb is incredible as a rusher but his ceiling in the passing game is suspect, given the presence of Kareem Hunt. Though Hunt and Chubb both had the same YPR (7.7), Hunt had one more reception in just half the amount of games. If that's any indication of the split going forward, you can't be very high on Chubb's receiving upside in 2020. Even though Chubb has demonstrated an incredible ability as a rusher (5.0 YPC), the mere presence of Hunt is frightening. The Browns have beefed up their offensive line, which ranked among the worst in the NFL in 2019, so the upside for increased efficiency should be there. There are a lot of factors surrounding Chubb, but the bottom line is, the guy produced as a workhorse back last season, rushing for nearly 1,500 yards on almost 300 attempts. We expect Hunt to cut into the rushing load a little, but expect similar outputs for Chubb in 2020. Chubb should have around 17 carries and two receptions per game, but the YPC should be around or over five.
Aaron Jones was an anomaly in 2019. With just 285 touches and 4.6 YPC, Jones scored 19 touchdowns. With the focus on getting Rodgers more help at receiver, the world watched in awe as the Packers drafted their quarterback of the future in the first round, followed by a big-bodied back out of Boston College, AJ Dillon. The Packers new second-round pick should immediately serve as a platooning back in a three-headed ground attack. Aaron Jones was a capable running back last season, toting the rock 236 times and pulling down 49 receptions. With touchdown regression very likely to hit Jones in 2020, his value is that of the lead man in a trio on a good offense.
Drake is a curious case for 2020. In many ways, we all love the offseason moves of the Cardinals, as Drake appears positioned well for a breakout. The concern is his Jekyl and Hyde game logs. Drake's speed and breakaway ability is a tremendous advantage for him, but if he doesn't get that one big run in a game, his output could be on the lower end amongst the rest of the league. He's one of the riskiest players in 2020, among the top half of projected backs. In 2019, he was great since arriving to Arizona, as he scored eight touchdowns in the eight games he played for the Cardinals. The caveat was seven of them came in the last three games. Though there are red flags, particularly with the volatility of the front office and the questions about the offensive line, Drake is carrying a great deal of momentum into 2020. It's reasonable to expect 16 carries and four receptions a game.
Fournette's fifth-year option was just declined by the Jaguars. Last season was the healthiest season for Fournette, but his outspoken behavior and attitude have worn on the brass in Jacksonville. Though his YPC jumped to 4.3 behind a shaky O-line, Fournette's rushing touchdown total dropped to just three. He's a good candidate for positive touchdown regression in 2020. The prevailing thought in 2020 is that the Jags either trade Fournette or just run him into the ground. The latter is more likely, given the reports of a general lack of interest from other teams. I can't imagine many trade destinations that would actually boost his value in 2020.
Following the draft, no one was too worried about Miles Sanders' stranglehold on the backfield in Philadelphia. The issue here is the committee approach the Eagles have maintained over the past four seasons. It took the Eagles most of the season to realize they wasted a whole lot of money on Jordan Howard, but once they did, Miles Sanders was finally unlocked, and the results were promising. Sanders is shifty, has good speed, catches the ball well out of the backfield, and shows promise between the tackles. Sanders carries tremendous upside this season and could potentially finish as a top five back in 2020. Last season, his 10.2 YPR put him in the same zone as Austin Ekeler in the pass catching department. His 4.6 YPC was better than Howard's, but the touchdown numbers were half of Howard's. Sanders should get an increased role this year, though it isn't like the Eagles to feature a workhorse back, so quell your lofty workload expectations on this one.
Tier 3
Todd Gurley, Le'Veon Bell, Melvin Gordon, Clyde Edwards-Helaire
The third tier is where things really get risky. Three of the four guys in this tier were considered elite running backs in recent years, while Edwards-Helaire will be put in a high powered offense that has struggled to find consistency and durability at the position over the past couple seasons.
Todd Gurley is coming off a very pedestrian season in Los Angeles, due primarily to load management. Gurley has had a well-documented history of Knee injuries and concerns, but he appears to be fresh heading into a good situation with a strong offense in Atlanta.
Le'Veon Bell left the Steel City for a big free agent deal in New York a season ago, but had a disastrous 3.2 YPC in what was ultimately a dissappointing 2019 campaign with the Jets. It's going to be interesting to see if the Jets did enough in the offseason to improve their offensive line and better adjust the offensive schemes to put Bell in a better position to succeed in 2020.
Melvin Gordon's 2019 holdout really hurt his season and ruined his prospects in LA. Following a four-game absence, Gordon returned but his YPC dropped from 5.1 YPC in 2018 to 3.8 in 2019. He was outshined by Austin Ekeler in the big play department and finished the season with a little over 900 total yards. With a new situation leading the backfield in Denver, Gordon has a chance to rebound in 2020 with a better offensive line in 2020. The only question is whether or not Gordon be able to hold off Phillip Lindsay to lead this running back committee in 2020.
Clyde Edwards-Helaire is the best football player Joe Burrow has ever played with, according to Joe Burrow. Edwards-Helaire draws a lot of Maurice Jones-Drew comparisons, and not because they both have hyphenated last names. CEH is a short, elusive, hyper-talented back who joins one of the best offenses in the NFL. Though Damien Williams looked as if he could've won Super Bowl MVP, the Chiefs clearly covet CEH's ability to catch the ball out of the backfield and make guys miss in the open field. CEH's size and first step makes him very difficult to cover out of the backfield and should serve him well in this dynamic Chiefs offense in 2020.
As the season grows closer, be sure to check out RotoBaller for more player updates and updated rankings.
More Fantasy Football Analysis
Check out all of RotoBaller's fantasy football rankings. Staff rankings are updated regularly for all positions and include standard formats, PPR scoring, tiered rankings and dynasty leagues.