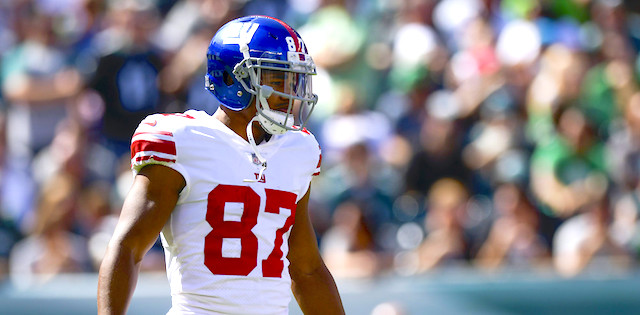 For fantasy football GMs, draft season is gearing up. Preparing for what is waiting for us in our virtual war-rooms is a key part of the process and the first thing to know is the format of the league we're going to be part of. The difference between Standard and PPR (Point-Per-Reception) scoring systems is really simple, with the latter awarding one extra point to players that catch a pass. Standard scoring was a staple in the early days of fantasy football, but PPR has become the most played system lately.
It doesn't take a genius to know who this benefits the most: over-targeted receivers, pass-catching running backs, and reliable tight ends. While some players are good enough to put up good numbers on their pure talent, others might fall shorter on the ability leaderboard. Some of those, though, trump the most talented ones in fantasy leagues due to a heavier usage and racking up receptions that go for extra fantasy points.
Having the PPR scoring system in mind, it's time to discover which players are surefire bets to excel in leagues following that format that are currently being undervalued in drafts by fantasy GMs. Today, I'm highlighting four wide receivers who are primed to become studs in these leagues that have lower ADPs and prices than those they should be attached to.
Featured Promo: Get any full-season NFL Premium Pass for 50% off and win big in 2023. Exclusive access to our Premium articles, 15 lineup tools, new Team Sync platform, Lineup Optimizer, Premium DFS tools and cheat sheets, and much more!
Sign Up Now!
ADP: 148.2, Projected PPR: 189.8
I get the concerns. Tom Brady is no longer leading the Patriots, which is to say the Patriots have lost the GOAT at the QB position. That, no matter how you look at it, can only make things worse for the team's receiving corps. Or can it? In the last two seasons, Edelman has averaged 9.4 targets per game in the 28 matches he's been active, catching an average of 6.2 of those 9.4 targets (65.9%).
Edelman was the clear no. 1 WR of the Pats those two years, and nothing will change that in 2020. New England has brought no new threats to Edelman, will feature a "rookie" quarterback in Jarred Stidham, and Edelman is the safest option to throw the ball to. You can almost count the times he's dropped below five receptions in the last 28 games. He's a virtual lock to get his 5 PPG only by catching passes.
PFF projects Edelman to 189.8 PPR in 2020 thanks to 73 receptions, 869 yards, and 4 TDs. I'd say those are tamed predictions. Even with that, though, Edelman is getting off the board in the last round of 12-team drafts yet his projections have him as a low-end WR2 at the very least. He's the cheapest no. 1 option, the only player with an ADP below 100 projected to get targeted more than 110 times, and one of only 20 WRs expected to get more than 23% of his team's targets (23.5%).
ADP: 158.5, Projected PPR: 206.9
Somebody explain Jones' case to me because it has me completely lost. Sure, Jones was a little bit bouncy last season from week to week, but even with that the gap in ADP between Jones (158.5) and Kenny Golladay (37.6) is massive. Not only that but when comparing his projections it makes even less sense: PFF projects Jones to reach 206.9 PPR in 2020 and Golladay to 270.1. Jones would be the WR16 and Galladay the WR5. But we're looking for undervalued receivers and the ROI returned by Jones (2.44) is much higher than that of Golladay (2.06).
Let me hand you some interesting takeaways from PFF projections: Jones in the only WR projected to get 205+ PPR with an ADP above 75 (Tyler Lockett); only Edelman (114) projects to get more targets than Jones (108) among those with an ADP above 100; Jones is one of only 11 WRs projected to finish 2020 with 105+ targets, 65+ receptions, 975+ yards, and 6+ TDs.
All of that at the sweet ADP of 158.5. No other WR with a 105/65/975/6 projection has an ADP above 46, by the way. There is no WR2 in the NFl that has the upside to reach better numbers than Jones in 2020 other than perhaps Mike Evans/Chris Godwin, depending on how you order them. And again, those two are currently being drafted at ADPs of 30.8 and 20.9 respectively. Now tell me Jones is not a clear bargain these days.
ADP: 153.7, Projected PPR: 164.5
Last season, the Jets featured Dr. Jekyll and Mr. Hyde on offense. While WR Robby Anderson was the quick, deep threat to use on long boom/bust passes, Jamison Crowder played the safety valve role. That's why Anderson had an average AYT of 14.2 (14th-highest in the NFL) compared to Crowder's 7.3 (98th-highest). Crowder is the ultimate PPR asset at the wide receiver position. He's a short-pass catcher, reliable, and his floor is always going to be high because of the way he's used and how he can rack up reception-points that way.
Things have not changed much in New York. Flip Anderson for newly acquired Brashad Perriman, and add rookie Denzel Mims to the equation but don't expect the latter to get a lot of opportunities from Crowder. PFF has Crowder projected as the no. 1 WR of the Jets in terms of targets (94) and target share (20%, including all Jets RBs/TEs/WRs). Crowder is projected to catch 68 passes for 724 yards and 4 TDs.
While Crowder might not get to a high yardage number, his upside relies mostly on his pass-catching prowess. He's one of 26 WRs league-wide projected to 68+ receptions. Consider Crowder the poor man's Marvin Jones: tons of catches, only accruing fewer receiving yards due to his short-distance usage.
ADP: 147.9, Projected PPR: 166.5
Remember Julian Edelman, from the blurb above? Well, if Crowder is poor man's Marvin Jones then Shepard is the equivalent only compared to Edelman. As you can see in the chart, Shepard has played 26 games in the last two seasons and only seven times has he finished with fewer than four receptions. He averaged 4.7 per game (with 7.4 targets) with a 63.5% catch rate in that span, and in 2019 alone he raised his targets to 8.5 per game and his receptions to 5.7 per.
Looking at PFF projections, Shepard is expected to score 166.5 PPR points in 2020, making him the WR35 and thus a WR3 or FLEX option in 12-team leagues. That being said, he projects to catch 62 passes while getting a great 18.3% of the Giants targets. He's the fourth-cheapest wideout by ADP projected to catch 62+ passes other than the three discussed above.
In a similar fashion to Jamison Crowder, Shepard's depth of target is often short (9.6 yards per target, 74th in the league) and that boosts his value in PPR leagues as he's far from a boom/bust player on a per-snap basis. The injury concerns are probably dragging him down a bit but he was able to string six active games to close 2019 while racking up 77.9 PPR points in that span.