We'll be doing this roundup of points leagues every week here at RotoBaller, with waiver wire targets and streaming pitchers being evaluated in terms of the different scoring systems of ESPN, Yahoo!, CBS, and Fantrax.
Player values can vary wildly from platform to platform, so we'll make sure to highlight where players are the best and worst fits. We know points league players get neglected and we're here to help.
These fantasy baseball waiver wire pickups are for the week of May 23rd - May 29th, looking at players below 50% rostered for ESPN, Yahoo!, or Fantrax. Position eligibility is taken from Fantrax and players are grouped by their most valuable fantasy position, using a hierarchy of: C > 2B > OF > 3B > 1B > SS. Stats and rankings for charts are calculated using games through Friday, May 20.
Featured Promo: Get any full-season MLB and DFS Premium Pass for 50% off. Exclusive access to our Team Sync platform, Premium articles, daily Matchup Rating projections, 15 lineup tools, DFS cheat sheets, Research Stations, Lineup Optimizers and much more!
Sign Up Now!
Know Your Scoring System
You know what I'm going to say, right?  You must account for, as precisely as possible, how a player performs under your particular scoring system. Don't be fooled into believing you can just make rough adjustments in your head, bumping up guys with high on-base percentages and low strikeout rates. Every point, in every category, counts.
For example, ESPN and Fantrax are virtually identical in their scoring for hitters and roster size. The only difference is that stolen bases are worth one more point on Fantrax and ESPN subtracts one point per strikeout. That's the difference between Trea Turner being a top-five hitter versus a top-25 hitter.
If your league uses standard settings, then great! Turn to page 94 and you can skip ahead to the leaderboards. If you play with custom settings, it'll still be fine. Go back to page 43 and look below at the scoring systems of the four major platforms. I bet there's a chance that you'll find that your league's scoring is very similar to one of the four (well, not Yahoo!'s), even if it's not the platform you actually play on.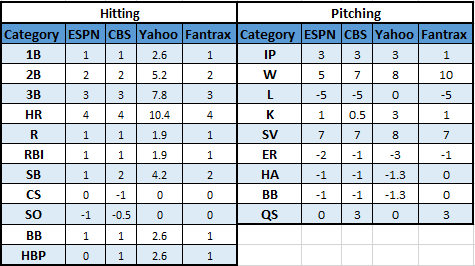 You'll likely find a suitable mirror to your own system if you look above. While every point counts, as long as they aren't seismic changes you can get away with some "close enough" calls. IE. You're probably fine if everything is the same except for HBP (or something similar).
Week 7: Waiver Wire Leaderboards
All charts are updated prior to Friday's games, on stats and ownerships, and clicking on a chart will open a new page with a magnified version. Players on overall leaderboards are ordered according to their current Roster% on Yahoo.
*APR = Average Platform Ranking - the average platform ranking between ESPN, CBS, Yahoo, and Fantrax (standard point settings)
The 14-Day Leaderboard, Presented by Hansel
These players are so hot right now. Here are the players on the wire who are running inside the top-100 of APR over the past two weeks:
Overall Leaderboards
Before we crack on to the positions, a quick word on xwOBA and expected stats, in general. We're still including xwOBA (and xwOBA - wOBA) but do be aware of their currently severe limitations in this new dead-ball world. Remember that expected stats use launch angle and exit velocities to approximate what the typical result has been for balls hit with similar metrics. But right now, the offensive environment is so drastically different that it's hard to make those comparisons by using data from recent seasons, thus rendering the expected stats far too high until Savant has enough data to update their equations, they're hard to rely on.
IE. Until they're updated, x-stats are going to be much higher than they probably should be. That's not to say they're worthless but be aware that a 100-pt gap between wOBA and xwOBA ain't what it used to be. This might lead me to start using percentile ranks in the future but stay tuned.
On to the positions!
First Base Waiver Wire Pickups
Best Choices
Christian Walker, ARI - After going deep again during the first Wrigley Field homer party of the season, Walker now has a 35 APR and ranks virtually the same on each platform. That makes him the #7 1B, currently coming in ahead of Vladimir Guerrero Jr., Matt Olson, and a host of others. And yet, he's still less than 20% rostered. This does not compute. I'm not saying that Walker is going to hit 40 HR but his changes in top-end exit velocities can no longer be ignored.
Juan Yepez, STL - Yepez was already getting everyday at-bats but with Tyler O'Neill going on the IL, his playing time is even more locked in. He has a 57 APR over the past two weeks and will pick up OF eligibility shortly, making him that much more valuable. So long, Juan. I suspect we won't see you here next week.
Next Choices
Jesus Aguilar, MIA - He doesn't have the firepower of the two above but Aguilar is providing steady value, albeit much more in leagues without a strikeout penalty.
Desperate Choices
Miguel Cabrera, DET - If I could turn ba-aack time, if I could find a way. I'd take those words that have hurt you, and you'd stay. The old man in the D continues to rake, posting a 92 APR over the last two weeks. It's highly unlikely to last but if you need a fill-in, Miggy'll be your band-aid.
Colin Moran, CIN - Moran is out at first base with Joey Votto returning but should continue to get regular at-bats when the Reds aren't facing a leftie. But after Jonathan India returns (presumed to start a rehab stint soon) the playing time crunch will on. He has a 34 APR for the last two weeks but much of that is driven by a binge of four home runs in four games. Since hitting the last one on May 12, Moran is slashing .190/.292/.190, with a .235 wOBA and 45 wRC+.
Daniel Vogelbach, PIT - I'mmmm sl-owwwww-innnggg do-wwwwnnn.
On the IL
Nada
Second Base Waiver Wire Pickups
Best Choices
Adam Frazier, SEA - What are we doing here, people? Frazier's profile is a dream for points players and is currently rocking a 66 APR but is still only 40% rostered on Yahoo (and on CBS). And running an 11.2% K%, he's kind of a monster in leagues without a strikeout penalty, ranking ahead of the likes of Ozzie Albies and Jose Altuve.
Jurickson Profar, SD - What are we doing here, people? - This is the remix. Profar is not only racking up PAs playing every day but is typically batting second or fourth. And besides the piles of PAs, Profar is also rocking some points-gold plate discipline, posting a 13.8% BB% and 15.7% K%. He's a batting average sink in roto leagues but this ain't roto, now is it 😉 It's far past time to pick him (and his 38 APR) up in all scoring formats.
Next Choices
Josh Rojas, ARI - Rojas has a 31 APR over the last two weeks but be aware that a great majority of his scoring is wrapped up in the three home runs he hit on Friday at Wrigley, with the wind blowing out. Prior to that game, he was slashing .250/.367/.250 in 49 PA since returning from injury on May 6. He's always had great walk rates but with strikeout rates that limit value in most scoring formats. If the plate discipline he's shown so far sticks (16.7% K%, 6.4% SwStr%), he'll quickly become more interesting.
Santiago Espinal, TOR - Not sexy in roto but playing every day with an 18.0% K%, 84% Contact%, and 91.6% Zone-Contact, Espinal is well on his way to being one of our low-budget, points All-Stars.
Desperate Choices
Luis Arraez, MIN - One of these days, Arraez is going to be a points breakout and you'll all be sorry, I tell 'ya! But, in all seriousness, he kind of already is in leagues with a strikeout penalty, running a ridiculous 6.0% K% and 13.8% BB% over 116 PA. He's slashing .313/.414/.394 for the season and since returning from the Covid-IL on May 12, that's up to .346/.500/.462, with a .434 wOBA. Now, he just needs to be less awful vs LHP (.208/.296/.208, .243 wOBA over 27 PA) and hit himself out of any platoonery. Fingers crossed, Luis.
Abraham Toro, SEA - With injuries mounting in Seattle, Toro has been playing more but don't expect much of anything when a leftie is on the mound. Toro is currently slashing .150/.205/.175 vs LHP, with a .178 wOBA and 17 wRC+. Yes, 17.
Wilmer Flores, SF - As points-friendly profile as you're going to find but Flores is stuck in platoon-land following the returns of Evan Longoria and Tommy La Stella.
Nolan Gorman, STL - Trust me, as a St. Louis resident, I want Gorman to come out and light the league on fire, as much as anyone. But we don't yet know what his playing time share will be and his strikeout-heavy profile likely won't make him super points-friendly.
Brad Miller, TEX - platoon land
Jace Peterson, MIL - platoon land
On the IL
Third Base Waiver Wire Pickups
Woof. Things are getting dire at the hot corner. You're probably better off looking for a 3B-eligible player listed at another position.
Best Choices
Mike Moustakas, CIN - Much like Candyman, we have to be careful and not mention Moustakas too many times or he's likely to start murdering your team with awfulness. But right now, Moustakas is mashing like the old days, posting a 46 APR over the last two weeks. Wait...What's that you say? Moustakas is 2-for-21 with two singles since hitting two home runs on May 13? Damn it! Which one of you said his name for the third time?
Next Choices
Yandy Diaz, TB - Diaz has a 97 APR but has been cold as ice since a hot start, running a 182 APR over the past two weeks. However, he's still mostly batting leadoff for the Rays, with an 8.8% K%, 15.3% BB%, and a pile of PAs that still makes him viable in many scoring formats.
Desperate Choices
Jeimer Candelario, DET - Like many players who have fringe power, Candelario is just getting killed by 2022's spongeball. Lots of PAs and 21.5% K% could help him put together a nice scoring profile but a .263 wOBA ain't going to cut it. There is a.333 xwOBA if you're looking for a bright spot but that is still very little to get excited about.
On the IL
Shortstop Waiver Wire Pickups
From the makers of "Woof. Things are getting dire at the hot corner. You're probably better off looking for a 3B-eligible player listed at another position", comes "Woof. Things are getting dire at shortstop. You're probably better off looking for an SS-eligible player listed at another position.
Best Choices
No. Look elsewhere.
Next Choices
Miguel Rojas, MIA - On behalf of all of the roto draft-and-hold teams where I drafted Rojas, I'm begging for the hit stick to keep coming around, as he's slashing .275/.326/.425 over the past two weeks. A 10.7% K% for the year will help make him interesting in points if the hits keep coming but his current state of Marliness (in which the afflicted get next to no runs and RBI) will keep holding him down.
Desperate Choices
Isiah Kiner-Falefa, NYY
Andrew Velazquez, LAA
On the IL
Catcher Waiver Wire Pickups
We're going back-to-back-to-back with the big-time struggle positions, as things at catcher are even worse that at third base and shortstop.
Best Choices
MJ Melendez, KC - Things are bleak at catcher but with Salvador Perez hitting the IL, Melendez is a must-add if you have any issues at backstop. Melendez has big-time power and hasn't messed around with showing it after Perez went down, hitting two home runs and slashing .368/.368/.789 in 19 PA since.
Jonah Heim, TEX - Mitch Garver is expected to live at DH for a while, sliding Heim into a full-time role. And while Heim's 145 APR isn't anything impressive, his per-PA scoring rates have been really impressive. Now playing most every game, Heim is worth picking up to see if the scoring stays up in a bigger sample.
Next Choices
Danny Jansen, TOR - Jansen hasn't really done anything since hitting a home run in his return from the IL but has slid back into a full-time role and is still boasting big-time exit velocities.
Christian Vazquez, BOS
Jacob Stallings, MIA
Desperate Choices
All catcher adds are desperate adds. Now and forever.
On the IL
Outfielder Waiver Wire Pickups
Oh, thank the FSM - finally back to a real position. As always, the outfield is packed with a lot of solid choices to fill in your gaps and make some upgraddes.
Best Choices
Kole Calhoun, TEX - Sweet lord, Calhoun is on a heater. Another home run on Friday gives him five round-trippers in his past six games, slashing .400/.480/1.200 over his last 25. Ride the fire until it burns out.
Anthony Santander, BAL - Well, hello Anthony, welcome back! Santander is on a power streak of his own, hitting four home runs in his past eight games and posting a 41 APR over the last two weeks.
Mike Yastrzemski, SF - Yastrzemski seems to have hit his way out of San Francisco's platoons on parade, getting his first day off on Friday since returning from the IL on May 4. And he's rewarded them, slashing .320/.410/.540 over that stretch, with a .409 wOBA and 169 wRC+. He's points gold as long as this keeps up, now slashing .295/.378/.453 over 111 PA, with a .367 wOBA, 10.8% BB%, and 16.2% K% for the season.
Tommy Pham, CIN - Doo-doo-doo - don't mind Tommy Pham, he'll just be here continuing to be a top-100 hitter, playing every day in a home bandbox stadium.
Harrison Bader, STL - Bader be running, stealing another four bases in the past week. Great for roto and leagues that reward two points per SB but not so much on ESPN standard scoring. But add in a 15.3% K% and an everyday role and you have a pretty fine compiler of points.
Alek Thomas, ARI - On behalf of all of my roto teams where I opened up the FAAB wallet because my outfield was in rough shape, I salute you, Alek Thomas. Since getting called up on May 8, Thomas is slashing .333/.349/.643, with a .429 wOBA and five multi-hit games. Even better for his long-term value is that the left-hander has started against four of the five LHP that the Diamondbacks have faced.
Next Choices
Tyler Naquin, CIN - Naquin has been absolutely mashing, posting a 25 APR over the last two weeks, slashing .319/.373/.596, with a .418 wOBA and 167 wRC+. His 27.0% K% and 5.7% BB% will limit his scoring in some leagues but he's great as a fill-in while riding high.
Ben Gamel, PIT - Gamel not only has a 104 APR for the year and an 89 APR over the past two weeks but has now batted leadoff in 12 of his past 15 starts. With great plate discipline and a little bit of every counting stat, he continues to be a solid points option in all formats.
Hunter Dozier, KC - Another good hitter on a bad team, Dozier has a 37 APR over the last two weeks, slashing .327/.383/.473 over 60 PA, playing every day and batting 4th/5th. But this isn't just a hot streak, as he's slashing .279/.321/.457 for the season, with just a 21.9% K%.
Desperate Choices
Ramon Laureano, OAK - Laureano has been fairly awful since returning from an 80-game suspension, slashing .167/.298/.250 over 57 PA, with no home runs and a .263 wOBA. The plate discipline has still been excellent (12.3% BB%, 19.3% K%) but he can't be started until the bat warms up.
Robbie Grossman, DET - Remember when Grossman had elite plate discipline? Me too. But while he still has a 13.2% BB%, the punchouts won't stop coming in 2022, posting a 29.9% K% that is nearly 10 points higher than his career average. That, plus a .266 wOBA and 75 wRC+, probably won't make him a good option in most leagues right now.
Yadiel Hernandez, WSH - Hernandez has slowed down but still has a 132 APR over the past two weeks. However, he seems to be the strong part of a platoon with Lane Thomas, making other options on your wire likely more viable.
Darin Ruf, SF - Ruf has tons more value if you have deeper benches with daily moves, as you can just slide him in when he's starting against LHPs. But San Francisco's platoon-happy ways limit him otherwise. He's currently on a heater, though, hitting two home runs on Friday and slashing .378/.508/.644 over 59 PA in the month of May.
On the IL
Download Our Free News & Alerts Mobile App
Like what you see? Download our updated fantasy baseball app for iPhone and Android with 24x7 player news, injury alerts, sleepers, prospects & more. All free!


More Fantasy Baseball Waiver Wire Advice