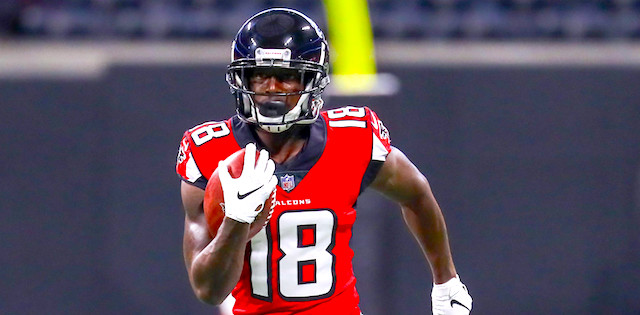 So, you've started the season 0-5 or 1-4. You may even be 2-3, but you don't foresee too many other wins coming in your future this season. It's time to rip off the bandaid and move forward with that teardown. It's going to be painful because none of us ever want to lose. Unfortunately, that's what you're going to have to do.
The key to selling players in dynasty leagues is to look towards the long-term future rather than the short-term. It is more than likely that your roster isn't going to be turned around next year into a title contender. You are going to need at least two years to make it all happen and really turn this team around. If the guy you're selling is great now but likely won't be by then, get value for him while you can.
The same goes for who you're buying. You need to focus on stockpiling your assets to give yourself as many bites at the apple as possible. The rookie drafts can set you up for years to come if you make the right picks, so go get yourself some young prospects and draft picks to give yourself that stable future that you're searching for.
Editor's Note: Get any rest-of-season NFL Premium Pass for 50% off. Our exclusive DFS Tools, Lineup Optimizer and Premium DFS Research through the Super Bowl.
Sign Up Now!
Players You Need To Be Selling
Atlanta Falcons quarterback Matt Ryan was expected to lead his team back to the playoffs this season after they were ravaged by injuries last year and fell short. So far this year, they've been brutalized by injuries again, and they're a Nelson Agholor drop away from being 0-5. Despite all of that, Ryan is still chugging along. He's currently sixth in points among quarterbacks, and he's averaging a healthy 21.5 per game.
However, now is the time to get out of the Ryan game. He's 34, going on 35, and his price is only going to drop if he struggles or shows signs of aging. Right now, his value is likely as close to his peak as it ever will be again. He is on pace to throw for over 45 touchdowns and 5,000 yards. He's thrown for over 4,000 yards in each of the past eight seasons. However, he doesn't fit into the window of contending in your future rebuild, so you should get out now, while he's still going to get you good value back.
Baltimore Ravens running back Mark Ingram was supposed to enter the year in a timeshare, but he has captured the backfield for himself with 58% of all RB carries. He's averaging 5.0 yards per carry, and he's scored touchdowns in three out of the five games. However, he's 29 years old, and he's going to be 30 years old before the season is over. Now is the time to maximize Ingram's value in the trade market, especially with what is about to come in next year's class.
Currently, three running backs are considered first-round prospects, and multiple guys are moving up draft boards. Ingram, who has yet to touch 20 carries this season and has just two 1,000-yard seasons to his name, has rarely been better than an RB2 in his career. At the rate he's playing right now, you can snag a first-round pick for him, and you can use that pick on a guy like Wisconsin's Jonathan Taylor or Clemson's Travis Etienne.
Atlanta Falcons wide receiver Julio Jones is the second Falcon on this list, and it's for a lot of the same reasons that Ryan is on this list. Jones has been one of the NFL's best wide receivers since he exploded onto the scene during his sophomore year. In each of the last five seasons, he has put up over 1,400 yards, and he totaled six or more touchdowns in all but one of those seasons. He's on pace this year for around 1,150 yards and 10 touchdowns, but you should be selling now while you can.
We could see five or more wide receivers drafted in the first round next year. You're going to have a chance to replace Jones. His quarterback is getting older, and so is he. He'll be 31 in February, and he's relying a lot on touchdowns this year. He's catching just 59.1 percent of his targets, and touchdowns are making up over 1/4 of his points. If you can get another high-scoring output out of him followed by a quick sale, you'll be able to cash in on a value that will likely be falling in the future.
Philadelphia Eagles tight end Zach Ertz is still a featured part of his offense, but he's not seeing nearly as much of a role as we're used to seeing from him. Last year, he caught 116 passes for 1,163 yards and eight touchdowns. He's currently on pace for 92 catches, 998 yards, and two touchdowns. The touchdown number should go up. However, as he's nearing age 29, with a young Dallas Goedert waiting in the wings, how much longer will he keep performing as a top-five tight end?
In seven seasons, he's scored more than four touchdowns just twice, both in the last two years. A lot of what has made him successful has been high volume combined with athleticism. For a team that is struggling at tight end, because they waited or have a struggling starter like Tampa Bay Buccaneers tight end O.J. Howard, you could snag a couple of picks for him to jump-start your rebuild next year.
Players You Need To Buy
Cleveland Browns quarterback Baker Mayfield lit the NFL on fire last year. Coming into this season, he was a consensus top-five quarterback in both dynasty and redraft formats. Outside of the team's Week 4 win over the Baltimore Ravens, in which he didn't exactly light up the scoring column with just one touchdown, he's been downright miserable. He hasn't thrown more than one touchdown in any game thus far, yet the pieces are there for him to rebound.
Outside of having two Pro Bowl wide receivers and a budding star at running back, the only thing Mayfield is missing is an offensive line. He's been sacked 16 times through five games which is the sixth-worst mark in the NFL. For the remainder of the year, and the future, Mayfield's stock will be pointing upwards when the trenches get fixed. He's averaging 9.0 yards per target, and he just needs to start connecting on them. If you can acquire Mayfield on the cheap now, you'll reap the rewards later.
Chicago Bears running back David Montgomery, right before the season, was being drafted in the third round in some leagues. In rookie drafts, he was being drafted in the first round. Yet, through five weeks, he's averaging just 10.1 points per game which puts him behind Buffalo Bills running back Frank Gore and Denver Broncos running back Royce Freeman. The Montgomery owner in your league may be just skittish enough to get a deal done.
Montgomery is in a great offense under head coach Matt Nagy, and the major issues that he is running into are a lack of volume with a quarterback in Mitchell Trubisky that isn't scaring defenses. Running backs Mike Davis and Cordarelle Patterson could both be cut for a combined dead cap hit of $2 million after this season. If Montgomery sees his role continue to grow, up to 24 touches in Week 4, Chicago could move on from those two after this year to give him the lion's share of the carries.
Los Angeles Rams wide receiver Brandin Cooks has been one of the most consistent wide receivers in the NFL throughout his first five seasons. In each of the past four, he put up over 1,000 yards in each season despite switching teams twice. He's scored at least five touchdowns in each of the seasons that he has been a full-time starter, and, despite all of that, he's not been clicking with Los Angeles Rams quarterback Jared Goff this season. He's on pace for just 108.8 targets, and he's 13 targets behind wide receiver Robert Woods. Additionally, he's 29 targets behind wide receiver Cooper Kupp, who's the third receiver in fantasy right now.
Cooks seems like he could be the odd man out in LA, but head coach Sean McVay always finds a way to get the ball in his best players' hands. With the offense needing a boost, Cooks could see his workload increase this season, but his price right now is low. He's being viewed as a WR3, but, with how explosive this offense can be, he can lead your team in scoring in any week. If you're set at running back or wide receiver, float a pick to the Cooks owner to see where they stand. They may be lower on him than you are.
Atlanta Falcons wide receiver Calvin Ridley is the final topic of today's exercise, and he's the third Falcon that we've discussed. While Ryan and Jones are nearing the end of their careers, Ridley, as a second-year player, is just getting started. He's also massively underwhelming compared to expectations. A lot of his value last year came as a result of touchdowns when he turned 10 of his 64 catches into touchdowns. That means he was scoring a touchdown around every sixth ball that he caught.
This year, he's still got a nose for the end zone, as he's averaging a touchdown on every seventh catch, but his big plays are not as frequent. His longest catch on the season is just 34 yards, and he's just fourth on the team in targets while he's fifth in receptions. The Ridley owner in your league thought that he was getting a bona fide WR2 in a budding offense. Instead, he's gotten a guy that's a near afterthought in some weeks. Go get him while the price is low because it won't be when wide receiver Mohamed Sanu is out of the way.
More Dynasty League Strategy