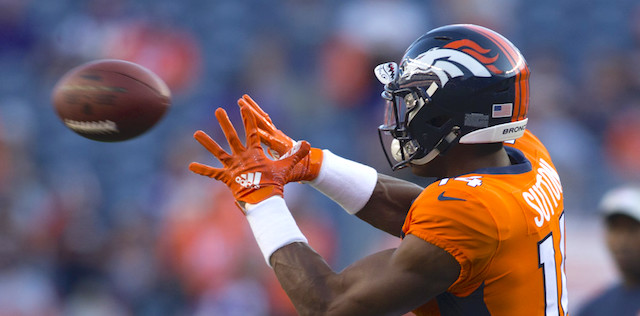 Week 13 had the season's first snow game, a potential SuperBowl preview, and an incredible play from the Miami Dolphins special teams! If you haven't seen it have a look and come back. Now let's move onto Week 14. If you aren't in playoff contention, then this article could help you with some DFS selections. If you are headed for the playoffs then you know it has great value!
Many fantasy owners completely overlook the importance of identifying the reasons behind a player's struggles. Is he being handicapped by the protection ahead of him and actually performing as well as possible given the situation, or is he struggling despite effective play from his offensive line? Using PFF's player grading tool, each week I will identify an offensive line that has been trending up and one trending down. More importantly, I will analyze how those trends might be affecting, or might be about to affect your fantasy roster over the next few weeks.
Please Note: When determining individual player ranks I will only be looking at players that have played over 400 snaps, as well as those on IR. If you want to look at the raw data and my applied method, feel free to message me on Twitter @RichKingFF. I'm happy to share!
Editor's Note: Get any rest-of-season NFL Premium Pass for 50% off. Our exclusive DFS Tools, Lineup Optimizer and Premium DFS Research through the Super Bowl.
Sign Up Now!
Offensive Line to Watch - Denver Broncos
Pass Blocking
Denver is currently on their third quarterback this season, and I've seen a lot of discussion about the offensive line being a big reason for that.
However, when I looked at where the team ranked using my methodology, they ranked ninth in pass protection! Honestly, that really surprised me, as there has been so much chatter for years that the team is ineffective in pass protection. However, it looks like the team has reached a level of play where all players are performing their individual roles effectively.
That starts at the tackle position where Garett Bolles ranks 25th in the league and Elijah Wilkinson 49th. While they are not great rankings, having both players within the top 50 helps balance the line and not force the quarterback out of the pocket or make him move to his left or right.
Connor McGovern ranks sixth in the league, and as we have seen in all of the successful lines this season, having the tackles and center position working well gives a solid foundation. Combine that with two guards who are both in the top 25 in the league and that is a solid offensive line to work behind.
Run Blocking
Where the team has struggled this season is in run blocking.
The team has used less run protection schemes this season due to these struggles. When they have been running the ball they have been unable to have much success. In their pass blocking, the lowest score was 61.7. However, their most effective player in the run game has a run-blocking score of 61.9. The only saving grace for the team is that they are balanced across the line, similar to how they are with pass blocking.
That has forced running back Phillip Lindsay to try and make his own plays, and get outside of the tackles. While that has led to some success, it just means that teams can adjust by lining up their outside linebackers slightly wider than they normally would. That adjustment is a big reason as to why Lindsay has struggled this season for fantasy purposes.
Fantasy Impact
Trust: Courtland Sutton
Sutton has been effective this season, showing enough promise that the team allowed Emmanuel Sanders to leave the team. In a breakout season, Sutton has been afforded enough time to run his routes and get separation before getting the ball.
Expect that to continue going forward.
Cause for Concern: Phillip Lindsay/Royce Freeman
Both backs have the same ineffective blocking in front of them. While they are still valuable for fantasy owners, simply because they are running backs, expectations need to be reduced from the previous season.
Offensive Line to Avoid - Carolina Panthers
Pass Blocking
Pass blocking is not the strength of this line.
Kyle Allen has been a solid player for the Panther this season when you review the box score, but when you see the protection that he has been afforded the level that he has reached it is even more impressive. Especially with center Matt Paradis being almost a turnstile after the snap.
Taylor Moton is an effective piece in pass protection, but outside of that, the line is not providing the protection that the team needs. If you look at the passing grid of Carolina Panthers this season, it has truly highlighted the number of short passes that the team is forced to complete due to Allen having little time to throw.
However, it should be noted that the team has also identified that weakness. The team moved away from the downfield routes that needed time to get free and moved towards receivers who are able to make defenders miss a tackle and then make a big play.
Run Blocking
While there are pass protection issues, the team is reasonably effective when it comes to run blocking.
As with Denver's line, the effectiveness is in the team having consistently effective blockers, rather than having many standout individuals. In run blocking that is important so there isn't one side of the interior that is just a no-go for the running back. That would then limit the ability of the running backs in the second level.
That ability has allowed Christian McCaffrey to have a really balanced distribution of running direction, and more importantly, has meant that he has been able to rip off long runs that have sky-rocketed his fantasy value.
Fantasy Impact
Trust: Everyone?
It seems strange to say that I trust everyone if I'm selecting the team as one to avoid, but it's hard not to. As I previously stated the team has moved away from their traditional big-body downfield threats, like Devin Funchess, and are now utilizing gadget players who are able to make big plays once they are in space.
Combine that with the ability of Kyle Allen to trust his legs to extend plays, Carolina's fantasy players have great value moving forward.
Cause for Concern: Greg Olsen
Ok, if I'm forced to choose a player that I have concern for it would be Olsen. Tight ends traditionally occupy the short field, as a release for a quarterback under pressure, but that part of the field is congested with the other receiving options for the team. That, combined with the team entrusting Christian McCaffrey so strongly in the red zone, means that Olsen can be faded if there are better options at the position for fantasy owners.
Top Five Offensive Lines
1) Philadelphia Eagles
2) Indianapolis Colts
3) Dallas Cowboys
4) Baltimore Ravens
5) New Orleans Saints
Bottom Five Offensive Lines
32) Los Angeles Rams
31) Miami Dolphins
30) New York Jets
29) Cincinnati Bengals
28) Los Angeles Chargers
More Fantasy Football Analysis