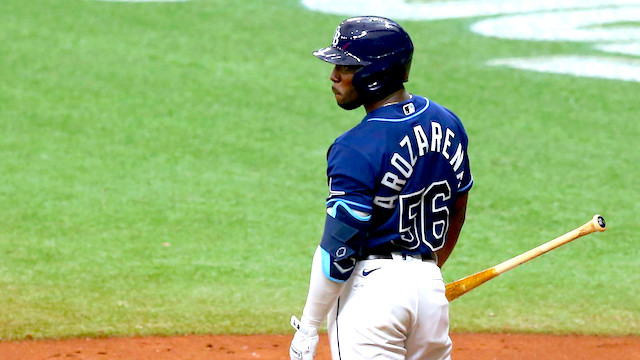 Welcome to the FSWA-nominated Expected Draft Values series, where we look at historical data to identify both overvalued and undervalued players of all types. Whether you're targeting power, speed, power+speed, batting average+power, and so on, we've got you covered. We're onto the outfield now as we make our way through our 2021 draft prep.
Today, we'll look at three outfielders and compare their projected statline via my Cutter Projections against their ADP's expected return. Due to a variety of factors such as name recognition, your fantasy platform's default rank in the draft room, or social media buzz, ADPs can be swayed to poorly reflect the stats you're drafting. Stay tuned over the next couple of weeks as we bring you a deeper look at undervalued and overvalued players from each position using Expected Draft Values.
Generally, what we'll do in this series is identify players who will return a positive or negative value, based on their NFBC ADP in Draft Champions Contests spanning February into March, their Expected Draft Value (i.e. the average stat line typically produced at that ADP), and the player's projection.
Featured Promo: Get any full-season MLB and DFS Premium Pass for 50% off. Exclusive access to our Team Sync platform, Premium articles, daily Matchup Rating projections, 15 lineup tools, DFS cheat sheets, Research Stations, Lineup Optimizers and much more!
Sign Up Now!
How Expected Draft Values Help You Win Your League
It may be clear by this point already, but if you know the expected break-even stat-line of every draft slot, you can identify which of your draft picks are projected to return positive or negative value. Below, we look at three OFs that are either over or undervalued based on their recent NFBC DC ADP, our RotoBaller projections, and Expected Draft Values.
Without further ado, here are some players that stand out at their current cost in 2021 drafts.
**It would appear Jiménez hurt his left shoulder attempting to rob a homer on March 24. This likely no longer applies but I'll leave the blurb up in case he winds up okay and to illustrate the process.
NFBC DC ADP: 37
Expected Return for a Power+Average Hitter Drafted 37th: .299 BA, 28 HR, 92 runs, 92 RBI, 8 SB
2021 RotoBaller Projection: .293-35-102-115-1
Analysis: Jiménez had been overlooked earlier in the offseason due to the hype surrounding Luis Robert and Jose Abreu's AL MVP campaign. That has ceased to hold true with March here and Eloy comfortably in the top-40 overall. I recognize some will cringe at the zero in steals and I respect those who pass for someone who can offer a handful alongside the pop, but let me stump for Eloy.
Hitting at the heart of a growing White Sox, Jiménez could easily cross the 200 R+RBI mark while approaching 40 homers. With 45 career homers in his first 177 MLB games, he's proven capable in that department. A worry here is the modest 32.2% fly-ball rate over that span, with a 28.5% mark in 2020's small sample. But this can work and there's enough here results-wise where we know that it can work "as is" (compared to Vladimir Guerrero Jr.).
But the raw power fueled a 31.1% HR/FB rate and yielded 14 longballs in 55 games anyway. You are buying the power to outweigh the need for speed. To boost you enough to where getting the lighter speedsters later don't burn. Need I remind you that home runs fuel four of the five roto categories? I'm not worried here and the stats laid out help show that the counting stats hitting near the heart of CHW's order justify the spot.

Verdict: Target, Jiménez is undervalued at his current draft slot
NFBC DC ADP: 57
Expected Return for a Power+Speed Hitter Drafted 53rd: .272-27-93-81-13
2021 RotoBaller Projection: .271-29-84-88-18
Analysis: I'm seeing a lot of "Yeah, he had a great postseason but I'm not paying up for that!" If it were that simple then I'd agree, but he's been quite good for longer than that. Let's go back a couple of years here.
I respect someone who doesn't trust the small body of work at this high draft slot where consistency and floor are traditionally emphasized. But both the power and the speed are projected to edge past the expected HR+SB tally within the Power+Speed cohort. In other words, if you're remotely interested in his class of player then you're projected to come out ahead in both departments through Arozarena. And you shouldn't take an average hit either.
We aren't expecting the historic postseason pace to continue, but Arozarena is capable of such streaks. Few can say that! When the HR/FB is above 50% across his 2020 then it's easy to cry regression -- we know, or else he'd be projected for 60-plus homers. Perhaps pitchers hit him with more secondaries after he destroyed heaters, hitting .316 (.306 xBA) with a .895 slugging percentage (.683 xSLG) in the regular season alone. I understand if you see Randy's spring struggles and back off but few hitters boast power and speed potential without a deadweight batting average. If you went pitcher-heavy early and need to leap for five-category production then consider Arozarena.
Verdict: Target, Arozarena is undervalued at his current draft slot
NFBC DC ADP: 39
Expected Return for a Power+Speed+Average Hitter Drafted 39th: .292-24-94-83-20
2021 RotoBaller Projection: .293-16-99-69-21
Analysis: This wouldn't be an egregious pick and we understand speed holds a premium in today's game. But Merrifield is heading into his age-32 season and his sprint speed has dipped each of the last two seasons. Couple this with the fact that he chose to be more conservative on the basepaths in 2019 after the Royals were knocked out of contention and I'm not bullish on his cracking 25 steals.
And you'll need the speed to carry him because his career-high homer count is 19 (2017). Despite 2020's nine homers in only 60 games, his 27.3% hard-hit rate was in the bottom 7% of the league per Baseball Savant. This continues a troubling trend of falling exit velocity for Merrifield:
An interesting note is how the .282 average was the lowest of his career, despite the .292 xBA being his highest Statcast mark. But that profile doesn't give me the warm and fuzzies! In the end, I understand targeting the volume that comes with Merrifield. He's almost surely a top-five player in plate appearances barring injury. If that greater certainty is worth the likely stat sacrifice at this draft slot then so be it.
Verdict: Pass, Merrifield is overvalued at his current draft slot
Download Our Free News & Alerts Mobile App
Like what you see? Download our updated fantasy baseball app for
iPhone
and
Android
with 24x7 player news, injury alerts, sleepers, prospects & more. All free!
More Fantasy Baseball Analysis