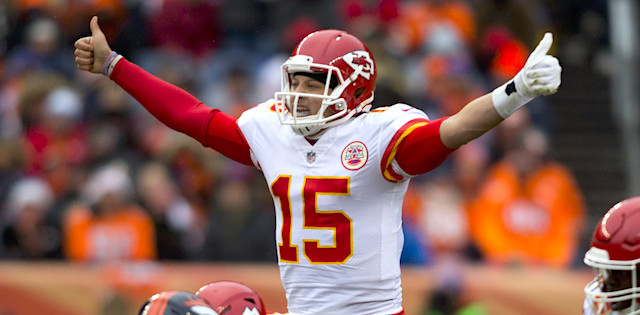 Hard to believe we are already in Week 10. The season is flying by and it's sad to that there are only eight weeks left.
Last week, the big favorites took care of business. Each team favored by five or more won. In terms of the spread, underdogs went 7-6.
With nearly all participants in survivor pools eliminated, you may not find a need to read this column. However, some survivor pools have restarted. There's still plenty of good tidbits to help you with your daily fantasy squads. Plus, my best bets against the spread are at the bottom of this column.
Editor's Note: Get any rest-of-season NFL Premium Pass for 50% off. Our exclusive DFS Tools, Lineup Optimizer and Premium DFS Research through the Super Bowl.
Sign Up Now!
Nuggets from Week 9
The Bears nearly scored as many points against the Bills (41) as they've scored their last six games (46)
Aaron Rodgers threw for 6.02 yards per attempt against the Patriots, tying his lowest mark of the season
The Rams and Saints combined for 970 yards, 520 more than the Jets and Dolphins
The Browns defense has given up 30+ points three of the last four weeks
Survivor League Strategy
For those of you unfamiliar with survivor pools it's very simple; pick a team to win each week. If they win you move on to the next week. But you cannot use that team ever again. There is no point spread involved.
I will also be giving out my three top plays against the spread. I will italicize those three teams. It will look like this: Patriots -7 vs. Jets. The team I like in any given game against the spread will be first.
Before making any picks, look at the point spreads. Vegas has the best minds, smarter than any of us. Use them to get a glimpse at how each team is projected to fare that week.
Teams favored by more than seven in Week 10 per The Action Network app (home team in caps):
CHIEFS -16.5 vs. Cardinals
Chargers -10 @ RAIDERS
PACKERS -10 vs. Dolphins
RAMS -10 vs. Seahawks
JETS -7 vs. Bills
If you're reading this article on Thursday or later, these lines are from Wednesday. Check the current spreads and see how the line moved.
Teams on bye: Broncos, Ravens, Texans, Vikings
Top Survivor Picks for Week 10
In order of my favorite selections:
CHIEFS -16.5 vs. Cardinals
Chiefs will obviously win, but will they cover the spread? The Cardinals are fresh off a bye, but Josh Rosen will struggle immensely in raucous Arrowhead Stadium. The Chiefs average nine points per game in the first quarter, best in the league. The Cards are 23rd with 3.4. On a worse note, Arizona is 31st in yards per play. They will not be able to keep pace with the high-octane Chiefs.
Chiefs 38 - Cardinals 13
JETS -7 vs. Bills
The Jets definitely do not deserve to be touchdown-favorites over anyone in the league. But any team can cover any spread against the whoever is quarterbacking the Bills. But can the Jets offense get to 24 for them to cover? They've scored one touchdown their last two games and through their last three are dead last in yards per play. Not something good for a team laying seven. However, the Jets have already experienced a three-game losing streak (Weeks 2-4) and bounced back the following week at home with a 34-16 victory. With the other more-popular team in town, the football Giants on bye last week, the Jets have been getting ripped apart by the New York media. They've heard enough and will show up Sunday.
Jets 24 - Bills 10
PACKERS -10 vs. Dolphins
Aaron Rodgers is going to be very mad for this one. Two straight losses against top-five teams in games they should have won if not for boneheaded mistakes by running backs. Their defense gave the team a chance in both. Now the Packers defense gets to feast on Brock Osweiler.  The Dolphins offense is 20th in yards per play and the defense which had a day against the Jets, are still 26th in opponent yards per play. The defense will struggle to force punts as they are 26th in opponent third-down percentage. I think this Packers team plays like their season is on the line.
Packers 35 - Dolphins 17
Chargers -10 @ RAIDERS
How much worse can the Raiders be? They've lost four in a row by an average of 21 points. They've most recently lost by 31 points on national television and have an extra three days to prepare for one of the hottest teams in football. San Diego has only lost to the Chiefs and Rams. They are rolling. I think they'll win, but I hate taking the Chargers as favorites.
Chargers 34 - Raiders 26
Top Survivor Picks to Avoid
BENGALS +5 vs. Saints
Cincy's defense is 28th in opponent yards per play, last in opponent third-down percentage, and 23rd in opponent red zone touchdown percentage. It doesn't make any sense how they'll be able to stop the Saints offense who has scored 75 points the last two weeks. How in the world could the Bengals offense without A.J. Green keep up with the Saints? It really makes no sense that Cincy could hang with the Saints, but I'm taking the Bengals. The Saints are off two emotional victories and I think they'll overlook Cincy. This game is also outdoors and it will be cold. That's something a dome team like the Saints are not accustomed. Cincy will make this game ugly and control the clock.
Bengals 23 - Saints 21
TITANS +7 vs. Patriots
Seven points is a lot to lay to a team on the road with a really tough defense. Despite three first-quarter turnovers in their own territory Monday night, the Titans still held the Cowboys to 14 total points. Their defense is number one in opponent red zone touchdown scoring percentage, something that will keep them in the game. Tennessee can go on long clock-killing drives keeping Tom Brady and the offense off the field. Mike Vrabel is a Belichick disciple, something that should help the Titans.
Patriots 24 - Titans 20
The Rest 
STEELERS -3.5 vs. Panthers (Thursday night) - 
The line has come down in this game from an opening of Steelers by seven. The Panthers should be 0-3 on the road if the for a massive fourth-quarter comeback against the Eagles. Since 2013, the Steelers are 9-3 at home in prime-time.
Redskins +3 @ BUCS - The Redskins may have just lost two offensive linemen and a wide receiver for the season, but it won't matter Sunday. Washington will win because of their defensive line who rank 11th in sacks. That pressure will force Ryan Fitzpatrick into some picks. The Bucs defense is 31st in opponent yards per pay. Alex Smith will methodically pick them apart.
Falcons -5 @ BROWNS - All that early-season Browns hype has come to a crashing halt. The Falcons are trending up and need to win this game if they want to make the playoffs. I'm done buying the Browns.
COLTS -3 vs. Jaguars - Another game with two teams trending in opposite directions. Look at the quarterbacks in this one and that'll tell you all need to know.
Lions +6.5 @ BEARS - Detroit can't look any worse than they have the past two weeks, which is why they'll rebound. The NFL is a week-to-week league. The last six games between these teams in Chicago have been decided by six or fewer points.
RAMS -10 vs. Seahawks - How will the Rams respond after their first loss? Wade Phillips better fix up that defense fast because Russell Wilson will keep plays alive. But Seattle looked so bad last week and they may be only good against bad teams like the Lions.
EAGLES -6.5 vs. Cowboys - The Cowboys are so anemic at offense. It's kind of comical at this point to watch Jason Garrett continuously clap as they go run, run, short pass. If they get into third-and-long against this Eagles team, this game will be over in the first half. That's because Philly third in opponent third-down percentage. They also have a tremendous defensive line and the way to beat Philly is to throw against them. That's something Dak Prescott can't do. The Cowboys have a good defense, but this Philly offense is ready to roll after a bye.
49ers -3 vs. Giants - If you wager on this game, you have gambling problems. Nonetheless, the Niners should win. The Giants stink.
My Running Season Total
Best bet ATS record: 12-14-1
This week: Bengals +5, Redskins +3, Lions +7 (buying the half-point)
Last week: 2-1
Good luck RotoBallers, and I'll be back next week previewing Week 11.
More Weekly Lineup Prep