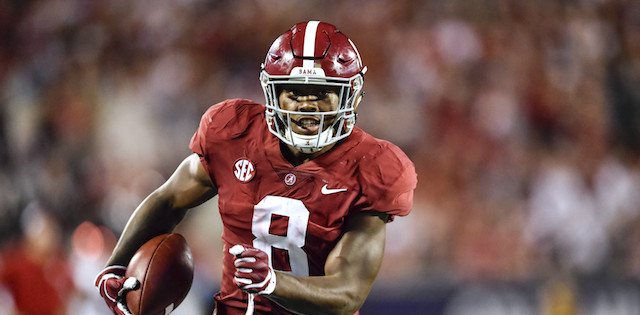 A pivotal debate in the fantasy football community over the last few years has been how the running back position is becoming devalued. That point has merit based solely on the fact of how well rookie running back classes have performed in recent memory.
Sure, high-profile names such as Ezekiel Elliott, Todd Gurley, and Saquon Barkley are players we all knew would be great assets. But it's been the under the radar rookies (Alvin Kamara, David Johnson, and Jordan Howard) that have come in and made the "Zero RB" draft strategy commonplace. Being on top of the lesser-known names and pouncing on them during the draft is what helps to propel you to a fantasy title.
Much of the same can be expected with this years running back class. You may not have that stud to go after in the first round like Barkley last year, but several of the players will be key contributors down the stretch in 2019. Who's on the top of the rankings? Let's take a look at my Top 10 of this year's incoming class.
Editor's Note: Get any rest-of-season NFL Premium Pass for 50% off. Our exclusive DFS Tools, Lineup Optimizer and Premium DFS Research through the Super Bowl.
Sign Up Now!
1. David Montgomery - Iowa State
Montgomery had a solid college career, improving as a runner in each season. His back to back seasons with double-digit touchdowns is an indicator on his nose for the goal-line. With 58 receptions over the last two seasons, Montgomery has the ability to have added value in PPR formats.
He is an intriguing prospect that has the speed/balance combination that is coveted in a lead back. His ability to bounce off of contact and make it to the second level of defense will lead to a high YAC. He can grind out the tough yards when needed but is also explosive enough to break off a big gain. Montgomery should be a first-round selection in the upcoming NFL Draft and will become fantasy relevant for years to come.
Fantasy Spin: He will be one of the first picks off the board in dynasty formats and should hold RB1 value by 2020 based on his landing spot. He could project out in a similar fashion to Devonta Freeman.
2. Darrell Henderson - Memphis
Coming off a year in which he put up video game-like numbers (1,909 rushing yards, 8.9 YPC, and 25 total touchdowns), Henderson could be a star in the making. The wide-open offense ran by Memphis allowed for him to showcase a skill set that will make him an early pick in the draft. He thrived in that system but is also able to adjust to any scheme.
He is a nasty runner that couples a power run mentality with an elusiveness that gets him to the second level and beyond quickly. Henderson has plus vision that will allow him to be patient behind bigger NFL offensive lineman before hitting an open hole. He will need to work on improving his receiving skills and pass protection to achieve a true workhorse back snap total.
Fantasy Spin: With other backs in this class being the more noticeable names, Henderson could slip in both seasonal drafts and dynasty. He will become an RB1 in this league in dynasty formats, but for the 2019 season, he still could return low-end RB2/high-end RB3 value.
3. Josh Jacobs - Alabama
Possibly the biggest wildcard in this year's draft class, Jacobs enters as a much talked about prospect. Coming off his best year at Alabama (640 rushing yards and 14 total TD), there is talk of him being the best back in this class. The fact he played sparingly in the Crimson Tide committee backfield means Jacobs will have a lot to prove in the pre-draft process.
A physical runner on the field, Jacobs combines his vision with excellent decision making in when to cut the ball upfield. He can get the ball upfield quickly but lacks that extra gear to get away from defenders. His ability as a pass catcher will garner him plenty of usage in passing situations early on. The only knock on Jacobs is his inability to stay healthy. He continually battled injuries during his time at Alabama.
Fantasy Spin: Depending on the amount of weight his name is carrying come draft time, Jacobs could be the first back off the board in rookie and seasonal drafts. But early on, I see him as a complementary back in the right system. The ceiling is high for him to return value early on, but I see him as an RB2 at best over the next couple of years.
4. Devin Singletary - Florida Atlantic
Every year we have a prospect from a lower level school jump into the class and make waves. Enter Devin Singletary. Coming off a highly productive college career (4,287 rushing yards and 67 total TDs) he has a chance to see his name rise up draft boards with a solid performance at the combine.
He uses his vision and elusiveness to create space for longer gains. He is the prototypical home-run hitter but rarely runs himself into mistakes for losses. He runs with purpose but lacks the game-changing speed that you would think he has based on his skill-set. He was also underutilized as a receiver in college but that is an aspect of his game that can separate him from others in this class.
Fantasy Spin: Singletary is a player that you will see up and down the first round draft board in rookie drafts. He has the skills to be another Kareem Hunt, but landing spot will mean everything to his fantasy value. In the right offense, and given a chance to be the main guy in a rushing attack, Singletary has immediate appeal. He could return RB3 value as early as this year but could settle in as an RB2 for years to come.
5. Benny Snell - Kentucky
Snell was as consistent as they come during his college career. He was a workhorse at Kentucky and his production over his time proves that (3,873 rushing yards and 48 TDs). He was the focal point of a power run offense and was rarely utilized as a receiver out of the backfield.
Snell just may be the purest runner in this class and excels as a traditional north-south pounder. He is a grinder that keeps the legs churning for extra yards on each run and is rarely caught behind the line. He lacks the speed that other backs in this class posses. He was also rarely used as a pass catcher in college, something that he will have to show at the combine to improve draft stock.
Fantasy Spin: I've been a fan of Snell for a couple of years and feel he will have a very solid career in the NFL. He should be a back that will be one of the early picks in rookie drafts and have value in standard formats. Unless he makes an immediate impact, which he has the talent to, Snell is destined to settle into a player used in a committee approach. Likely leaving him as a high-end RB3 in fantasy for a number of seasons.
6. Damien Harris - Alabama
Harris was considered by many to be the top running back in college headed into the 2018 season. But after a lackluster performance (876 yards and nine TDs) his draft stock has been affected. He was the head of the committee backfield and at times just did nothing to stand out.
Harris is a straight-forward runner that excels in short yardage situations. He is a volume back that requires reps to get into a rhythm but lacks a special trait to push him to the head of the class. His speed and elusiveness are below average and he will be non-present in passing down situations in the NFL. He is a system type of back and his landing spot will truly reveal his fantasy potential.
Fantasy Spin: To me, Harris is a second round pick in dynasty formats and worth a flier in seasonal drafts. He could likely be a player worth starting in bursts, but more often than not Harris will be a fantasy bench player.
7. Rodney Anderson - Oklahoma
If not for the early season injury, Anderson would likely be at the top of this class for me. He had an explosive sophomore season (1,181 rushing yards and 18 total TDs) and was on the way to an even better season through two games until he went down.
He has a rare combination of balance, power, and speed. He can excel in short-yardage work as well as have the elusiveness to bounce outside and break long runs. He also may develop into a dangerous weapon out of the backfield. Something we did not see in college. The ACL tear early in 2018 could cause for some teams to be hesistant, but will also allow some flexibility in where he will be drafted.
Fantasy Spin: Anderson is worth an early round selection in dynasty drafts, but you may not see your return in value until 2020. Much like Dalvin Cook, 2019 may be a season for Anderson to work back from the injury. But once completely healthy, Anderson could project out in a similar fashion to Melvin Gordon. High praise, sure, but the comp on the player makes sense.
8. Elijah Holyfield - Georgia
Holyfield saw an increase in workload during his junior season and proved that he could be the next great back out of Georgia. Much could be said that this speaks volumes for the offense and offensive line that Georgia has put together. But the times that Holyfield was on the field, he certainly looked the part of a contributor in the NFL.
Holyfield utilizes his patience and power to create chunks of yardage down the field. His vision and footwork allows him to take small creases in a defense and move to the second level easily. He is rarely brought down by first contact. The knock on him is the lack of a next gear in the open field as well as not being present in the passing game.
Fantasy Spin: He will be a late second round to early third round pick in rookie drafts but has all the tool to surpass his draft value. Has the ability to be another Sony Michel in the right offense. A player with above average rushing ability but will have little to no involvement in a passing game. Limiting his potential in PPR formats.
9. Trayveon Williams - Texas A&M
Williams turned in a highly productive junior season for the Aggies (1,760 rushing yards and 19 total TD). Besides his ability as a runner, he improved each season as a pass catcher as well. The progression he showed each year is intriguing as we head into the combine. A good showing there and he could find himself moving up draft boards.
Williams has great balance and speed that allows him to get up the field for big gains. He will find greater success in single-back sets that allow him to see a hole and go for it. He lacks creativity in his runs and if his first read is filled, he will be easily taken down. Does great work in pass protection and could find a job as a third-down back early on.
Fantasy Spin: A player that will be a mid-round round pick in rookie drafts. His lack of versatility will prevent him from being a true lead back in the NFL. Expect for him to be more of a factor in PPR formats than in standard leagues. He will mainly be a depth player on fantasy benches that could be useful in case of injuries in front of him.
10. Miles Sanders - Penn State
Miles Sanders had big shoes to fill after the departure of Saquon Barkley. But he filled them quite nicely with a solid junior season (1,274 rushing yards and nine TDs). Also increased his workload as a pass catcher as well (24 catches) which could improve his profile as we head into the combine. He will be a player to watch later this month to see where he stands with the other top runners in this class.
Sanders showed excellent body control and change of direction in his one year as the starting running back. He is most comfortable working behind pulling offensive linemen in an effort to create his yardage. His vision is lacking along with speed. So if the blocking up front gets muddied, he tends to run into trouble and lose yardage.
Fantasy Spin: He will be a player drafted in the mid to late rounds in rookie drafts. His fantasy value will depend solely on his landing spot in the NFL Draft. He's not likely to beat out competition for carries and could find himself in a similar situation to Jordan Wilkins. A player that has some skill but will not see the snap count to take advantage of.
More Dynasty League Strategy