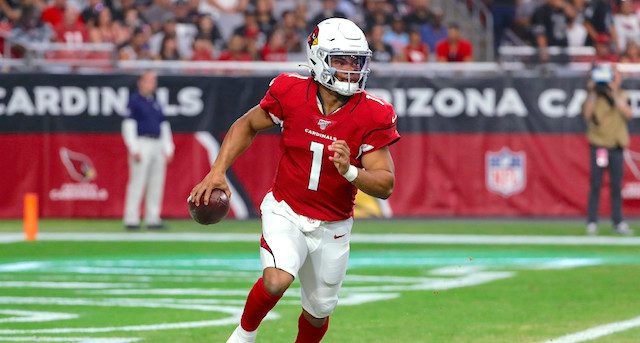 We will look at the Week 16 GPP DFS stacks for the "main slate" later in the week, but for those looking to play the entire 16-game slate, let's look at some of the potential DFS stacks from the Friday and Saturday games. I actually like these 16-game slates the best. It spreads out the distribution, making the ownership for each potential stack a little thinner than it might be in say a 12-game slate. It means less folks are going to jump on your fringe stacks. Of course, it also means the chalk will be less owned as well.
That brings us to the chalk options for these first four games. Tom Brady and his plethora of receiving options will be the chalkiest of chalk stacks. I would expect high ownership of that stack regardless of what size slate you are playing. And I am sure if Derek Carr can't play, Marcus Mariota and the Raiders will be a popular stack due to low cost alone.
After eliminating the chalk, that leaves us with six options from which to choose. Before I do that however I do want to wish all of you Happy Holidays. I hope that your mythological gift-giver of choice brings you all that you wish--unless you are shallow enough to wish to win a takedown of a GPP that I am also entered. In that case, you can kiss my jingle bells. However, for those pure of heart and looking for a little help this football weekend, here are my top three picks for the Friday and Saturday week 16 GPP stacks recommendations.
The Contrarian Stack
New Orleans Saints
I'm not going to shy away from it, Brees looks like his injuries are still bothering him. Has he finally lost it? Maybe. But am I willing to take a chance on a player who due to missing a few games is just barely off the pace of his 16th 3K-yard season? I think so. As poor as Brees looked last week, he still threw for 234 yards and three touchdowns. If that's "rusty" and the floor, I'll gladly take that, especially at his prices.
Only six teams have given up more passing touchdowns than Minnesota. Vikings are also giving up the eight most yards per pass attempt. Some of that might be because the Vikes are having trouble getting to the quarterback. They have only 22 sacks, the seventh-lowest in the league. Yes, Brees will be without Michael Thomas again, but it's not like Thomas has been a TD threat this year. Brees also plays better in the Superdome and I remind you that New Orleans hosts the game. And don't even start with me about the Vikings being the Saints kryptonite narrative and something always going wrong. If that's the reason you are not playing Brees, you're dumber than you look.
The bigger concern with Brees is the lack of weapons. But Brees has a tendency to spread things around to various targets. And therefore any WR is a bit of a dice throw. I wouldn't even think about playing him in a cash game entry, but I am definitely liking the upside of Marquez Callaway this week. Callaway is a big-bodied WR at 6'2 and over 200 pounds, but he also surprised many with his 4.56 speed in the 40 at the Combine.
QUEZ ???

?: Feb 27-Mar 1 LIVE on @nflnetwork #NFLCombine // #PoweredByTheT pic.twitter.com/tIjhyE1yam

— Tennessee Football (@Vol_Football) February 28, 2020
His route-running is a little suspect, but a big, fast WR with good hands? Yeah, I think Brees might look his way a few times this game. It's not like he hasn't before. In week 7, Brees fired the ball his way ten times and Callaway caught eight of those passes for 75 yards. Callaway is a bit of punt play, but he's my bold call for this week.
As I said, Brees tends to spread the ball around, so I'm not really loving any one particular receiving option other than the cheap Callaway option. What I do like about this stack however is the ability to go with a Viking pass-catcher as a runback. If you want to go cheap, I do like the option of Irv Smith. However, with the money saved on Callaway, I will spend up and grab either Adam Thielen or Justin Jefferson. Or both. I don't think you need me to go into detail on why either of those is worth starting.
The "Better Than You Think It Is" Stack
San Francisco 49ers 
If you don't like the idea of stacking a 41-years-old QB and a WR with all of four games with a catch, you might want something a little more traditional. I offer you the 49ers stack.
Wait, wait! Come back! Hear me out here first. We know that the Cardinals Defense has an issue with quarterbacks who can run. Exhibit 1A is Jalen Hurts who absolutely carved them up last week. When Russell Wilson visited the Cardinals, he tore them up for 84 rushing yards and 388 passing yards. Even Teddy Bridgewater ran for a touchdown and threw a couple more scores on 276 yards passing. And one thing that C.J. Beathard brings to the table is his scrambling ability. He played his highest of seven games in a season back in 2017 and scored holding onto the ball three times that season. He also averaged 5.2 yards per carry that season.
Beathard is a respectable passer though also, currently sporting a 99.5 QB rating. That's better than the aforementioned Bridgewater, but for comparison purposes, it's better than Justin Herbert and Tom Brady as well. At Beathard's super-saver price, he should be able to do enough to carve out a profit, especially against the Cardinals who are middle-of-the-pack in giving up fantasy points to opposing QBs. The Cardinals are fourth in sacks, but if Beathard can avoid the rush, which I think he can, he should be able to find enough 49er playmakers to make him worth the investment.
And one of those playmakers of course is Brandon Aiyuk. In Aiyuk's last six games he has seen 19 PPR fantasy points or more. Some of that is because he's seen double-digit targets in four of his last five games, but that's simply another reason to start him this week. Regardless of who lines up behind center, the 49ers will be looking to get Aiyuk involved. He is a legitimate WR1...
Brandon Aiyuk now has either 100 yards receiving or a TD in 7 straight games. That's what WR1s do. #49ers

— Coach Yac ? (@Coach_Yac) December 20, 2020
He's averaging 12.4 yards per catch which is surprisingly more than both Stefon Diggs and Davante Adams, two other WR1s.  Either way, I'd get Aiyuk into your lineup.
If for some reason George Kittle plays this week, he is an absolute must for your lineup as well. However, I doubt he is playing but Jordan Reed is having a better season than you think after missing all of last year. Reed has four touchdowns this season, include a pair in two of his last three games. The knock on Reed has never been his talent, it's always been that he can't stay healthy. Well, he's healthy coming into this game. And with the 49ers having an implied total of over 21 points, I would not be surprised to see Reed score again this week.
Not feeling either of these two GPP stacks? I saved the best for last.
The "Please Let Those Little Red Numbers Sway Others" Stack
Arizona Cardinals
One of the first things that immediately jumped out at me when I took a peek at this slate was the little red "2" prominently listed under opposing rank next to Kyle Murray's name. I hope people see that and run the other way. Because the 49ers are a good passing defense, but they are not great. They are still within the top ten of giving up the fewest fantasy points to quarterbacks this year, but they've also given up 20 or more fantasy points to quarterbacks two of the last three weeks. The 49ers are nothing to fear and we will talk more about that in the WR section, but I'm firing up Kyler Murray.
Murray's price is a little deflated due to his recent stretch of battling a shoulder injury. Forget any stats, Murray wasn't passing the eye test, but we could see him looking a little better each of the last few weeks. And I'm willing to say that he is fully recovered after completing 27 of 36 attempts for 400+ yards and three touchdowns last week. And that's in addition to the touchdown he ran in himself. Which is even if Murray's shoulder is still not 100%, I have full confidence in Murray providing fantasy points with his legs. Cam Newton was the only QB to have double-digit rushing touchdowns and at least 25 passing TDs in a season. Murray has now joined him on that list. I'd happily start Murray.
If you're starting Murray, you absolutely have to pair him with DeAndre Hopkins. I know he's the most expensive player on the slate, but he's well worth the cost. He caught nine of 11 targets last week for 169 yards and touchdowns. Just another day at the office for Hopkins! That is now his seventh game with double-digit targets. Given that he has one of the highest market share of the targets on his team than nearly any wideout on this slate, I'd bet on him making that eight games with double-digit targets. He's currently the fourth-best PPR fantasy WR in football. I would not fade him.
Because not only is Hopkins one of the better players, but his match-up is nothing to avoid. The 49ers are giving up a good but not great 13th fewest fantasy points to WRs this season. And they've had the luxury of playing all four teams in the mighty NFC East this year plus the not winless New York Jets. Furthermore, the 49ers secondary has really struggled this year against big receivers like Hopkins. DK Metcalf torched the 49ers for a dozen catches 161 yards and two touchdowns. Or recall that in the Cards' first game against the 49ers a few months ago he burned them for 14 receptions for 151 yards. The bigger question is not whether or not you should play Hopkins but who should the third piece be?
Given the high cost of Hopkins and Murray, I'm going with the value play of Dan Arnold as my third piece. Over the last three weeks, Arnold has been the sixth most productive fantasy TE. Some of that is TD-driven as he has three touchdowns over the last three weeks. He didn't score last week but still saw a season-high five targets last week. There is obviously some risk with Arnold, but with at least five or six TEs priced higher than Arnold, it's a low-cost risk with huge upside, i.e. a perfect GPP pick.
Download Our Free News & Alerts Mobile App
Like what you see? Download our updated fantasy football app for
iPhone
and
Android
with 24x7 player news, injury alerts, rankings, starts/sits & more. All free!
Win Big With RotoBaller
Be sure to also check out all of our other daily
fantasy football articles
and analysis to help you set those winning lineups, including this new RotoBaller YouTube video:
More Weekly DFS Analysis