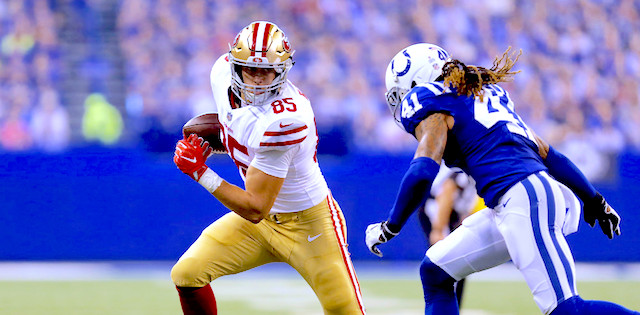 We've reached Championship Sunday of the NFL season, and our friends at Monkey Knife Fight are offering some of the coolest, and easiest to win, NFL DFS games in the industry.
On MKF, there are no massive tournaments where you have to get ridiculously lucky just to cash. You're just playing against the house, and the dudes at MKF have fallen all over themselves to give you really attractive opportunities to make some money.
As always, there are some solid props we can look to take advantage of in each of the two championship games this weekend.
Editor's Note: Here's a great special offer for all RotoBaller readers from our Monkey Knife Fight friends: New AND Existing Player Bonus. All players receive a 100% matched signup or reload bonus up to $50 with code 'RBNFL19'. Sign up and deposit, and use our prop picks to get off on a winning foot! 
Titans @ Chiefs
Touchdown Dance Contest
Recommended Prop Pick: Derrick Henry, Damien Williams, and Travis Kelce over 2.5 touchdowns.
This game has a projected total of 53, which means there will be plenty of scoring. The key to this prop is figuring out where that scoring will come from. I think each of these three players will have opportunities to score at least once in this game.
The Chiefs have been abysmal vs. the running back position this season. On the whole, they have allowed the eighth-most rushing yards to backs while also allowing 10 rushing touchdowns and five receiving touchdowns. Derrick Henry has been an absolute monster this season and in the playoffs thus far. He has rushed for over 1,900 yards and 17 touchdowns between the regular season and playoffs. He is what currently drives this Titans' offense as exemplified by his 64 carries over the previous two games.
The Chiefs are favored by seven in this game, so there is reason to believe there will be the opportunity for them to run the ball with Damien Williams. He averaged over 4.5 yards per carry on the season and this Titans Defense has allowed right at four yards per carry. Last week vs. Houston, Williams was given 12 carries, which he turned in to 47 rushing yards and two scores. He also hauled in two receptions for 21 yards and added in another score. He should get plenty of opportunities Sunday and it would be difficult to trust any other player in this prop except for Travis Kelce.
Kelce was an absolute machine last week when he hauled in 10 receptions for 134 yards and three touchdowns. He has been a favorite of Mahomes all season as he reeled in 97 catches for over 1,200 yards. Tennessee has also struggled vs. tight ends this season as they have allowed the seventh-most yards (916) and the third-most touchdowns (9) to the position. Kelce was listed as a limited participant at Wednesday's practice due to a knee injury but is expected to play. In any event, it is worth keeping an eye on his status leading up to kickoff.
Play the Touchdown Dance Contest Now on Monkey Knife Fight
Rapid Fire Contest
Recommended Prop Pick: Ryan Tannehill (+110.5 passing yards) vs. Patrick Mahomes and Travis Kelce (-2.5 receiving yards) vs. Tyreek Hill
The first of these two props comes down to the number, essentially. Giving Tannehill a 110.5 passing yard advantage to start is just too many yards to pass up. Mahomes is going to get his yards vs. a Titans pass defense that gave up the seventh-most passing yards to quarterbacks on the season, but Tannehill is going to have to throw in this game to keep up. Kansas City is favored by seven, and while they do have a bad run defense (allowed fifth-most rushing yards to backs), they can score quickly and force Tannehill and the Titans's hand.
As mentioned above, Kelce has been rock-solid for Mahomes and the Chiefs in 2019. He has had 11 games of 70 receiving yards or more and I would expect another one this week vs. a Titans Defense that has not been able to stop tight ends. Again, they have allowed an average of 57.25 yards per game to the position, which ranks seventh-worst in the league. Kelce should have a field day and giving up 2.5 yards to Hill seems to be the right decision. Last week, Hill faced a putrid Texans pass defense and only managed three receptions for 41 yards. The key here will be avoiding the big pass play to Hill, which he is more than capable of, but after his last game vs the Titans, I would expect them to key in on him a bit more.
Play the Rapid Fire Contest Now on Monkey Knife Fight
Packers @ 49ers
More or Less Contest
Recommended Prop Pick: George Kittle less than 6.5 receptions and Aaron Jones less than 65.5 rushing yards
The total in this game is 45 and features two pretty solid defenses, especially the 49ers Defense.
George Kittle has his total set at 6.5, which is plausible, but he is currently missing practice with an ankle injury and could very well be limited on Sunday. This coupled with the fact that Kittle has only had four games on the season with more than 6.5 receptions makes this a solid play. Green Bay has given up some production to tight ends by allowing the 12th-most receptions to the position with 77, but they aren't bad enough to make me want to hit the over here.
The 49ers have been stout against the run and pass this season. They have only allowed 1,309 rushing yards to running backs, which averages out to 81 yards per game. Last week, Dalvin Cook only managed to rush nine times for 18 yards against this defense. They are also favored by seven points, which means Green Bay will likely need to be throwing the ball more. Add in the fact that Jones has only run for over this total seven times on the season, and the under looks really solid here.
Play the More or Less Contest Now on Monkey Knife Fight
More Fantasy Football Analysis