The NBA season is winding down, but that still makes for some interesting match-ups when it comes to prop plays on Monkey Knife Fight.
Their teams might be out of the playoff picture, but Dennis Smith Jr. and the Knicks, Luka Doncic and the Mavericks and Devin Booker of the Phoenix Suns are a few areas that might warrant consideration Monday night.
But there are also more competitive games on the schedule, too. In the Eastern Conference a game-and-a-half separates the Detroit Pistons, Brooklyn Nets, Miami Heat and Orlando Magic. Three of those four teams can make the playoffs, but one will be left out.
So, use that information to your advantage when making your prop plays. If the team isn't at peak motivation at this point of the year, maybe the individual will be.
Here are some angles to consider before tip-off tonight.
Editor's Note: Our friends at Monkey Knife Fight have released the best, most fun, fastest growing DFS props game! It's super simple to play and win real money. Just choose your NBA, NHL, MLB or PGA game, and make your picks! Get a 100% instant deposit bonus up to $50 using promo code: BALLER. That's $50 for free - don't miss out!
DETROIT-INDIANA
OVER/UNDERS
Andre Drummond UNDER 19.5 POINTS – In his past 11 road games, Drummond has been held to 19 or fewer points in nine games. He had more games when he grabbed 20 or more rebounds!
Myles Turner UNDRE 1.5 THREES – Indiana's big man has improved his shooting range but has one or fewer three-pointers in seven of his past eight home games.
ORLANDO-TORONTO
OVER/UNDERS
Pascal Siakam OVER 16.5 POINTS – The Raptors' rising star has scored at least 17 points in 11 of his past 16 home contests, scoring at least 23 points in four of his past five games overall.
Nikola Vucevic UNDER 12.5 REBOUNDS – While he's one of the league's best double-double threats, Vucevic has been held to 12 rebounds or less in seven of his past 10 road games.
MILWAUKEE-BROOKLYN
OVER/UNDERS
D'Angelo Russell OVER 2.5 THREES – Although Russell is averaging 2.3 three-pointers per game this season, he was close to three per game in March. He's elevating his game as the season progresses and is a good play for the over here.
MIAMI-BOSTON
RAPID FIRE
Dion Waiters -0.5 three-pointers vs. Kelly Olynyk – Not only is Waiters averaging 2.3 three-pointers per game, compared to Olynyk's 1.45 threes per game but, in the past three games, Waiters has hit 14 three-pointers and Olynyk has zero.
CHICAGO-NEW YORK
RAPID FIRE
Dennis Smith Jr. -3.5 assists vs. Robin Lopez – This isn't as automatic as it might seem, as Smith Jr. has one assist in each of his past two games, but he he's averaging 5.5 assists per game since he joined the Knicks and Lopez has managed just 1.0 assists per game on the road this season.
PORTLAND-MINNESOTA
OVER/UNDERS
Karl-Anthony Towns OVER 12.5 REBOUNDS – Held to just seven rebounds last game, that ended a six-game streak of home games in which Towns grabbed at least 13 rebounds.
RAPID FIRE
Andrew Wiggins +0.5 rebounds vs. Dario Saric – This is much a reflection of role, as Wiggins consistently plays 35-plus minutes per game (34:44 is his lowest in the past six), whereas Saric has averaged fewer than 24 minutes per game in the past 15. That puts their rebounding averages pretty close; close enough to take the underdog plus a half rebound.
PHILADELPHIA-DALLAS
OVER/UNDERS
Luka Doncic UNDER 23.5 POINTS – Not only is the Mavericks' star rookie dealing with a thigh injury, but in his past 10 road games, he has scored 23 or fewer points five times. But three of the games that went over were just barely over the edge, at 24 points.
J.J. Redick OVER 2.5 THREES – The veteran Sixers shooter is averaging 3.1 three-pointers per game and has recorded at least three three-pointers in six straight home games.
CHARLOTTE-UTAH
RAPID FIRE
Donovan Mitchell -0.5 points vs. Kemba Walker – Although Walker has a higher scoring average than Mitchell (25.0 ppg to 23.4 ppg) on the season, Kemba has been held to 15 points or fewer in three of his past four road games.
CLEVELAND-PHOENIX
OVER/UNDERS
Devin Booker OVER 33.5 POINTS – That's a huge number, but Booker has scored 59, 50, and 48 points in the past three games. The Cavs aren't great opposition and if Booker is getting 30 shots from the field, like he has been recently, then he'll go over.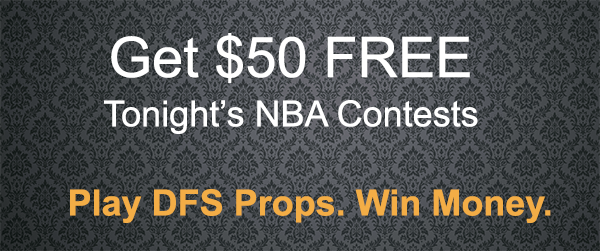 More Fantasy Basketball Analysis