Tuesday brings a supersized MLB schedule, with 16 games on tap thanks to a Baltimore-Tampa Bay double-header. With so many games on the docket, there are many different angles to consider.
One is that there has probably been some over-correction on the performance of strong players. Five months into the season, a pitcher who has been racking up huge strikeout numbers is more likely to get a loftier total when it comes to over/unders now. That player can still be great without being an automatic pick for the over.
Another is that the month of September can offer expanded opportunities for young players, particularly on teams that aren't in a playoff race. The stats accumulated during these late-season auditions still count.
In any case here are some angles to consider for today's busy baseball schedule on Monkey Knife Fight.
Editor's Note: Our friends at Monkey Knife Fight have released the best, most fun, fastest growing DFS props game! It's super simple to play and win real money. Just choose your MLB, NBA, NHL or PGA game, and make your picks! Get a 100% instant deposit bonus up to $50 using promo code: BALLER. That's $50 for free - don't miss out!
BALTIMORE-TAMPA BAY
OVER/UNDERS
Avisail Garcia UNDER 1.5 TOTAL BASES – While Garcia has had a solid enough season for the Rays, he's not a consistent on-base threat. He does have a .358 on-base percentage at home, which is good, and goes against a poor Orioles team, but he's also managed to reach base multiple times in eight of his past 25 games.
TEXAS-N.Y. YANKEES
OVER/UNDERS
James Paxton UNDER 7.5 STRIKEOUTS – Although the Rangers have the highest road strikeout rate (27.8%) in baseball, Paxton has seven or fewer strikeouts in six of his past seven starts and is averaging 6.0 strikeouts per home start, so needing him to pick up eight is a tall order.
PHILADELPHIA-CINCINNATI
RAPID FIRE
Aristedes Aquino -0.5 runs + RBI vs. Josh VanMeter – A pair of Reds rookies in this head-to-head matchup, and while VanMeter has been a nice addition to the Cincinnati lineup, he's not in the same class as Aquino, who has recorded .536 runs plus RBI per home plate appearance since arriving in the major leagues, a rate that is nearly double that of VanMeter thus far.
MIAMI-PITTSBURGH
OVER/UNDERS
Isan Diaz UNDER 1.5 HITS + WALKS – The Marlins rookie infielder has yet to show that he can handle major league pitching. In 43 plate appearances on the road since getting promoted, Diaz has a .116 on-base percentage so it's unreasonable to count on him reaching twice against the Pirates in Pittsburgh.
N.Y. METS-WASHINGTON
RAPID FIRE
Max Scherzer -0.5 strikeouts vs. Jacob deGrom – In two starts since returning from the injured list, Scherzer has yet to get through five innings, but he did strike out eight in his last start and is averaging 8.9 strikeouts per home start. deGrom is averaging 7.9 strikeouts per road start and the Nationals have the second lowest strikeout rate in the National League (20.3%).
MINNESOTA-BOSTON
OVER/UNDERS
J.D. Martinez +0.5 total bases vs. C.J. Cron – The Red Sox designated hitter has been slugging .565 at home this season but is heating up, with a .837 slugging percentage over the past four weeks. Cron is slugging .544 on the road, but that's not enough to prefer him head-to-head against Martinez, let alone enough to give up a half base as the favorite.
CHICAGO WHITE SOX-CLEVELAND
OVER/UNDERS
Mike Clevinger OVER 9.5 STRIKEOUTS – This is a huge number to try to cover and Clevinger has recorded double digit strikeouts in three of seven home games. Against a White Sox team that has a high road strikeout rate (25.5%), Clevinger should still have an opportunity to put up big numbers.
TORONTO-ATLANTA
OVER/UNDERS
Bo Bichette OVER 1.5 TOTAL BASES – The Blue Jays star rookie has a ridiculous .784 slugging percentage on the road early in his career. Braves starter Mike Foltynewicz has been hit harder at home, too, with a .550 slugging percentage against, compared to .489 on the road.
HOUSTON-MILWAUKEE
OVER/UNDERS
Zack Greinke UNDER 6.5 STRIKEOUTS – Even though the Brewers have the second highest home strikeout rate (24.6%) in the National League, Greinke has recorded seven or more strikeouts once in five starts since joining the Astros.
SAN FRANCISCO-ST. LOUIS
OVER/UNDERS
Jack Flaherty UNDER 7.5 STRIKEOUTS – As good as Flaherty has been for the Cardinals this season, he's averaging 6.1 strikeouts per road start and has recorded at least eight strikeouts once in his past seven road starts.
SEATTLE-CHICAGO CUBS
OVER/UNDERS
Jon Lester OVER 5.5 STRIKEOUTS – As inconsistent as Lester has been in the second half of the season, he had gone seven straight home starts with at least six strikeouts prior to his last home start against Washington.
DETROIT-KANSAS CITY
OVER/UNDERS
Ronny Rodriguez OVER 1.5 TOTAL BASES – Getting regular playing time for the Tigers with Niko Goodrum out of the lineup, Rodriguez has a respectable .460 slugging percentage at home this season but has been especially effective against left-handed starters, slugging .672 in 64 plate appearances.
SAN DIEGO-ARIZONA
OVER/UNDERS
Josh Naylor OVER 1.5 TOTAL BASES – This is a nod towards the Padres rookie's late-season improvement – he's slugging .532 over the past four weeks, better than his splits against right-handed starters (.422) or on the road (.417).
L.A. ANGELS-OAKLAND
RAPID FIRE
Matt Chapman +0.5 total bases vs. Mike Trout – It's not the path to riches to pick against Trout, but Chapman is slugging .602 at home, which is close enough to Trout's road slugging percentage (.630) to prefer the underdog plus a half base.
COLORADO-LOS ANGELES
OVER/UNDERS
Clay Bellinger OVER 1.5 TOTAL BASES – The Dodgers star is slugging .668 against right-handed starters and .679 at home, so he's already a good pick in this category before even considering that the Rockies are putting Chi Chi Gonzalez, who has a 6.92 ERA and 1.62 WHIP on the road, on the mound.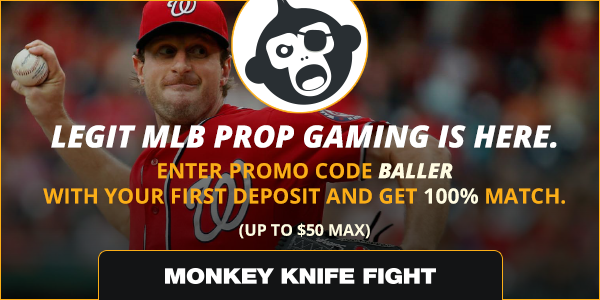 More 2019 Fantasy Baseball Advice