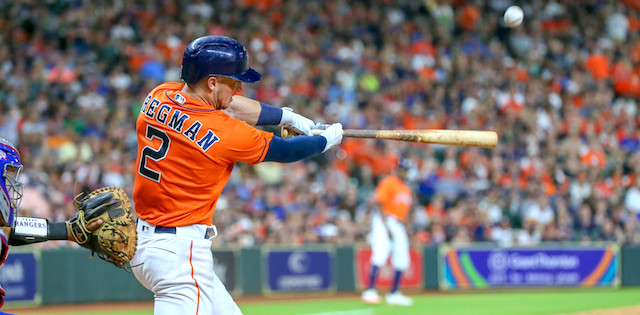 Friday brings a full Major League Baseball schedule and the best place to spot value may be in the Star Shootout contests, where the biggest names are in play.
Mike Trout shows up there every day, of course. Alex Bregman is a star with a favorable matchup in Baltimore tonight. Bryce Harper has a tougher assignment in San Francisco.
Then there are the pitchers. Stephen Strasburg and Trevor Bauer are left with difficult strikeout numbers to clear. Walker Buehler and Shane Bieber might have better opportunities.
Take a look at some of the picks below and consider them when making your MLB prop picks on Monkey Knife Fight for Friday's action.
Editor's Note: Our friends at Monkey Knife Fight have released the best, most fun, fastest growing DFS props game! It's super simple to play and win real money. Just choose your MLB, NBA, NHL or PGA game, and make your picks! Get a 100% instant deposit bonus up to $50 using promo code: BALLER. That's $50 for free - don't miss out!
STAR SHOOTOUT - MAIN
OVER/UNDERS
Trevor Bauer UNDER 7.5 STRIKEOUTS – While Bauer has the potential to be overpowering, and the Cubs have a higher-than-average road strikeout rate (24.4%), but his past couple of starts – including his first with the Reds – have been underwhelming and he has at least eight strikeouts in six of 12 home starts this season.
Stephen Strasburg UNDER 7.5 STRIKEOUTS – The red-hot Mets provide formidable opposition for Strasburg, who isn't as dominant on the road, averaging 7.25 strikeouts per road start and he has been held to seven or fewer strikeouts in seven of his past eight road starts.
Alex Bregman OVER 1.5 RUNS + RBI – This calculation is a little bit interesting because Bregman is a very productive hitter going against a bad Orioles team that is starting Dylan Bundy. Against right-handed starters, Bregman produces .338 runs plus RBI per plate appearance, and .346 runs plus RBI per plate appearance on the road. The argument, essentially, is whether he will get to the plate four or five times. If it's just four, then he will need to exceed his average performance to hit the over but, if he gets five plate appearances, he should be more likely to go over. Add in the fact that Bundy has a 5.89 ERA in 11 home starts and it's reasonable to think that Bregman will get his against the Orioles.
RAPID FIRE
Mike Trout -0.5 total bases vs. Christian Yelich – Feeling adventurous? Like, picking against Mike Trout kind of adventurous? Yelich is nursing a back injury that has kept him out for a couple of days but is slugging .831 at home, which is really hard to pick against, but that injury lingers. Trout has a .662 slugging percentage on the road and that difference isn't a massive gap, but enough to worry about Yelich's injury and go with Trout.
Mike Trout -0.5 hits + walks vs. Aaron Judge – Everything is relative when getting into the head-to-head matchups on Rapid Fire. Maybe Yelich is the better side to take for total bases against Trout but Trout can be the better side to take when it comes to getting on base compared to Aaron Judge. Trout's road on-base percentage is .442 while Judge's road on-base percentage is .356, a big enough gap to prefer the Angels' superstar.
Shane Bieber +0.5 strikeouts vs. Chris Archer – Both pitchers face teams that are better-than-average when it comes to striking out. Bieber, who is striking out 8.1 per road start, faces the Twins in Minnesota, while Archer, who is averaging 6.8 strikeouts per road start, goes up against the Cardinals in St. Louis. Considering that Archer is rocking a 7.14 ERA on the road, there is also more risk that he won't be able to get deep into the game, so getting Bieber as the underdog in this matchup appears to be a gift.
STAR SHOOTOUT - LATE
OVER/UNDERS
Bryce Harper UNDER 1.5 HITS + WALKS – Harper is nothing special on the road, with a .344 on-base percentage. It's fine, but nothing to get excited about. He goes up against Giants rookie starter Tyler Beede who has been decent at home, allowing a .327 on-base percentage on his way to a 3.81 ERA and 1.39 WHIP in 26 innings at Oracle Park.
RAPID FIRE
Walker Buehler -0.5 strikeouts vs. Robbie Ray – As good as Ray is, and he's averaging 7.1 strikeouts per road start, he's not in Buehler's class. The Dodgers ace is averaging 8.6 strikeouts per home start and, since the Dodgers and Diamondbacks are playing in Los Angeles, Buehler gets the head-to-head benefit of having a Dodgers lineup that is more difficult to strike out.
Trevor Story +0.5 total bases vs. Nelson Cruz – Without context, Cruz would be a massive favorite. He's slugging .636 at home, compared to Story slugging .467 away from Coors Field. But Cruz is also facing Cleveland Indians starter Shane Bieber, who is more of a difference-maker than Cal Quantrill, the Padres rookie who Story will face. Then there is the matter of Cruz dealing with a wrist injury and that might be enough to swing the edge towards the underdog, Story.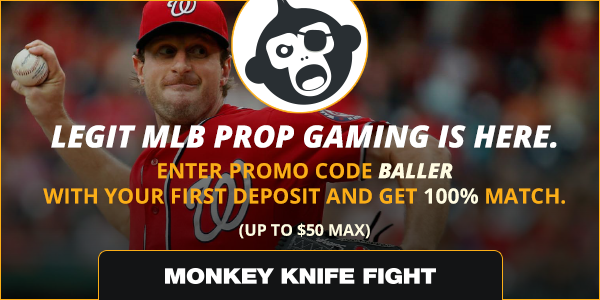 More 2019 Fantasy Baseball Advice