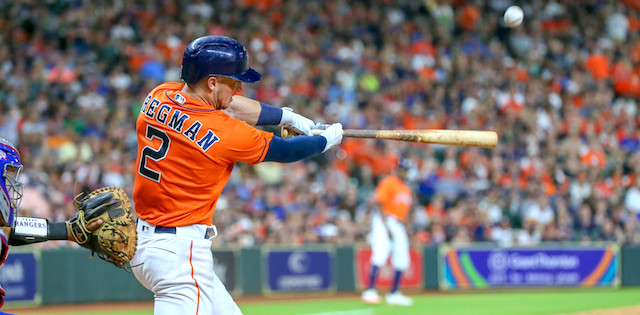 As the rest of Major League Baseball turns towards deeper bullpens, the Houston Astros added another ace for their starting rotation.
They already had traded for Justin Verlander and Gerrit Cole in recent seasons and signed Wade Miley as a free agent in the offseason but, with the MLB Trade Deadline looming, the Astros dealt for Zack Greinke from Arizona and Aaron Sanchez from Toronto.
Sanchez is a reclamation project, and contributed to a no-hitter in his Astros debut, but Greinke is a 35-year-old who is still delivering the results of an ace starter. His 2.90 ERA and 0.95 WHIP through 23 starts this year would be his best since the 2015 season. That he's effectively the Astros' third starter now makes it clear that Houston is playing a different game than most of the other contenders.
Greinke makes his debut for Houston tonight and here are some Star Shootout angles to consider for Tuesday's props on Monkey Knife Fight.
Editor's Note: Our friends at Monkey Knife Fight have released the best, most fun, fastest growing DFS props game! It's super simple to play and win real money. Just choose your MLB, NBA, NHL or PGA game, and make your picks! Get a 100% instant deposit bonus up to $50 using promo code: BALLER. That's $50 for free - don't miss out!
STAR SHOOTOUT
OVER/UNDERS
Zack Wheeler UNDER 7.5 STRIKEOUTS – The Mets are surging and the Marlins are, well, the Marlins, but as good as Wheeler has been, he's averaging 10.1 K/9 and 7.0 strikeouts per home start. Tonight's opponent, the Marlins, aren't great, but their road strikeout rate (24.4%) is a little below average, not enough to take Wheeler for at least eight strikeouts, a threshold he has hit once in his past nine starts.
Zack Greinke OVER 6.5 STRIKEOUTS – Houston's latest ace starting pitcher that has been added to the rotation doesn't typically rack up huge strikeout numbers, recording at least seven strikeouts in four of his past 14 starts, but the Rockies have the highest strikeout rate (27.6%) in the National League and since the road Rockies are more vulnerable, this could make for a big first start for Greinke with his new team.
George Springer UNDER 1.5 RUNS + RBI – As productive as the Astros' leadoff hitter has been, he's also managed five runs and one RBI in his past six games. Maybe catch him on a bit of a downturn here.
Mike Trout OVER 1.5 TOTAL BASES – It's always worth a look for the best player on the planet and Trout is slugging .695 against right-handed starting pitchers and .660 on the road. A date with the Cincinnati Reds and starting pitcher Anthony DeSclafani doesn't do enough to limit Trout's potential.
Alex Bregman UNDER 1.5 HITS + WALKS – One of the best third basemen in the game, Bregman has a .410 on-base percentage against right-handed starters and .392 on-base percentage at home, both of which are great, but it's still tough to bank on his reaching base twice against the Rockies. Colorado's starting pitcher, German Marquez, is also a beast on the road, allowing a .241 on-base percentage away from Coors.
RAPID FIRE
Zack Greinke +1.5 strikeouts vs. Zack Wheeler – The arguments are essentially the same as the points made for Wheeler under and Greinke over. Getting an extra strikeout-and-a-half for Greinke does tilt this in his direction.
Jose Altuve +0.5 hits + walks vs. Joey Votto – While Votto isn't performing to his typical standards this year, his .386 on-base percentage at home is still solid, and he does benefit from Altuve facing Rockies starting pitcher German Marquez, but not by enough to grant Votto the advantage required to cover this spread as a favorite.
Jose Berrios -0.5 strikeouts vs. Anthony DeSclafani – Minnesota's Berrios is averaging 6.5 strikeouts per home start and does have a difficult matchup against the Atlanta Braves, but it's still better to take him than DeSclafani, who is averaging 5.9 strikeouts per home start and goes up against the Angels, who have the second-best road strikeout rate (18.4%) in baseball.
Christian Yelich -0.5 total bases vs. Danny Santana – Bring just about anyone you'd like and it's still easy to side with Yelich at home, where he's slugging .831. Santana is having a nice year for the Rangers but is slugging .471 on the road, so he's a massive underdog.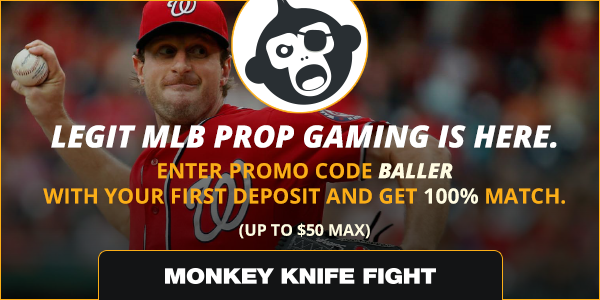 More 2019 Fantasy Baseball Advice