The Star Shootout on Monkey Knife Fight offers many compelling matchups, and it even includes two of the hottest players in the game including Ronald Acuna Jr. and Aristides Aquino going head to head!
One note of caution though is that even stars that have been very productive this season aren't automatically going to provide value. The thresholds for overs continue to rise based on performance and, at some point, that forces the judgement to swing towards more unders. It's leaning in this direction tonight for a couple of aces, like Houston's Justin Verlander and Cincinnati's Luis Castillo.
Here are some more angles to consider when making your MLB prop picks for Friday on Monkey Knife Fight.
Editor's Note: Our friends at Monkey Knife Fight have released the best, most fun, fastest growing DFS props game! It's super simple to play and win real money. Just choose your MLB, NBA, NHL or PGA game, and make your picks! Get a 100% instant deposit bonus up to $50 using promo code: BALLER. That's $50 for free - don't miss out!
STAR SHOOTOUT - MAIN
OVER/UNDERS
Charlie Morton OVER 8.5 STRIKEOUTS – The Rays ace has been dominant at home, averaging 12.5 K/9 and 8.6 strikeouts per home start, recording at least nine strikeouts in each of his past five home starts, and is going up against a Tigers lineup that is among the worst in the American League with a 26.3% strikeout rate.
Luis Castillo UNDER 7.5 STRIKEOUTS – Although it has been a strong season for Castillo, that's not an easy number to cover and he's recorded seven or fewer strikeouts in eight of 15 home starts, and that includes striking out four Cardinals in Cincinnati last month.
Juan Soto 1.5 HITS + WALKS – The Nationals star outfielder has a .416 on-base percentage at home and going against Brewers starter Adrian Houser is enough reason to like Soto for multiple times on base tonight.
Ronald Acuna Jr. OVER 1.5 TOTAL BASES – In the past 15 games, Acuna is slugging .851 with 10 home runs. He's slugging .521 at home and .504 against right-handed starters, so if he gets at least four at-bats there should be enough opportunity to accumulate a couple of bases against the Dodgers.
RAPID FIRE
Mookie Betts +0.5 runs + RBI vs. Aristides Aquino – Aquino has had an incredible start to his career, but this is always a tough category to cover. Betts is massively productive at home and gets the Orioles tonight so he's a lively underdog, even against the meteor that is Aquino.
Ronald Acuna Jr. -0.5 total bases vs. Aristides Aquino – As noted above, Acuna Jr. is slugging .851 in is past 15 games, and that's second best in this matchup because Aquino is slugging .957 in his first 14 games. Still, Acuna has more of a track record to lean on, so we'll do just that.
Patrick Corbin +0.5 strikeouts vs. Noah Syndergaard – Not only Syndergaard have a surprisingly difficult matchup at Kansas City, where the Royals have a low home strikeout rate (20.3%) he's averaging 6.5 strikeouts per road start this season, which isn't so favorable going up against Corbin, who is averaging 7.8 strikeouts per home start and faces a Brewers team that does tend to strike out (24.1%) on the road.
Randal Grichuk +0.5 total bases vs. Trey Mancini – Although Mancini is much more consistent offensively, he does not hold much of an advantage in today's case, slugging .514 on the road and going against the Red Sox in Boston while Grichuk is slugging .507 at home and going against the Mariners in Toronto.
STAR SHOOTOUT - LATE
OVER/UNDERS
Justin Verlander UNDER 8.5 STRIKEOUTS – This is a big number to cover, even though Verlander has recorded double-digit strikeouts in five straight starts. He has averaged 8.4 strikeouts per road start and faces an A's team that has the second lowest home strikeout rate (19.2%).
Mike Trout OVER 1.5 HITS + WALKS – The Angels superstar center fielder has a .446 on-base percentage at home and a home games against the White Sox, even when facing ace Lucas Giolito, is enough to like Trout to reach base a couple of times.
Jose Abreu 1.5 OVER TOTAL BASES – There isn't much to get excited about when it comes to the White Sox lineup, but their slugging first baseman has a .500 slugging percentage on the road and going against a 22-year-old rookie starter (Patrick Sandoval) is a favorable enough matchup to like Abreu for a couple of bags.
RAPID FIRE
Shohei Ohtani +0.5 runs + RBI vs. Mike Yastrzemski – As well as young Yaz has been playing, and that includes a .841 OPS on the road and .381 runs plus RBI per plate appearance since getting promoted to the big leagues, it's not enough to like him as the favorite against Ohtani, who has a .924 OPS at home and is generating .296 runs plus RBI per plate appearance at home this season.
Alex Bregman +0.5 hits + walks vs. Mike Trout – As great as Trout is, he can't warrant this much of an advantage against Bregman who has a .408 on-base percentage on the road this season.
Lucas Giolito -0.5 strikeouts vs. Patrick Sandoval – Giolito has enjoyed a fantastic breakthrough season for the White Sox and is averaging 8.0 strikeouts per road start. Now, he is going against an Angels team that doesn't strike out much (19.5% at home) so that's difficult, but the matchup against 22-year-old rookie Sandoval still tilts in Giolito's favor. It's not that Sandoval doesn't strike guys out – he has 12 strikeouts in 9 2/3 innings since getting called up, but he may not go deep enough into the game to keep pace with Giolito.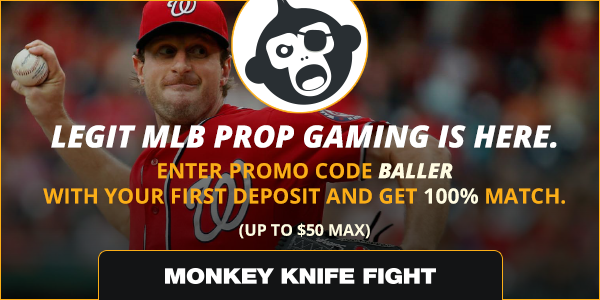 More 2019 Fantasy Baseball Advice