One of the great things about baseball is homefield advantage. Oh, it exists in every sport but, in baseball, the differences from park to park are more significant and can offer some potential value when making your prop picks.
Here's a look at a handful of players who have been feasting on home cooking this year:
Charlie Blackmon, RF, Colorado – Naturally, the Rockies are used to crushing at Coors, but Blackmon has taken it to a new level this year, slugging .992 with 16 home runs in 148 plate appearances.
Christian Yelich, RF, Milwaukee – The reigning National League MVP has 30 home runs and is slugging .711 overall, but at home he's slugging .896 with 21 home runs in 164 plate appearances.
Cody Bellinger, RF, L.A. Dodgers – The 23-year-old is slugging .695 overall but .767 with 17 home runs in 177 plate appearances at Dodger Stadium, a notorious pitcher's park.
Josh Bell, 1B, Pittsburgh – The Pirates first baseman has emerged as a big-time power threat this season and is slugging .729 at PNC Park.
Matt Chapman, 3B, Oakland – Even though the A's home stadium, currently RingCentral Coliseum, tends to work better for pitchers, Chapman is way better in his home park, slugging .691 with 14 home runs in 176 plate appearances.
There are examples on both sides of this coin, good and bad for both pitchers and hitters, but these are just some to keep in mind when breaking down the action.
Here are some angles to consider for Tuesday's games.
Editor's Note: Our friends at Monkey Knife Fight have released the best, most fun, fastest growing DFS props game! It's super simple to play and win real money. Just choose your MLB, NBA, NHL or PGA game, and make your picks! Get a 100% instant deposit bonus up to $50 using promo code: BALLER. That's $50 for free - don't miss out!
CHICAGO CUBS-PITTSBURGH
OVER/UNDERS
Joe Musgrove OVER 4.5 STRIKEOUTS – The Pirates right-hander has recorded at least five strikeouts in 10 of 17 starts and five of seven starts at home. He also whiffed six Cubs in Chicago early in the season so it's not a stretch to think that Musgrove could get to five Ks.
Kyle Hendricks UNDER 4.5 STRIKEOUTS – While Hendricks has been the more effective of the two starting pitchers in this game, he's not overpowering with at least five strikeouts in six of 14 games overall but just two of seven road games.
MIAMI-WASHINGTON
OVER/UNDERS
Anthony Rendon OVER 1.5 TOTAL BASES – The Nationals' star third baseman is slugging .690 at home, and .622 against right-handed pitching, so there's an easy enough path to him getting a couple of total bases against the Marlins.
BOSTON-TORONTO
RAPID FIRE
Randal Grichuk +0.5 total bases vs. J.D. Martinez – While Martinez has a better track record, he's slugging .513 on the road and .469 against right-handed pitching. Grichuk is slugging .529 at home and .480 against left-handed pitching which makes the matchup more balanced. Boston's David Price is better than Blue Jays starter Trent Thornton but it's still worth taking the underdog plus a half base in this case.
MILWAUKEE-CINCINNATI
OVER/UNDERS
Tanner Roark OVER 5.5 STRIKEOUTS – The Red starting pitcher has racked up at least six strikeouts in five of eight home starts and in six of his last eight starts overall.
N.Y. YANKEES-N.Y. METS
OVER/UNDERS
Zack Wheeler UNDER 6.5 STRIKEOUTS – The Yankees lineup is formidable, with the sixth-best strikeout rate (21.5%) on the road this season and Wheeler has at least seven strikeouts in three of seven home starts this season.
BALTIMORE-TAMPA BAY
OVER/UNDERS
Anthony Santander UNDER 1.5 TOTAL BASES – While the rookie outfielder is starting to make his mark, he's slugging .391 in a dozen road games and gets a difficult matchup with Charlie Morton on the bump for the Rays.
PHILADELPHIA-ATLANTA
OVER/UNDERS
Aaron Nola OVER 5.5 STRIKEOUTS – While the Phillies ace is coming off back-to-back starts with 10 strikeouts, it's a little more complicated in this case. On the road this season, he has at least six strikeouts in three of six starts and has whiffed at least six in six of his past eight starts overall.
Dallas Keuchel UNDER 3.5 STRIKEOUTS – Through his first two starts for the Braves, Keuchel has managed five strikeouts in 10 1/3 innings. Going back to last season, that makes it two of the past seven starts in which he's recorded at least four strikeouts.
L.A. ANGELS-TEXAS
OVER/UNDERS
Mike Trout UNDER 1.5 HITS + WALKS – The Angels' superstar has a .436 on-base percentage against left-handed pitchers and .461 on the road but Rangers starter Mike Minor has been outstanding, with a 1.12 WHIP in 17 starts.
DETROIT-CHICAGO WHITE SOX
OVER/UNDERS
Matthew Boyd OVER 6.5 STRIKEOUTS – The Tigers southpaw has posted at least seven strikeouts in 12 of 17 starts, including six of eight road starts this season. Combined with a White Sox lineup that has the fifth highest home strikeout rate (24.8%) and Boyd should continue to miss bats.
HOUSTON-COLORADO
RAPID FIRE
Charlie Blackmon -0.5 total bases vs. Nolan Arenado – Of course, Rockies hitters tend to fare better at home. That's nothing new, and Arenado is slugging a robust .643 at Coors Field, but the splits for Blackmon are ridiculous – he has a .992 slugging percentage in 30 home games.
CLEVELAND-KANSAS CITY
OVER/UNDERS
Carlos Santana OVER 1.5 HITS + WALKS – The Indians on-base ace has a .418 OBP on the road and has reached multiple times in 14 of his past 21 games overall.
MINNESOTA-OAKLAND
OVER/UNDERS
Nelson Cruz UNDER 1.5 TOTAL BASES – The Twins DH is slugging .624 away from home which is great, but Oakland's park is pitcher-friendly and Cruz is only slugging .440 there for his career.
ARIZONA-L.A. DODGERS
OVER/UNDERS
Max Muncy OVER 1.5 HITS + WALKS – Muncy has some balance between home (.379) and road (.382) on-base percentages and the Diamondbacks are sending rookie Taylor Clarke (6.10 ERA, 1.51 WHIP) to the mound.
SAN FRANCISCO-SAN DIEGO
OVER/UNDERS
Matt Strahm UNDER 5.5 STRIKEOUTS – The Padres starter has recorded six strikeouts in one of six home starts this season and the Giants are above average in terms of not striking out (22.3% K rate) on the road.
ST. LOUIS-SEATTLE
OVER/UNDERS
Omar Narvaez UNDER 1.5 HITS + WALKS – Even though the Mariners catcher is relatively productive, especially for his position, he has a .349 on-base percentage at home, which makes it tough to expect him to reach base twice when the Cardinals have Jack Flaherty on the bump.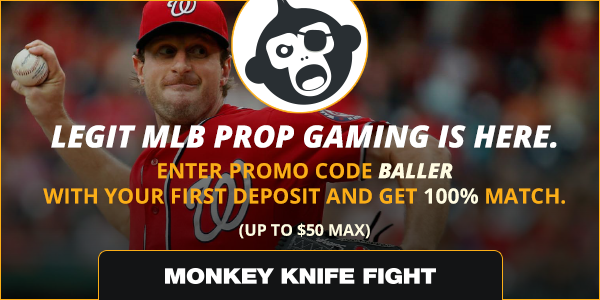 More 2019 Fantasy Baseball Advice