As baseball moves closer and closer to the three true outcomes (home runs, walks and strikeouts) the strikeout numbers can be alarming.
At this point in the 2019 season, pitchers are averaging 8.9 strikeouts per nine innings, very close to one per inning.
By comparison, 20 years ago, in 1999, that number was 6.5 strikeouts per nine innings and 10 years later, in 2009, that number climbed to 7.0 strikeouts per nine innings. Modern-day Major League Baseball is playing a game that is different than what has existed historically.
As a result, pitchers that may not even be considered dominant or even effective can still rack up big strikeout numbers.
Here are some plays to consider before making your picks for Tuesday.
Editor's Note: Our friends at Monkey Knife Fight have released the best, most fun, fastest growing DFS props game! It's super simple to play and win real money. Just choose your MLB, NBA, NHL or PGA game, and make your picks! Get a 100% instant deposit bonus up to $50 using promo code: BALLER. That's $50 for free - don't miss out!
CHICAGO WHITE SOX-CLEVELAND
OVER/UNDERS
Lucas Giolito OVER 4.5 STRIKEOUTS – As much as Giolito has struggled, on his way to a 5.32 ERA, he has recorded five or more strikeouts in four of his five starts, including his fourth start when he lasted just 2 2/3 innings and still whiffed five.
SEATTLE-N.Y. YANKEES
RAPID FIRE
Luke Voit +0.5 runs + RBI vs. Edwin Encarnacion – The Yankees first baseman, Voit, is a lively underdog because he's averaging 1.56 runs plus RBI per game, which is more than Encarnacion, who is at 1.45.
BOSTON-BALTIMORE
OVER/UNDERS
Mookie Betts OVER 1.5 HITS + WALKS – This is a close call based on the averages, as Betts has combined for multiple hits plus walks in 17 of 33 games, but he's been trending up and is going up against the Orioles which works in favor of all hitters.
TEXAS-PITTSBURGH
OVER/UNDERS
Joey Gallo OVER 1.5 TOTAL BASES – While Gallo's home run power gives him a chance to obliterate the over/under with one swing, he's averaging 2.27 total bases per game and is up against Steven Brault, who is making his first start of the season, but has a 8.31 ERA and 1.62 WHIP in four bullpen appearances.
MINNESOTA-TORONTO
OVER/UNDERS
Aaron Sanchez OVER 3.5 STRIKEOUTS – This is basically a bet on Sanchez staying healthy enough to go five innings, because he's struck out 29 in 35 innings through seven starts. If he goes just five innings, that should be enough.
L.A. ANGELS-DETROIT
RAPID FIRE
Andrelton Simmons + 0.5 total bases vs. Mike Trout – This seems strange, but a slumping Trout is averaging 1.81 total bases per game, just barely ahead of Simmons' 1.78, so take that half base and go with the underdog.
ARIZONA-TAMPA BAY
OVER/UNDERS
Christian Walker OVER 1.5 TOTAL BASES – The Diamondbacks slugger has been a major surprise. The 28-year-old already has a career-high 135 at-bats and has a .973 OPS, averaging more than 2.2 total bases per game. That's enough to take the over in Tampa Bay.
WASHINGTON-MILWAUKEE
OVER/UNDERS
Stephen Strasburg OVER 7.5 STRIKEOUTS – The Nationals ace has 57 strikeouts in 44 1/3 innings, recording at least eight in six of his seven starts this season. He remains dominant when healthy.
PHILADELPHIA-ST. LOUIS
OVER/UNDERS
Bryce Harper +0.5 runs + RBI vs. Paul Goldschmidt – This isn't so much about Harper and Goldschmidt as it as about Harper going against Cardinals starting pitcher Dakota Hudson and Goldschmidt facing Phillies ace Aaron Nola. Getting the extra half run plus RBI works even more in Harper's favor.
MIAMI-CHICAGO CUBS
OVER/UNDERS
Caleb Smith OVER 6.5 STRIIKEOUTS – This might come as a bit of a surprise, because Smith isn't a big-name starting pitcher, but he's missing bats. He has recorded at least seven strikeouts in five of his six starts this season and the one game in which he missed, he finished with six.
KANSAS CITY-HOUSTON
OVER/UNDERS
Danny Duffy OVER 3.5 STRIKEOUTS – This does hit the average for Duffy, who has seven strikeouts through his first two starts, but his strikeout rate in the previous three seasons has been 8.6 K/9.
SAN FRANCISCO-COLORADO
RAPID FIRE
Trevor Story +0.5 runs + RBI vs. Nolan Arenado – Two sluggers on the left side of the Rockies infield going head-to-head and the underdog makes more sense in this category, as Arenado averages 1.56 runs plus RBI per game, which is only slightly ahead of Story, who averages 1.46 runs plus RBI per game.
CINCINNATI-OAKLAND
OVER/UNDERS
Joey Votto OVER 1.5 HITS + WALKS – This has not been a typical Votto season – his .341 on-base percentage is easily a career-low – but he has multiple hits plus walks in three straight games and Oakland starter Mike Fiers is currently sporting a 6.81 ERA and 1.49 WHIP through eight starts.
ATLANTA-L.A. DODGERS
OVER/UNDERS
Hyun-Jin Ryu OVER 5.5 STRIKEOUTS – Since returning to the rotation after a brief stint on the DL, Ryu has struck out 25 in 20 1/3 innings, so he's capable of picking up at least six in a standard appearance.
L.A. DODGERS-SAN DIEGO
OVER/UNDERS
Noah Syndergaard UNDER 7.5 STRIKEOUTS – This is not to suggest that Thor couldn't mow down the Padres, but this is a big number and Syndergaard has gone for eight or more strikeouts in two of seven starts.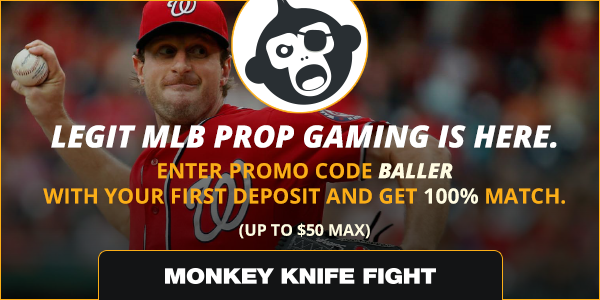 More 2019 Fantasy Baseball Advice